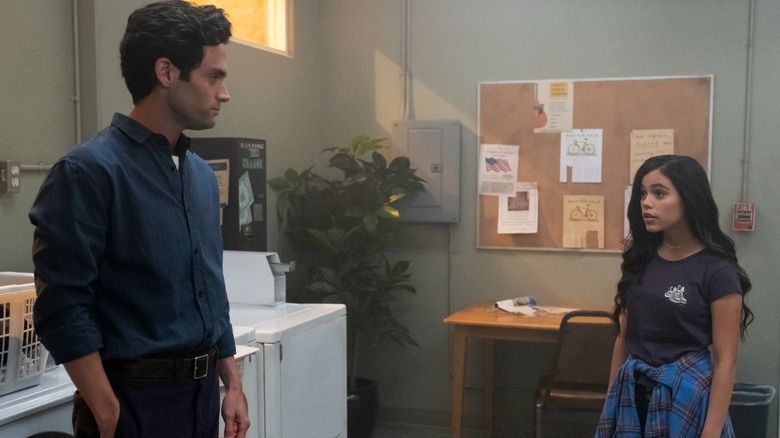 This article contains spoilers for "You" on Netflix. Netflix's "You" is a show that's full of dynamic, complicated women, but few characters from past seasons remain on fans' minds quite like Ellie Alves (Jenna Ortega). While sick-but-charming serial killer Joe (Penn Badgley) has a knack for killing all the women he loves most, Ellie is one of the few girls he's crossed paths with who survived their encounter in one piece — though not entirely unscathed.
The last time audiences saw Ellie, the brutally honest teen who lived next door to Joe in Los Angeles, Joe was sending her away with a vague but firm assertion that her older sister Delilah (Carmela Zumbado) wouldn't be coming home. Fans haven't seen so much as a sign of Ellie since, and Ortega's career has exploded with roles in films like "X" and "Scream" and the eponymous role in Netflix's smash hit show "Wednesday." But with "You" showing no signs of slowing down and Joe Goldberg still on the loose, could Ellie ever return to the show?
Ortega's Schedule Is Jam-Packed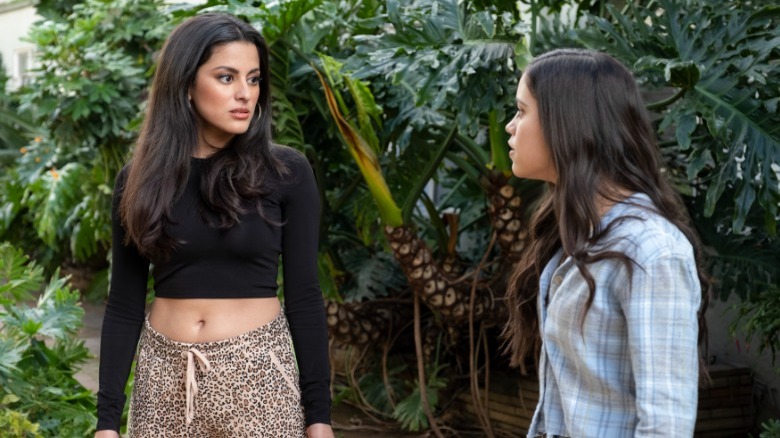 According to series co-creator Sera Gamble, anything is possible, but there's a good reason Ortega didn't come back in the latest season. The filmmaker told IndieWire (via People) that she was eager to invite the actress back for the London-set season of the show, but Ortega's "Wednesday" schedule made it impossible for her to come back. "We wanted to bring Ellie back and we heard, 'Oh, Jenna is doing some show,'" the showrunner told IndieWire. At the time, the team behind "You" surely had no idea how major "Wednesday" and Ortega's other projects would turn out to be."It's been just such a pleasure to see Jenna this year," Gamble tells the outlet.
Still, Gamble makes it clear that the door is open should Ortega decide to return. "We have ideas for Ellie if her schedule allows her to visit us again," she told the publication. The show's latest season, which dropped in two parts, sees Joe once again evading justice, this time in the UK where he's taken a gig as a professor at a prestigious university. Under an assumed name, Joe cavorts around with a new group of soulless elites, until in a table-turning twist, one of them seems to start blackmailing him.
Any Surviving Character Is 'Fair Game' For A Return
Fans who had hoped Joe's stalker might be Ellie were surely disappointed by the season's big reveal, but it seems very likely that the character could still have a bone to pick with the man who insinuated that a powerful family killed her sister before pushing her into abandoning the only life she knew. If anyone can take down the character who has become emblematic of white male privilege, it's the girl who never let him off the hook for it.
Gamble also made it clear that Ortega isn't the only actor who could return to "You" one day. "Any character who's not dead who knows anything about Joe, it's fair game to try to exert any justice," Gamble said, adding, "And any character who is dead, he has a really active imagination." When it comes to people from Joe's past who may want him dead, Ellie is probably at the top of the list, but other survivors of his mayhem include Dylan Arnold's Theo, influencer couple Cary (Travis Van Winkle) and Sherry (Shalita Grant), John Stamos' framed therapist Dr. Nicky, and Paco (Luca Padovan), a young boy who reminds Joe a lot of himself.
With a second season of "Wednesday" in the works, "Scream 6" in theaters, and a possible starring role in a just-announced "Beetlejuice" sequel, Ortega likely doesn't have much downtime for a return to "You." But if she does get the chance, there's no one fans would rather see take down Joe Goldberg once and for all than scrappy survivor Ellie. As for her character's return, Ortega commented on the possibility to Teen Vogue back in 2019 and had one requirement: "I just want [Ellie] to be an even bigger badass," she told the outlet.
Read this next: The 15 Best Horror TV Shows Of All Time
The post Why Jenna Ortega Isn't In Season 4 Of You, And How She Could Come Back Someday appeared first on /Film.