This is an edition of The Atlantic Daily, a newsletter that guides you through the biggest stories of the day, helps you discover new ideas, and recommends the best in culture. Sign up for it here.
America has suffered an onslaught of mass shootings in the first weeks of 2023, adding to an ever-growing national community of survivors and grievers.
But first, here are three new stories from The Atlantic.
---
After
California Governor Gavin Newsom was at the hospital with victims of the Monterey Park shooting on Monday when he got pulled away to be briefed about two shootings that had just occurred in Half Moon Bay. The U.S. has experienced more mass shootings so far in 2023 than by this point in any year on record. And with a recent Supreme Court ruling opening the door to dismantling many of America's remaining firearm regulations, gun violence in America may soon get even worse.
Today I'd like to focus on the communities that mass shootings touch—and the communities that form as a result of this singular type of grief.
Yesterday, my colleague Shirley Li wrote about the complex emotions many Asian Americans are wrestling with after the shootings in California.
News of mass shootings, as frequently as they happen in the U.S., has been shown to produce acute stress and anxiety. But for many Asian Americans, this past week's deadly attacks in California—first in Monterey Park, then in Half Moon Bay—feel profoundly different. The tragedies occurred around the Lunar New Year, during a time meant for celebration. And not only did they happen in areas that have historically been sanctuaries for Asian residents, but the suspects in both cases are themselves Asian.
"I'd always believed ethnic enclaves such as Monterey Park were uniquely protected," Shirley writes.
As my colleague Katherine Hu points out, "Regardless of an attacker's motive, the trauma of violence remains."
Lives have been senselessly lost. And in the same way that past attacks on Asian Americans and Pacific Islanders have helped form an invisible, pervasive dread, the attacks of the past few days will continue to affect many of us, compounding our fear and raising the risk of future copycat shootings.
And with each act of gun violence, another community grows: the "unfortunate family" of survivors and those grieving. As my colleague Julie Beck wrote in 2017:
Many people who have lost loved ones in a mass shooting forge friendships and rely on each other for a kind of support that can only come from someone who's been through the same thing … "There's an unspoken understanding that no one else really can give you," [Caren Teves, whose son was killed in the Aurora, Colorado, shooting] said. "There's no words that even need to be spoken. It is a very unique situation that we're in, but all too common. I call us the unfortunate family of gun-violence survivors."
This "family" is made up of hundreds of people processing their experiences in a range of ways, including by taking political action. When I reported on the Parkland, Florida, school shooting for The Atlantic in 2018, I noted that the student survivors' quick turn to advocating for tighter gun laws was part of "a long tradition of American mourners who channel their grief into political activism." (The Parkland shooting survivor X González's recent essay for The Cut, on what it was like to grieve as a teenager in front of the entire country, and where they find themselves five years later, is worth spending time with.)
Social action can provide some comfort. Jeremy Richman, the father of a Sandy Hook student who was killed in the school shooting there in 2012, told me that after the attack, he and his wife got started right away on what would become the Avielle Foundation, a nonprofit named for his daughter and dedicated to preventing violence. "In a blurry 48 hours we created the mission and the vision of the foundation," Richman said in 2018. "We knew exactly what we were going to do." On a personal level, he told me, it "motivated us to get out of bed and move." But they were also "profoundly committed to preventing others from suffering in the way that we were suffering and continue to [suffer to] this day."
Activism, of course, does not make grief or trauma bearable, and sometimes it is too much to bear entirely. Richman died by suicide in 2019. The lasting, often misunderstood, trauma and grief that result from a mass shooting continue long after the rest of the world has moved on.
Related:
---
Today's News
Five former Memphis police officers have been charged with murder in the death of Tyre Nichols, a 29-year-old Black man who died three days after an encounter with the officers. The Memphis police chief described the incident as "heinous, reckless and inhumane."
U.S. gross domestic product increased at an annual rate of 2.9 percent in the fourth quarter of 2022, according to preliminary data, which indicates solid economic growth.
Representative Adam Schiff of California, who led Donald Trump's first impeachment trial, announced that he will run for U.S. Senate in 2024.
---
Evening Read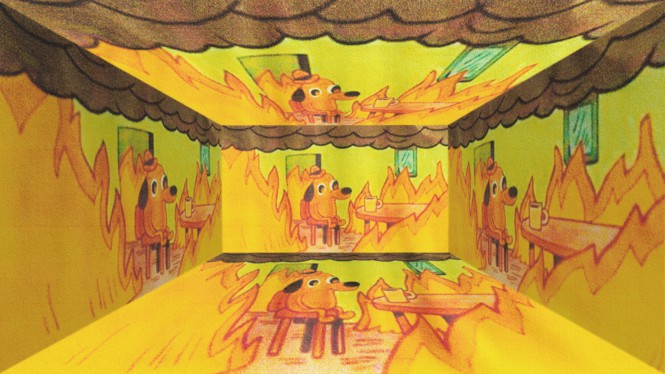 The Meme That Defined a Decade
By Megan Garber
Memes rarely endure. Most explode and recede at nearly the same moment: the same month or week or day. But the meme best known as "This Is Fine"—the one with the dog sipping from a mug as a fire rages around him—has lasted. It is now 10 years old, and it is somehow more relevant than ever. Memes are typically associated with creative adaptability, the image and text editable into nearly endless iterations. "This Is Fine," though, is a work of near-endless interpretability: It says so much, so economically. That elasticity has contributed to its persistence. The flame-licked dog, that avatar of learned helplessness, speaks not only to individual people—but also, it turns out, to the country.
More From The Atlantic
---
Culture Break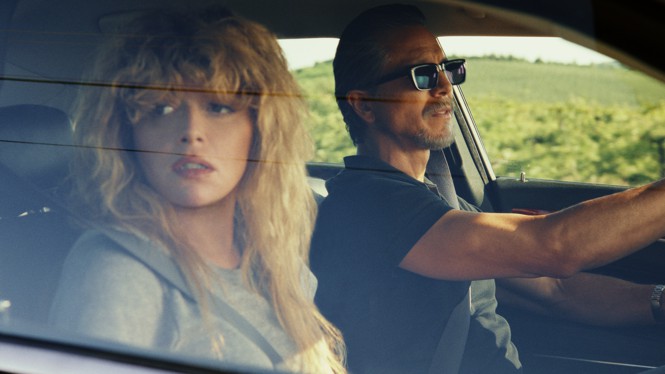 Watch. In Poker Face, streaming on Peacock, Natasha Lyonne is extremely fun to watch as a crime-solving waitress on the run.
Listen. Sam Smith's new album, Gloria, is a reminder that the prominent queer singer thrives at playing to the middle—but that their centrism is still radical.
---
P.S.
For a nuanced look at America's gun crisis, I recommend my colleague Elaina Plott Calabro's 2018 essay "The Bullet in My Arm." Elaina grew up in a gun-loving town in Alabama, as she puts it, but only began to understand America's relationships with guns once she herself was shot.
— Isabel