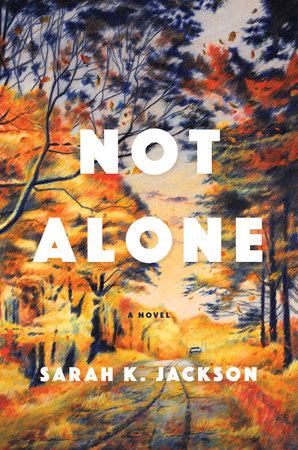 I haul myself up, a few triangular leaves drifting down to land in the thick carpet at my feet, where they fall in a continuous cycle all year round—lurid yellow, golden-orange, pale buttery-green. Slugs and snails are in a bust year, but woodlice are thriving, tiny armoured bodies scurrying around in the decomposing leaf litter.
I'm reaching for a particularly bright unmarred leaf, thinking of Harry's collages, when a breathy bark freezes me to the spot. It's followed by a low gravelly howl that rips through the air and through my chest.
They're close. In town.
All thoughts of colours and collages and water-butt tampering drop out of my head. The hoofprints glare up at me, a third, more ragged grunt echoing off buildings—all their vocal cords damaged and inflamed by exposure. As far as I know there are five deer in the pack—frayed silvered roes, scavenging the kills. Maybe they're good lookouts and can hold their own, that's why they're accepted by the dogs, I don't know.
Water is overflowing my container when I rush back to it—not clear, but milky. The mesh wouldn't have done much against last night's grey rain anyway perhaps. I pour it away in a hurry, letting the tap run until the flowing water narrows and clears and I manage to gather a few inches. The dogs and deer are still calling to one another, and I hear two more dogs, whining. Yet, even if they're close, they sound like they might have made a kill. That will keep them busy.
I haven't heard them in town since the spring.
I try hard to convince myself that perhaps that's all I saw in the dark last night. Just a dog or a deer.
The blocks of flats look especially grubby from the west as I retreat back through the ivy-strewn alley: roofs gappy, brickwork specked with grey and the vomity runs of algae, and the mortar sprouting with bright blood-red weeds and moss, making it look like some underwater rusting relic from much longer ago. It looked new and modern and soulless when Jack and I first moved in, with a rented van piled full of our hand-me-down furniture—all smart red bricks and white PVC. I wince: imagining how all the rooms beyond all those windows are empty now makes me nauseous.
Yet I'm afraid to look, in case I'll spot one that isn't.
And I'm afraid for Harry. I can almost feel him watching me, even though I tell him not to, and it hurts not to look up at our window, not to smile and wave. Because what if I did see someone last night? What if they're watching us right now? That thought makes my stomach drop.
I wait in the shadow under the ivy, watching, listening to the dogs and deer in the distance.
The light is waning—the haze always making the descent to evening drawn-out. Behind me, the horizon is tinged orange-pink, not so intense tonight because the haze isn't so thick.
Every one of my limbs is shaking. I run out from under cover and across the car park, heat and breath and my pounding feet. There's an echo of the Fear I felt that first year after the very last time I saw other people. When I'd failed to get to the Midlands to see if Mum or my brother Paul had survived. And instead, abandoning the weeks of effort to get nearly halfway there, and the ragged tent on some dark hill behind me, I'd limped back here through the rain on a great wave of sickening adrenaline—days without sleep, sobbing, hunched over throbbing ribs and wheezing lungs, blood in my mouth and trickling down my chin. Scared in the dark and the dim grey days, of footsteps, hands reaching to grab me. The smell of an unwashed body, blood, sweat and smoke still vivid.
Nearly sobbing now as I roll back under the metal shutter, I dash to the door, just as I did back then. Swollen finger joints and torn fingernails made me fumble the key then, the Fear making me do it again now, checking over my shoulder.
That big car in the corner looms in the dark, as it did that day too, when I saw it for the first time. It had jolted a fresh surge of panic, in case looters and people had arrived here. I still hate its badly parked front end, always intruding into Jack's spot, wheels missing, leaving big gaping holes, but otherwise intact with its powdery uncracked windows, its body jacked up off the ground, too solid and unbroken compared to the other rusting, shattered, slumped vehicles. Its big dusty headlights and chunky metal vents seem to grin at me, its thick bull bar like a muzzle. I shiver, stopping midstep. The logo gleams beneath layers of dust like a nose—two perpendicular ovals inside a large one—so like Harry's raindrops on raindrops upstairs.
Finally, I get through the door and lock it behind me. The handle's wobbly in a way it didn't used to be, so I restrict myself to one wiggle to check it's locked. Yet I feel that irrational compulsive need to keep checking and wonder how long I did stand here that day before managing to wrench myself away, terror turning then to the possibility of looters being in the building right at that moment.
I feel a little better now I'm inside again, yet worry still makes me double-check that the smashed windows on the ground floor are still barricaded.
Then I'm racing up the flights of stairs, kicking the sandbags back into place, remembering how finding the flat looted had blown open that big black hole inside me. Jack's life, and mine, as I lurched sobbing from room to room, wrenched off walls and counters and in a mess at my feet. As if they were here for something more than just snatching food or clothes, and revelled in the destruction while they searched. My eyes couldn't skip past anything: Jack's face smiling up at me, our adventures captured in the holiday snaps and collected fridge magnets, the postcards from Mum and our friends, my diaries, our books, films . . .
The dead anniversary flowers in a smashed vase. And ultimately, the wedding planner—that beautiful silver-white keepsake folder, full of pages of my ideas and lists, and sleeves stuffed with RSVPs— spreadeagled on the floor amongst letters and cutlery and broken plates. My ribcage had felt yanked open, the pain just roaring up out of it. The final unbearable reminder that it was all over, everything I loved: gone.
I couldn't bear to put things back. Instead, I'd scooped it all up, placing every memory of Jack and our life Before in drawers and cupboards, even the notes and shopping lists in our handwriting, our favourite coffee mugs. Everything except that one precious photo of Jack that I kept out, scared to lose that clear image of his face from my head.
Sometimes, I find myself kneeling at that bottom drawer in the bedroom, touching an image of us in the mountains or secretly reading a memory in a diary, but it cracks open that hole inside me every time. And I push the drawer shut again. It keeps a lid on that roaring pain.
"Mummy!"
I stop dead at the landing between the first and second floors. It takes a moment to find my voice again. "What are you doing out here?" I glance left out of the window. The tall houses opposite the front of our building leer in at us. I hold him back from me as he barrels towards me, tears in his eyes. "Harry, how did you even get out of the flat?"
Dust and mould cake the walls of the stairwell, crumbs of mud and dead vegetation littering the stairs. Particles drift in the air, blinking in and out of the muted light.
"I wanted to show you I'm big enough, I'm not scared to come with you," he says, through tears and a full body tremor that makes his voice all wobbly. He looks down at his feet, his legs jigging.
His toes are at the very edge of the landing; the next step would have been the furthest he's been from the four walls of our flat. It tugs at something primal in me, and I shove my mask round his face and push him up the remaining stairs to the fourth floor, squeezing his little shoulders tight.
"There's a key in the special drawer . . ." He offers it up as we get to the landing outside our flat door.
I grab it, a little crack opening inside me.
It's Jack's, his army-green lanyard and the electronic fob to the building attached to it. I've always thought he must have forgotten it on that last morning he was here.
"You didn't take anything else, did you?" I cling to the lanyard, that crack making my voice thick. It's silly, I know it is. Hoarding this stuff doesn't make Jack any less dead.
Yet I'm relieved when Harry shakes his head, even if he does it too fast, cheeks red.
"The front door shut behind me and wouldn't let me back in!" Now he cries properly, great gasping sobs and hot tears streaking down his cheeks.
"You're the bravest, sweetest boy I know, Harry—"
"We went out onto the stairwell once on my birthday. Why can't I—"
"Because I need to keep you safe!" I snap. I strip off my overalls and boots, hands still trembling, hanging them on the hook outside our front door.
"What's so scary Outside?" Harry says, staring at the last glimpse of the stairwell as we step inside.
I lock the door behind us, yanking it over and over to be sure. "Is it like the Wild Wood, with scary shadows and animals? Nasties always in the dark and grey places to get you?"
I finally calm down enough to wonder what he imagined while he stood there all alone—formless monsters eyeing him up from the dark, dirty windows opposite? Something creeping closer with the creaks of the building? I've probably been gone nearly an hour.
"Nasties pointed at me!"
"No, nothing like that." I pull off all our clothes, pushing him to the bathroom. Brushing us both down with a soft-bristled brush—which I use when we're low on water—and use the few inches in the washbowl and a wetted cloth to work at Harry's face and hands, a sick sweat breaking out at the thought of his little fingers touching grimy banisters or breathing in the wrong specks of dust. "Wait, what do you mean something pointed at you, did you see a person?"
"A nasty!"
I nearly shake him. "Did it look like a person, like you and me?"
He shakes his head. "I didn't touch anything, Mummy!" he says, but I still get into every crease and under every nail.
"Alright," I relent, finished, and work on myself, brushing, lathering and scrubbing my skin and hair aggressively in the bathtub, until Harry can bear it no longer and I step out so he can launch himself into the hug and I squeeze him tight.
"Don't do that again, please," I whisper. Shuddering on the cold bathroom floor, bare skin goose-pimpled and pink; I hate that it reminds me of how hard I scrubbed that day that first year too. Nothing but spit and soap and rough abrasive cloths and desperation, hurting myself almost as much as they ever did.
That silhouette moving in the dark of last night replays in my head. Harry's "nasty" could have been anything. So why does it make me feel sicker . . .
"I won't . . . Hey, look, a ladybird!" Harry says, pointing at my hair as I walk to the bedroom.
We stow Jack's lanyard safely back inside that bottom drawer.
Harry picks the beetle out of my hair while I'm crouched. "I wonder if this one's bad-tempered or friendly."
"I wonder," I say, trying to smile at how quickly things are forgotten for him, while I'm still worrying as I throw on a T-shirt and head to the kitchen. The ladybird trundles up his delicate little arm as I pour the few inches of gathered water into the filtering barrel on the counter. Once it's boiled too, the last step to make it safe, there won't be much. "Don't go near the window, let's just leave him inside for now."
"OK! He can be our friend, then. Don't stamp on him, Mummy."
"I won't."
"I'm always going to be friends with every single creature."
The ladybird starts up the wall as I glance at the pot of cat bones that will be the base of tonight's meagre soup. I'm reluctant now to borrow anything from our winter stocks, yet I think we might resort to doing just that in order to lay low in the next few days.
__________________________________
From Not Alone by Sarah K. Jackson. Used with permission from the publisher, Doubleday. Copyright © 2023 by Sarah K. Jackson.