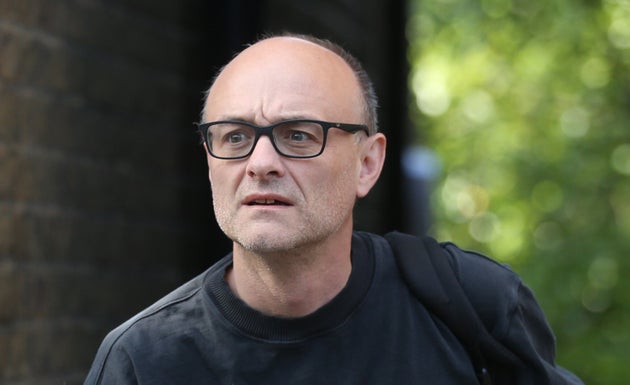 You're reading The Waugh Zone, our daily politics briefing. Sign up now to get it by email in the evening.
Not waving but drowning
Possibly the best line in the Pirates of the Caribbean films comes when Captain Barbossa explains why he's gone back on his word and kidnapped a fair maiden. Explaining that the Pirate Code only applies to pirates, he then adds that anyway: "The code is more what you'd call 'guidelines' than actual rules..."
For a buccaneering Brexit government like Boris Johnson's, those words now seem more apt than ever. Aside from the '1m plus' distancing, the pubs and the hair salons, one of the most important features of the PM's July 4 relaxation of the coronavirus lockdown was this: the rules won't be legal rules any more. Guidance and common sense interpretation of it are the new norms.
Of course, No.10's own Barbossa - Dominic Cummings - was the one who famously said that he followed his own 'instincts' rather than the strict laws of the land. His three separate breaches of the guidance (returning to work the day he suspected his wife had covid, driving to a second home, driving to test his eyesight) prompted that damning charge of 'one law for them, one law for us'.
But the latest lockdown moves have now formalised and embedded that Cummings philosophy into government policy on Covid-19. "As we give people back more control over their lives [note the 'Take Back Control' subtext], we will be asking them to follow guidance on limiting their social contact, rather than forcing them to do so through legislation," is how Johnson put it last night. Neither the police nor the public "want virtually every aspect of our behaviour to be subject to the criminal law", he added. Durham constabulary, take that.
Today, the PM's spokesman (whose lobby briefings are now our main arena for scrutiny, post press conference demise) confirmed that many of the rules of the past three months will lapse from the statute book and "become guidance rather than law". One exception was mass gatherings of more than 30 people for suspected raves in gardens or other premises, which will remain subject to police action.
The difficulty with the shift to guidance however is that it does indeed rely on common sense. Judging by today's photos of Bournemouth beach, the lure of the hot weather was too tempting for those who 'followed their instincts' for a bit of suntan time. Camera angles can sometimes be deceptive, but the Press Association videos and stills didn't lie. The phrase 'mass gathering' somehow appeared inadequate as roads had to be closed and trains were rammed with sunseekers.
It was deputy chief medical officer Jonathan Van Tam who memorably answered questions about Cummings' approach to the rules with this frank assessment: "In my opinion they are for the benefit of all. In my opinion they apply to all." But he also had a wider warning to the public: "Follow the guidance. Don't tear the pants out of it and don't go further than the guidance actually says." That's obviously much harder to respect when the PM's own special adviser rips the Rs out of the guidance on travelling when sick.
Housing secretary Robert Jenrick's conduct of late seems like another example of 'one law for them, one for us'. First was his lockdown-breaking trips to his parents and his second home. But more damaging is his role in the Westferry planning application of tycoon Richard Desmond. Anyone who's had a garden extension knocked back by local planners will be wondering just how much cash they have to donate, and Tory dinners to attend, to get a cabinet minister to intervene on their behalf. Tonight's raft of memos didn't look good either.
But back to covid. It's clear that in many ways national lockdown will actually end on July 4, even though the PM hasn't formally announced that. Gyms and swimming pools look like opening in mid-July and even theatres appear to be in line for more support to get them through the winter. A series of local lockdowns, rather than some national crackdown, is what Johnson envisages.‌
Today, he used PMQs to roadtest his latest soundbite on this strategy, saying "we have a very effective cluster-busting operation" and that "local councils understand how to do it, with the local resilience forums backed up by the joint biosecurity centre". All of which served to show he hadn't listened to a word that Keir Starmer had said, when he quoted the Tory leader of Oxfordshire county council demanding "clear guidance" on what was expected in the event of a 'local lockdown'.
And it will be councils, not the cops, who will be expected to police the rules governing everything from pubs to schools to workplaces and, yes, beaches. After a decade of austerity has seen the slashing of environmental health and public health officers, that's a tall order. Councils still complain they haven't received their share of the £3bn emergency funding for local government too.
That's why perhaps the most telling bit of today's lobby briefing was when the PM's spokesman said that Nightingale Hospitals will remain on 'standby' for months to come. This was part of the government "working closely with the NHS to prepare for the winter months", itself an apparent acknowledgment of Chris Whitty's warning that this virus will be with us into next year. If the council frontline fails, at least the field hospitals will be on hand. Which somehow didn't seem that reassuring.
We learned today that pirate captain Cummings has warned special advisers that "a hard rain is coming", thanks to his Whitehall revolution. The buccaneering spirit is alive and well at the heart of this government. But as today's beach activity shows, the real stormy weather may be in the shape of that second covid wave.
Quote Of The Day
"I do not recall exactly what happened, but he did bring out his iPhone and show me some images of the development."
Robert Jenrick on sitting next to millionaire Richard Desmond at a Tory fundraising dinner
Wednesday Cheat Sheet
The government is not certain that the coronavirus R rate is below 1 in England, meaning the disease may not be under control even as lockdown restrictions are being lifted, HuffPost UK revealed.
The good news for Matt Hancock was that 232,086 covid tests were conducted yesterday, the highest for some time. Mike Ryan, head of the World Health Organisation (WHO) emergencies programme, also said the NHS Test and Trace system was now 'capable'.
Keir Starmer has accused Boris Johnson of repeatedly giving "dodgy answers" after the prime minister was found to have for made "false" claims about child poverty.‌
As Dame Judi Dench told Channel 4 News she fears theatres may not reopen in her lifetime No.10 confirmed extra help could be on its way. "We are talking to the arts sector and considering ways in which we might be able to support them in addition to the unprecedented financial assistance we have already given," the PM's spokesman said.
Trade secretary Liz Truss refused four times to say Boris Johnson would not scrap the Department for International Trade (DIT).
Donald Trump used a rally to repeat racist tropes about coronavirus, calling it "kung flu". His former aide Kellyanne Conway, whose husband and children are of Asian-American heritage, said earlier this year such terms are "highly offensive". 
What I'm Reading
Women Across Europe Denied Abortions Because Of Covid - BBC
Got A Tip? 
Send tips, stories, quotes, pics, plugs or gossip to waugh.zone@huffpost.com. 
Subscribe To Commons People
Each week, the HuffPost UK Politics team unpack the biggest stories from Westminster and beyond. Search for Commons People wherever you listen to podcasts and subscribe.