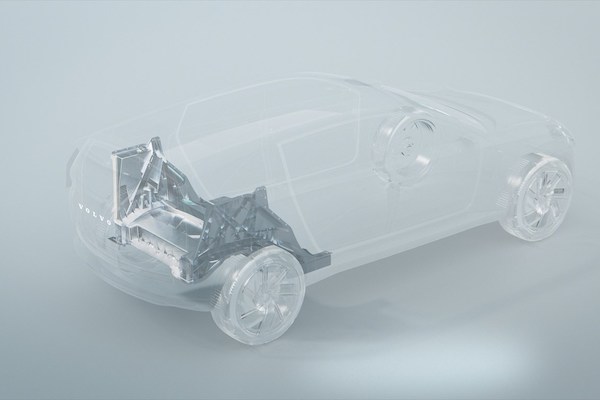 Image via Volvo
Volvo recently announced that it would be investing 10 billion Swedish Kronas (US$1.1 billion) into mega casting, a process where automakers do away with multiple small parts in a car in favor of one large metal piece. 
For Volvo, this means that the "next generation" of electric cars will be produced in this way. "Mega casting creates a number of benefits in terms of sustainability, cost, and car performance during the car's lifetime," the company writes in a press release.

Some of the benefits cited are in relation to the car's efficiency and better use of space for passengers and luggage. It'll also make the manufacturing process a lot less complex, with lowered costs too, since there aren't so many small elements to work with.

Volvo explains that casting "major parts of the floor structure" in the form of a single aluminum part would reduce weight, which in turn makes it more efficient. Thus, the electric range of the car is improved. 

Of course, this process will also reduce the overall environmental footprint of the manufacturing process and the firm's supply chain. 

The firm has a goal of becoming fully electric by the end of the decade, and this move firmly propels it towards that goal. Alongside mega-casting, it's also investing about SEK 30 billion (US$3.15 billion) in developing tailor-made batteries for its future electric vehicles. 

This technology is being implemented in the Torslanda plant, one of the firm's longest-operating facilities. It produces some 300,000 cars annually.

"With these investments we take an important step towards our all-electric future and prepare for even more advanced and better electric Volvos," said Håkan Samuelsson, chief executive of Volvo. "Torslanda is our largest plant and will play a crucial role in our ongoing transformation as we move towards becoming a pure electric car maker by 2030."
Electric carmaker Tesla has also implemented a similar technology, replacing up to 70 different car front parts with a single sheet.
[via Interesting Engineering and Volvo, image via Volvo]