— Recommendations are independently chosen by Reviewed's editors. Purchases you make through our links may earn us a commission.
With the holiday season coming up, many of us are looking to nab a creative, out-of-the-box gift for our loved ones. One such gift is Uncommon Good's new service called Uncommon Experiences, which lets you pick and choose between multiple online classes taught by experts. There are a ton of different Experiences to choose from including classes in mixology, baking, crafting, and more.
We tried our hand at two Experiences, one in mixology and one in baking, and here are our thoughts.
How does Uncommon Experiences work?
The first thing you'll want to do is navigate to Uncommon Experiences. You can also find the service below the featured section on the Uncommon Goods website. Once you're there you'll see a variety of Experiences available. These include options like 'Grapefruit Cocktails,' 'Tarot Reading,' Truffles Class, and more. Depending on your hobbies or your giftee's hobbies, feel free to click on whichever Experience you like.
The Experiences range in price from $25 to $75 and run anywhere from an hour to an hour and a half—they also include kits pre-shipped to you before your online class, which will include the basic materials you need (more on this later). After that, you'll pick a date and time for your class and get your device ready to tune into the live class (they run on Zoom). Though the classes are recorded, you won't be getting a copy so you'll want to make sure you're on time!
Each class setup is different since each instructor has their own unique way of running the class. The only part that remains constant? A facilitator from the Uncommon Goods staff makes sure the instructors are both staying on time and answering each attendee's questions. You can choose to keep your camera on or off but the facilitator requests you definitely keep your mic off and type your questions into the Zoom chat. Make sure your devices are charged and ready to go through and that you have a decent internet connection so you don't miss anything.
The fine print
No matter what class you choose, there will be some materials you'll need to supply yourself. For example, I tried out the Home Bars Mixology class as well as the Rain Drop cake making class, and for both classes, I had to prepare additional materials in advance. That said, you'll have clear instructions so you'll be able to prep easily or redo this experience by yourself in the future.
I tried two Uncommon Experiences classes and here's how they went
While many of the classes available intrigued me, I wanted to try out something that taught me skills I could reuse in the long run. That's why my final two choices came down to a mixology class and a rain drop cake making class. Keep on reading to find out how they went.
Class cost: $55
Out-of-pocket materials cost: $45 (I bought miniature sized 50 mL bottles to cut cost)
Total class cost: $100
I've always been fascinated by the bartending process and figured what better way to spend Saturday night than to learn how to make one of my favorite drinks: A Manhattan. The Home Bars mixology class was taught by mixologist Amy K. and lasted a full 90 minutes. You'll also get a reminder for your Experience class about 48 hours before, so you know when to tune in. Amy walked us through making three cocktails: a Cucumber Chili Margarita, a Cherry Almond Manhattan, and a Grapefruit Basil Vodka Gimlet. Each cocktail (or mocktail if you don't drink) used one of four syrups which were sent to me in advance as part of the mixology kit. Unfortunately, those are all the ingredients I received. You'll need to supply the soda or ginger ale if you're making mocktails, or vodka, gin, bourbon, bitters, vermouth, and tequila yourself if you plan to make your drinks alcoholic. Not to mention, you'll need either mason jars or some sort of cocktail shaker to make each drink. Finally, the instruction sheet recommends using either a different type of glass for each type of drink (I bypassed this step to save some money).
As for the class itself, Amy had a ton of knowledge about bartending and gave us various nifty tips throughout—like using a silicone mold for ice so your drinks don't get watered down. Attendees could also ask her additional questions, like substitutes for liquors used in cocktails or fun and inventive ways to serve up their cocktails. The best part? You can have multiple people join your Experience. I joined it with a couple of friends and there were multiple families celebrating birthdays and anniversaries tuned into the call—it's also more worth your money this way since you and your guests can split the cost. The cocktails themselves were very delicious and my personal favorite was the Grapefruit Vodka Gimlet which was both refreshing, slightly tart, and overall delicious.
I liked the idea of a mixology class and Amy was a great expert on the subject, She knew how to command the class's attention and had a fun, personable presence. I was also ecstatic that I could finally make some of my favorite drinks straight at home. That said, the actual cocktail making lasted only about 30 minutes of the class. The other hour was spent answering questions and letting attendees finish their cocktails, which can get a tad bit boring if you're doing this class solo on Zoom.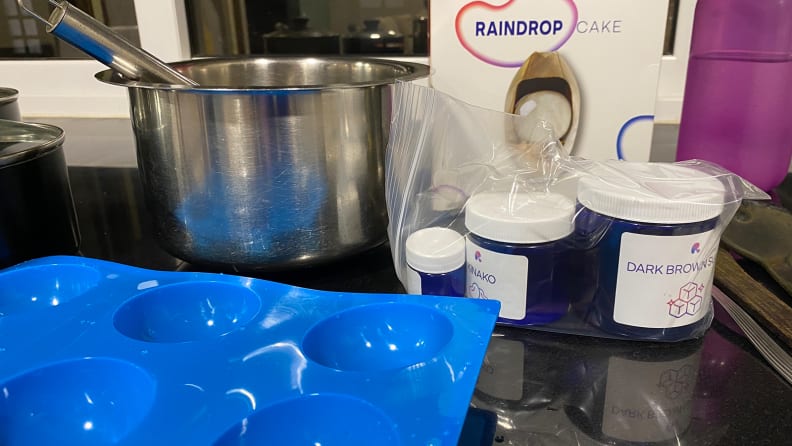 Class cost: $56
Out-of-pocket materials cost: $0
Total class cost: $56
Rain Drop cakes became increasingly popular over the last year and they're the perfect fun challenge for both novice and experienced bakers. The class is one hour long and led by Darren Wong, who rose to fame for inventing the aforementioned dessert himself. Thankfully, the kit for the Raindrop cake class already included all the ingredients I needed so I didn't need to spend any extra money on materials. I did need saucepans and a couple of cups of water during my prep though, so make sure to check your recipe beforehand to be prepared. The kit also had enough ingredients to make two batches of six raindrop cakes which meant that I could prepare this recipe again if I wanted to. Not to mention, all the ingredients were both vegan and vegetarian friendly as they used agar instead of gelatin.
Darren started the class off by explaining how he created the raindrop cake, and how it immediately sold out at its debut in New York. This particular recipe includes a brown sugar sauce for added flavor but Darren mentions you can try other toppings like fruit or even try to modify the recipe to include alcohol (although he didn't give us the proper measurements if we wanted to incorporate additional ingredients). The class itself was fairly short and Darren went through each step of the already-provided recipe. Unfortunately, since the speaker view was pinned on Zoom, the facilitator forgot to switch to Darren's second camera which showed us exactly how he was preparing the cake. (You could switch to it manually since otherwise you'd be stuck seeing Darren's back for the entirety of the class.) Darren also went through the steps rather quickly and a ton of attendees were struggling to catch up (including me).
Also, note that this class requires freezing your cakes for about two hours so your dessert will not be ready until after the Experience is over. Darren did, however, show us how to plate the dessert once it's ready so we'd know what to do once we fetched them out of the refrigerator. I did the class with my sister and it was certainly an enjoyable experience trying to bake something new with her. Unfortunately for us, our cakes didn't set (even on the second try)—though we followed the instructions down to a T.
Are Uncommon Experiences worth it?
If you're looking for an unusual holiday gift this season, you might enjoy gifting Uncommon Experiences. There are a wide variety of price ranges that won't break the bank and it's a fun way to try to learn something new. Since it's also all virtual you can do it straight from your living room in your PJs. The instructors were also incredibly engaging as well as very receptive to answering any questions we had.
Do keep in mind though, you won't be provided with all the ingredients, so there's some prep required before class, and depending on the class you choose, a substantial part of it will involve the instructor just talking about their background and answering questions to fill up the time.
That said, there are a wide variety of classes to choose from and they're sure to be a big hit with your family and friends especially if you team up to enjoy an experience together—but only if you pick a topic you're all interested in.
The product experts at Reviewed have all your shopping needs covered this holiday season. Follow Reviewed on Facebook, Twitter and Instagram.
Prices are accurate at the time of publication but may change over time.