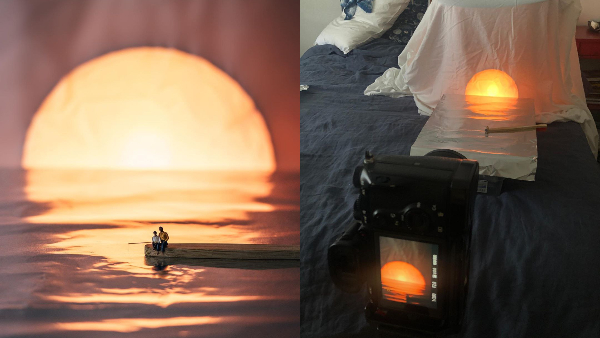 Images by Erin Outdoors and featured with permission
While leaving the house for the sake of it is no longer a possibility during the
COVID-19
situation, people are getting creative to simulate the outside world, such as changing up their
video call backgrounds
and
replicating famous artworks
from museums at home.
You might think the odds are stacked against travel photographers such as Erin Sullivan, who, after all, runs a blog called
Erin Outdoors
. In spite of the apparent challenges, she turned the quarantine around and found a new, for lack of a better word, worldly perspective from her home by capturing household objects and food as works of nature.
It turns out that a crushed paper bag makes for a realistic-looking canyon and tinfoil perfectly resembles a lake. Sullivan additionally imagines the flash on her camera as the rising sun, using its glare as the uncanny reflection on a foil "lake." She then inserts miniature people into the sets, all of whom interact with their surroundings.
"The imagination is a powerful thing, and a gift to have," Sullivan wrote. "Keep yours flowing. Honor the curious questions that come to greet you. What you pay attention to is what you get more of."
From 'Paper Bag Canyon' to 'Onion Springs' and 'Jello Lake', who says there's not much to explore at home?
Bask in some stunning makeshift travel photos from Erin Outdoors' #ErinIndoors series in the posts below, and swipe through them to see what goes on behind the scenes. You can enjoy more of her work via her
website
,
Facebook
, and
Instagram
.
View this post on Instagram
View this post on Instagram
View this post on Instagram
View this post on Instagram
View this post on Instagram
View this post on Instagram
View this post on Instagram
[via
Bored Panda
, images by
Erin Outdoors
and featured with permission]