We're here to guide you through the coronavirus lockdown. Sign up to the Life newsletter for daily tips, advice, how-tos and escapism.
Sarah Rainey is the queen of store cupboard baking. Her book Three Ingredient Bakes is packed full of 100 recipes that require – yep, you guessed it – no more than three ingredients each.
There are cakes, biscuits, breads, desserts, savoury snacks and frozen treats – and they're easy enough that even the less adept bakers among us can get involved.
Rainey is bringing out another book – Six Minute Showstoppers – on 14 May, which will be packed with bakes and cakes you can cook in a flash (think GBBO at home without the fuss).
In the meantime, try one of her three-ingredient bakes: cheat's sourdough rolls, quick and easy brownies, or healthy energy bars packed with mixed fruit.
Chocolate praline brownies
If you like Nutella, these are a must. They're rich, gooey and take minutes to throw together. The key is in the cooking time: keep an eye on the mixture so it doesn't set too solid in the oven. You want them a bit wobbly for maximum squidge.
Makes: 16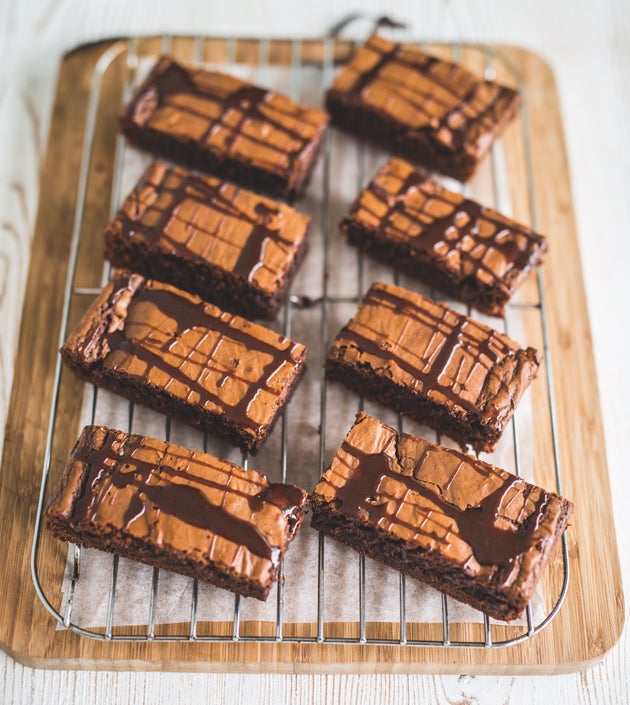 Ingredients:
65g self-raising flour
2 eggs
1 x 400g jar of Nutella (or any other brand of chocolate hazelnut spread)
You will also need a small baking tray (25cm x 18cm).
Method:
1. Preheat the oven to 200°C/180°C fan, and grease and line the baking tray.
2. Sift the flour into a mixing bowl, crack in the eggs and mix well with a wooden spoon. Scrape out the contents of a jar of Nutella and add this to the mixture, holding back one heaped tablespoon of the spread in a separate bowl. Stir everything together until the mixture is smooth.
3. Pour the mixture into the baking tray, spread it out with a spatula and bake for 25 minutes. You'll know they're ready when they're just set and starting to crack on top. Don't over-bake them as they will continue to cook in the tin and you want them to stay squidgy inside!
4. As the brownies cool, drizzle the remaining Nutella over the top to decorate. If it's too solid, microwave it for 10 seconds in a heatproof bowl first. Slice into chunky squares or rectangles to serve.
Tip: double the quantities in this recipe and make them in the same-sized tin for fat, squidgy brownies that are twice the height. They may need another five to 10 minutes in the oven to cook through.
Cheat's sourdough rolls
These little puffs of air are the definition of store-cupboard baking. You can rustle them up in under half an hour.
Makes: 12
Ingredients:
240g self-raising flour
200ml semi-skimmed milk
5 tablespoons mayonnaise
Method:
1. Preheat the oven to 200°C/180°C fan. Grease two baking sheets and line with greaseproof paper.
2. Sift the flour into a bowl and slowly add the milk, stirring constantly. Add the mayonnaise and mix vigorously to get rid of any lumps.
3. The batter should be thick but runny, and when you lift your spoon out, you should be able to see elastic threads forming – this is the raising agent in the flour starting to get to work.
4. Drop heaped dessert spoons of the mixture on the baking sheets, spacing them 4–5cm apart. Use the spoon to round off the edges and neaten the tops.
5. Bake for 30 to 35 minutes, or until they've risen and are just starting to go brown on top. Swap the trays halfway through the cooking time to ensure they're evenly cooked. Don't worry if the rolls look a little misshapen – this adds to the rustic look.
6. Cool on a wire rack before serving. The rolls should keep for up to four days in an airtight tin – and you can freeze them; just remember to use within a month. 
Healthy energy bars
These healthy bars make a great elevenses snack. You can use prunes or apricots instead of dates, but they need to be soaked in hot water beforehand to make them nice and soft.
Makes: 18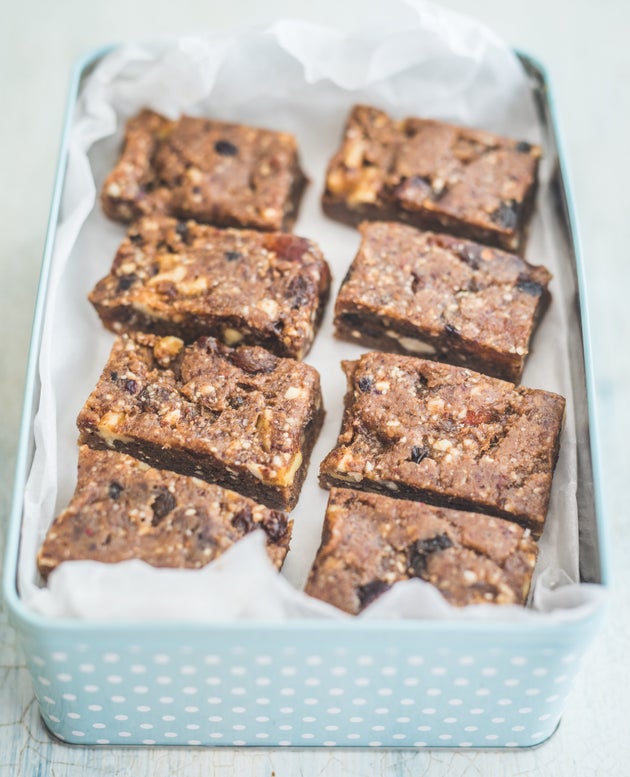 Ingredients:
200g dried mixed fruit (sultanas, raisins, currants or cranberries)
250g nuts (cashews, walnuts, Brazil nuts, pecans or a mixed selection)
150g pitted dates
You will also need a square baking tray (25cm x 25cm)
Method:
1. Put all the ingredients in a food processor. Pulse a few times to make into crumbs, then process for another minute or so until the ingredients start to come together into a ball.
2. Line the baking tray with greaseproof paper and transfer the mixture to the tray.
3. Use a palette knife to spread it into the corners and flatten out the top.
4. Refrigerate for a couple of hours, then remove from the fridge and cut into bars or squares.
Tip: These keep well in the fridge, or you can freeze a batch for up to two months.