How to Have a Sustainable Wedding
Planning a wedding is an exciting but overwhelming time in your life. While it is a joyous time celebrating with all your closest friends and family, it can be hard to make sustainable choices for a crowd. Did you know the typical wedding creates about 400 pounds of garbage?* Yes, as a result of one single day and with approximately 2.5 million weddings occurring in the United States each year, that is a lot of waste going into landfills.
So how do you plan for the special day you've always envisioned while also respecting the planet and not losing your sanity with all the details?
Most waste typically occurs from wedding decor for the venue and from food waste. To limit the amount of waste from decorations, look for a venue that fits your vision without needing a ton of styling. Whether inside or outside, it can be worth it to find a space that matches the aesthetic of your day, without requiring lots of decorations. If you do need additional decor, try using rental services instead of buying decor to limit the amount of waste created. This will cut down on things you need to purchase and single-use items. If rental services don't have what you're looking for, check your local thrift shops or resale websites. Brides are often trying to offload leftover and reusable decor, which will be more Earth-friendly than buying it brand new.  
To help minimize food waste, be sure you provide guests ample time to rsvp so you can provide an accurate guest count to your caterer. Additionally, selecting a caterer that specializes in local and seasonal menu offerings can help ensure a smaller carbon footprint and support your local communities. You can also contact your local food banks to find out how your leftover food can be put to good use. Most only accept non-perishable donations, but depending on your food and local organizations, it could be a good way to help those in need. 
Sustainable Wedding Invitations
Wedding invitations may seem like they can be wasteful as it's likely more paper waste will be thrown out. However, many brides are opting to make their invitations virtual to be more efficient and reduce waste and cost, but if you don't want to forego traditional invitations altogether, don't worry because there are still options! You can find invitations that use sustainable materials and inks that are eco-conscious. Check out the following companies for sustainable wedding invitations!
Minted has gorgeous premade designs or you can work with an independent designer for your unique style. Most invitations are available on sustainable 100% post-consumer waste, FSC-certified paper and manufactured using a carbon-neutral process with wind power. Minted also has other select wedding paper goods so you can cross off more items on your to-do list in one stop.  
A company best known for its photo albums and printing, Artifact Uprising also offers 100% post-consumer waste cards and stationery. While Artifact Uprising doesn't currently offer full invitation suites, there are save the dates, thank you cards, and beautiful photo album options that utilize sustainable paper.
A common resource for brides, The Knot, offers many of its invitation styles on 100% post-consumer waste paper. So if you are already working with The Knot or it is more convenient for your wedding planning, you still have easy access to a sustainable option.
Specializing in seed paper, Botanical Paperworks creates biodegradable paper products of all kinds for weddings and events. Seed paper is made from post-consumer materials and wildflower, herb, or vegetable seeds that can be planted in a pot or into the ground. From wedding invitations and place cards to confetti, seed paper is approved to be planted in many countries and does not contain any invasive species. You can also order seed paper by the sheet if you plan to print your invitations locally.
All Paper Culture products are created from sustainable materials like 100% post-consumer recycled paper or bamboo. Paper Culture actively offsets the carbon footprint with carbon credits and plants a tree with every order to help restore areas needing reforestation. Paper Culture offers free designer assistance or if you have a creative eye, you can upload your own design to print on one of the sustainable materials offered. 
If you are looking for a virtual invitation, Greenvelope is known for saving couples time, money and trees! Each invitation opens with a sleek animation and provides guests all the details with clickable links to make their experience easy and excited for your day. Greenvelope also makes it easy to track RSVPs, collect addresses, and includes dozens of templates and personalization options.
Sustainable Wedding Jewelry
Picking out your wedding jewelry can be a major expense for your wallet and the planet. It is becoming more well known that traditional diamond mining can be unsafe for workers and is very destructive to the environment. The easiest way to make your wedding jewelry more sustainable is to select lab-grown gemstones or diamonds from reputable sustainable jewelry companies. Lab-created stones offer the same beauty as conventional stones but are instead created in a lab using cutting-edge technology replicating the natural process. With a shorter supply and production chain, jewelry made with lab-created stones are also less expensive. It's a win-win for everyone! Check out these sustainable wedding jewelry companies specializing in ethical engagement and wedding rings!
Clean Origin ensures their hand-picked selections are ethical and gorgeous. Available in a variety of shapes and colors, Clean Origin specializes in lab-created diamonds and only sells stones that are independently verified and graded for quality using the same scientific standards applied to mined diamonds. In addition, clean Origin offers free resizing, lifetime protection, and financing options. With dozens of jewelry styles and designs available, the Clean Origin mission is to provide diamonds without compromise.
VRAI creates diamonds that require zero mining and zero carbon emissions, as the company is Carbon Neutral Certified. VRAI allows you also to design your own engagement ring, and all pieces are made with recycled solid gold. VRAI diamonds are graded by GIA Certified Gemologists and are backed by a full lifetime warranty. Additionally, all packaging is made from 100% recyclable, compostable or reusable materials. Aside from rings, VRAI carries a variety of jewelry like necklaces, bracelets and earrings.
Aurate is based in New York and strives to change the jewelry industry. Aurate uses only sustainably sourced materials, all gold is 100% recycled, and pearls and precious gems are sourced from family-run establishments supporting local communities. You can choose between lab-grown or conflict-free diamonds, depending on your preference. Since there are no import taxes, no unnecessary middlemen, and pieces are made-to-order, Aurate jewelry is much more affordable than conventional jewelry. 
This is actually the brand Natalie & Travis went with for their wedding bands. Natalie fell in love with the Paris Vintage Stackable Band. It went perfectly with her vintage Pearl engagement ring! Travis went for the Canyon Men's Wedding Band but in an 8mm Satin Hammer Yellow Gold. They both turned out absolutely beautiful, and they couldn't be happier. MiaDonna uses only lab-grown diamonds and recycled metals to create all of their collections. They even have an in-home try-on service if you are undecided!
for your wedding gown, visit this post - here - & also find more engagement ring options - here -
Wedding Registry Tips
When putting together your wedding registry, think twice before scanning just any kitchen gadget or knick-knack you don't have. Once you make a list of items, you and your partner actually need, look for companies that make these items in a sustainable way. This is a great way to expose others to more sustainable options and fill your home with items you genuinely love. If you already have the items you need, consider a honeymoon fund instead, where your guests can contribute to making your first trip as newlyweds memorable! Check out the list below for some sustainable registry resources!
For ethical and sustainable goods, Made Trade is your one-stop shop! Shopping with Made Trade guarantees you will support artisans and small businesses instead of corporate chains. Made Trade has everything from furniture to home goods and operates just like a standard gift registry at a big box store.
Everlastly is a conscious registry service for couples. They use what they call their Evergrade system and break down the sustainability for each item. While not all items on their website are fully sustainable, it does provide you with the information to decide accordingly. Everlastly also offers cash registries so you can start a home or honeymoon fund to go with your itemized registry.
If you and your partner already have the items you need for your home, allow guests to make a donation toward your honeymoon using HoneyFund. This lets friends and family give the gift of an experience you'll never forget. Spend some time looking up activities, restaurants, or hotels in your destination that you both want to try and create a customized list of experiences that guests can choose from. This helps them feel part of your celebration and learn more about your exciting adventure ahead.
If you'd prefer guests to donate to a charity in your honor instead, The Good Beginning allows you to set up a charity registry for guests to make their donations. This still provides guests with a registry experience while supporting your wishes.
Wedding Party Gift Ideas
When thinking of thank you gifts for your wedding party, consider covering the cost of hair or makeup services, tuxedo rental, tailoring costs, or other expenses that come up when being a part of the wedding. If you want to provide them with a physical gift as a token to remember the day, look for companies that fully support your sustainability mission. Here are some ideas for sustainable wedding party gifts!
Prosperity Candles are made with all-natural soy and coconut waxes with pure cotton and wood wicks. The fragrances are made with essential oils without dyes. Prosperity Candle is B Corp Certified, and all ingredients are made in the United States. All packaging can be repurposed or recycled, and once your candle is complete, you can reuse the jar. 
If you'd like to gift jewelry to your wedding party, Ana Luisa makes ethical jewelry your bridesmaids can wear on your wedding day and every day after. They offer engraving if you'd like to personalize a piece and have a variety of styles, so you will be able to find something to match everyone's personality. Ana Luisa is Climate Neutral Certified, Carbon Neutral Certified, and only works with certified partners that also maintain strict ethical work environments.
If you want to gift your girls cute sleep or loungewear, Ettitude has luxe sateen options made from CleanBamboo™. The bamboo used is FSC-certified and hypoallergenic. In addition, Ettitude contributes to 1% For The Planet, is Climate Neutral Certified, and upholds a strict code of conduct with their factories and suppliers to ensure ethical standards are met. 
We recommend using Wrappr instead of buying disposable wrapping paper. This brand has been inspired by the Japanese art of Furoshiki, which is over 1200 years old. Their organic cotton gift wraps come in many different prints (& sizes) anyone would be excited to receive a gift in! Since the recipient will get to use the fabric again, it's like giving two gifts at once.
"I gifted my bridesmaids candles from Prosperity Candle wrapped by reusable fabric from Wrappr, along with vintage tea cups and toiletries (for the wedding weekend) placed in old jars. I also let them pick whatever dress they wanted to wear in hopes they could use it again in the future. I truly have the best friends in the world & they looked absolutely stunning." - Natalie, founder of Sustainably Chic
Wedding Ceremony & Reception Tips
There are many parts of a traditional wedding day that you can choose to skip like favors, expensive florals or confetti send-offs. However, if you don't want to miss out on certain traditions, there are still sustainable ways to celebrate!
In lieu of traditional wedding favors, opt for an edible gift like personalized cookies, popcorn for a late night snack after dancing or something plantable like a seed packet that your local pollinators love. You could also provide guests with the recipe to the specialty wedding cocktail you served with a sweet note from you and your partner. In lieu of favors completely, some couples use this money to make a charity donation to their favorite cause, usually in honor of a loved one who has passed and unable to attend.
Wedding flowers are expensive no matter what season you get married, although it does help to select varieties native to your area and in bloom during your wedding season. 
After your event, don't let your flowers go to waste. You can donate arrangements to a local senior center or hospital. This will be sure to bring more people joy, don't forget to call ahead and find out any specific protocols for drop off and arrange ahead of time.If you don't have time to deliver, consider gifting your flower arrangements to the venue staff or guests so they can continue to be enjoyed after your special day.
Instead of fresh flower arrangements, look into some alternative options like wood, faux or dried flower arrangements. These arrangements will last a long time and can be kept as a keepsake for you, your wedding party or any one else you want to gift them to after your event.
Finally, avoid plastic or foil confetti, rice, or other earth contaminants if you are planning a formal exit. Using biodegradable materials will prevent any littering and ensure animals don't mistakenly eat something harmful. There is plantable paper and biodegradable confetti available or create your own from paper scraps. An alternative option would be to use strips of upcycled fabrics tied to wooden dowels for guests to wave as you make your exit as newlyweds. These look great in photos and you can reuse them at another event or let guests keep them.
Tips from the Founder of Sustainably Chic, Natalie Kay Costello
"Since we just had our wedding 4.22.22 (after it was rescheduled 3 times), I wanted to share some of the sustainable wins we had planning this 125+ person wedding! I will write a more in-depth post on our wedding, but I wanted to include a few of my favorite things here.
More Candles, Less Flowers
We did have flowers at our wedding, but it was minimal for the space. Instead, I wanted things to be more romantic, so we used many candles on the tables. Since I was a young girl, I've loved the Phantom of the Opera and found the perfect candelabras at a local antique store which instantly reminded me of the musical. We have been lugging them around to 3 different homes since having canceled our original wedding date 4.18.20. I can not believe how beautiful they were with a mixture of dried and fresh florals.
ReUse Before Buying New
From my wardrobe to our cake knife, we tried to use what we had - not just from a budget standpoint, but because we knew this event only happened once; why buy something new if we can avoid it? Our cake knife was from my parent's wedding, my getting ready outfit was a vintage Victoria Secret robe and my great grandmother's slip, my ceremony dress was a sample dress off the rack, my reception dress was made from my mother's wedding gown (which she is also made herself), and we went with a wedding planner who stocks up on decor to be reused at multiple weddings. My niece even used the basket I had used as a flower girl when I was a little!
Glassware & Buffet Style
We had every intention of staying plastic-free, but we ran out of glasses towards the end of the wedding and had to switch to plastic. We were also unaware we had to let the caterer know we wanted to keep all the food leftover at the buffet, so only part of it was packed for us at the end. So learn from my mistakes - over OVER order on glassware (because we did over-order) and let them know you want to keep ALL the leftover food.
Of course, not everything was sustainable about our wedding, and I would never tell anyone to stress it. It's one of the best days of your life, and if there is something that will add significant value to your day, then you should do it <3"
---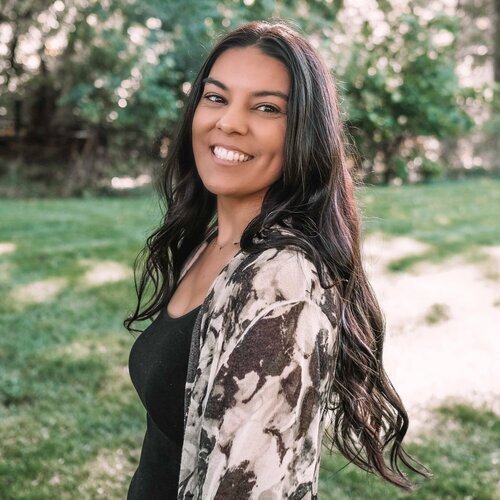 About the Author
Karmen Flores is a creative entrepreneur based in Michigan. Karmen shares all about plant-based and sustainable, intentional living on her blog Karmen Collective. From recommendations for all things plant-based to tips for living more sustainably, Karmen makes living with intention less intimidating and more accessible. You can connect with Karmen on Instagram @karmencollective and at www.karmencollective.com
---
MAKE SURE TO PIN THE PHOTO BELOW TO SAVE THIS POST FOR LATER!
---
WANT MORE SUSTAINABLE BRANDS? VISIT OUR BRAND DIRECTORY!
Our Brand Directory is home to hundreds of sustainable brands, from makeup to cleaning supplies, from underwear to shoes. We have broken everything down by category for easy shopping, along with discount codes unique to Sustainably Chic viewers.
Browse Our Sustainable Brand Directory
---
related reading you may also be interested in: