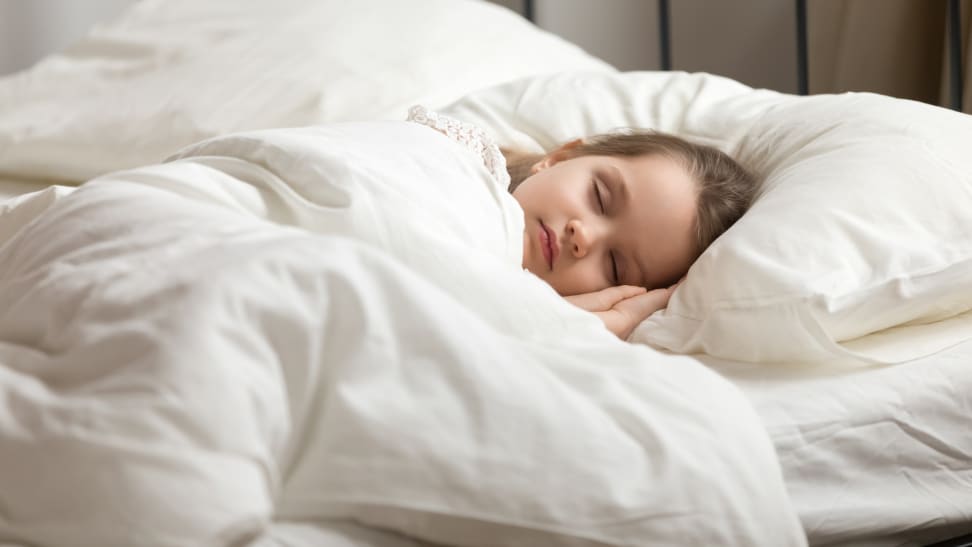 — Recommendations are independently chosen by Reviewed's editors. Purchases you make through our links may earn us a commission.
Nothing makes a cozy bed more inviting than a plush down comforter. Its soft fluffy plumage provide a lush, lightweight layer that traps warm air, keeping you comfortable throughout the night.
While many comforters on the market now have down-alternatives and include eco-friendly fillings, they often can't compare to the natural luxury of down, or provide the same amount of warmth.
Over the past few years, we've reviewed many of the best comforters, putting them through extensive testing. Among our findings, we've named The Company Store Legends Hotel Alberta Down Comforter (available at The Company Store for $399.00) as a top pick.
These are the best down comforters we tested ranked, in order:
The Company Store Legends Hotel Alberta Down Comforter
Pottery Barn Supreme Down Duvet
Lands' End Essential Down Comforter
The Company Store LaCrosse Down Comforter
Brooklinen Down Comforter
Casper Down Duvet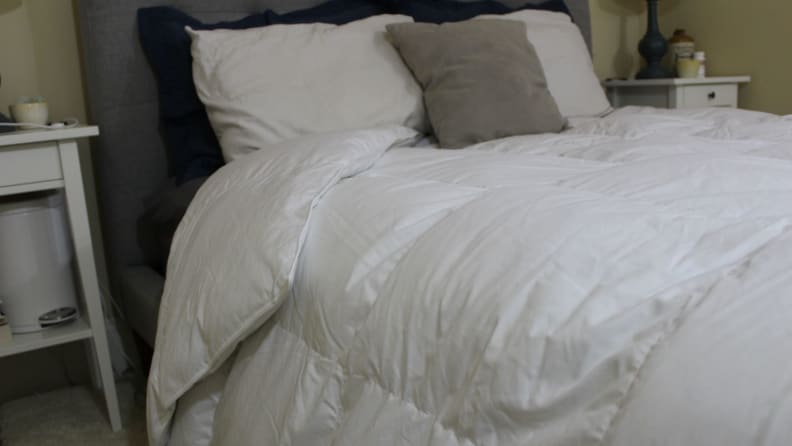 How We Tested
The Tester
I'm Camryn Rabideau, a freelance contributor here at Reviewed. After I tested and reviewed the best sheet sets, it was a natural progression to move on to comforters. (More sleeping for work—score!) Personally, I usually spring for comforters based on looks alone, so I was curious to see if high-quality bedding were really that much better than what I usually buy at the discount store. (Spoiler alert: It is.)
The Tests
I put each of these comforters through the wringer—figuratively and literally—to see how well they perform in a few key areas.
First, and perhaps most importantly, was the sleep test. I took a one-hour nap on my queen size bed under each blanket, then slept with them overnight, evaluating whether they kept me warm, how soft they felt, and if they were noisy when I rolled over.
Next, I evaluated how easy each comforter was to wash. In addition to researching care instructions for each product, I stained them with fruit juice, food, and Diet Coke, then attempted to spot clean them with regular detergent—no pre-treating or stain removers.
Finally, I used my background in textile science to evaluate the overall construction of the comforter, determining whether it would stand up to years of use. I also considered how easy or hard it would be to store each item, based on how much space it took up when folded.
What You Should Know About Down Comforters
What makes down comforters different from other comforters is the material that's sewn inside the bedding. Down references the ultra-soft filaments on the undercoat of waterfowl, usually geese or ducks. Feathers, which include the quill, are also usually included in the filling. The American Down and Feather Council, an industry trade group, explains what makes the material so appealing is that "down and feathers trap air while allowing moisture to escape, allowing products such as comforters to adjust to the amount of heat released by the body." Therefore, whether it's winter or summer, the comforter will adjust to the sleeper.
Down-alternative comforters, as the name suggests, use synthetic materials. Their performance can often be just as good at down comforters, as we found in some of our comforter testing, and are recommended for those with allergies or for looking to spend less.
However, as the council notes, using down and feathers is more comfortable, is usually easy to care for, and helps ensure a comforter's longevity.
How Heavy and What Fill-Power Should the Comforter Be?
When choosing a down comforter, be sure to consider its weight and fill-power. A light-weight comforter is great for hot sleepers whereas comforters with higher fill powers are best for those who need more warmth. Summer-weight comforters are excellent for warmer climates, especially if your bedroom is hot. It all depends on how warm you want to be at night.
Down is prized because it's one of the most insulating materials. It's qualified by its fill power, which measures how much air can circulate around it. A 750 fill-power will be more insulating and warmer than a 700 fill power or a 400 fill power.
What is the Best Thread Count for a Comforter?
Thread count refers to the number of vertical and horizontal threads per square inch. Simply put, the higher the thread count of the exterior shell, the softer the comforter. If you're using a duvet cover, the thread count won't be as important as if you're using the comforter on its own.
A thread count between 200 and 800 is considered good. However, a high thread count will wear faster than a low thread count. Finally, keep an eye out for barrier weaves, which stops the down and feathers from coming out of your comforter.
How to Wash a Down Comforter
Like any textile you buy, always read the label to make sure your comforter doesn't require dry cleaning. But one advantage to having a down-filled comforter is that the natural material is generally safe in your washing machine.
To wash your comforter, always follow the instructions listed on its label. However we have some additional washing recommendations:
First, make sure you're using a big enough washer and dryer so your comforter has enough room to thoroughly get clean, and then dry. If you only have a compact washer and dryer set, consider using a laundrromat and use one of its extra-large machines—especially if you have a king size comforter.
For best drying results, use dryer balls. They're not made to soften the comforter, but they may help to keep the down fill inside the comforter from bunching up as it dries. We also recommend opening the dryer a few times during the cycle to help fluff it up manually.
Lastly, make sure to allow ample time for drying. Depending on your dryer and the setting used, it may take several hours to dry.
---
Other Comforters We Tested
More Articles You Might Enjoy