Theme: "Just Desserts" - Phrases are rephrased as if they're desserts.

 24. *Fruity dish that imparts a healthy glow?: PEACHES AND CREAM.
 34. *Blended drinks that leave something to be desired?: NO GREAT SHAKES.
 57. *Shortbread that doesn't crumble under pressure?: TOUGH COOKIE.
 65. *Pastry that doesn't live up to its hype?: PIE IN THE SKY.
 79. *Slice that's easy to make?: PIECE OF CAKE.
 98. *Triangular confections that are a credit to their baker?: BROWNIE POINTS.
 114. *Dish that's a metaphor for life?: A BOWL OF CHERRIES.
Actually each answer has two clue layers, one refers to its "dessert" part, the other is just the normal meaning. 
I suspect Rich added the asterisks as there are two long food-related entries:
105. Thin-sliced, browned bread: MELBA TOAST 
109. Turkey choice: WHITE MEAT.
Across:

1. Cause friction: CHAFE.
6. 70-year-old morning show: TODAY. The co-anchor Hoda Kotb appears in our grid occasionally. Friendly letter combo.

11. Small, deadly snakes: ASPS.

15. Actor's goal: PART.

19. One way to gain access: LOG IN.

20. Northern California town that once had a palindromic bakery: YREKA. This link says that "When the business closed and a gallery opened in the same spot, they named themselves the Yrella Gallery so that it would also form a palindrome."
21. First thing lost in the "For Want of a Nail" proverb: SHOE.

22. Many a solo: ARIA.

23. Air raid signal, e.g.: ALERT. My last TaskRabbit tasker is from Ukraine. He's only been here for a few months.

27. Significant Civil War concern: DESERTION.

29. Run-throughs: REHEARSALS.

30. Buzzers: BEES.  And 31. Nuisances: PESTS.

33. Ball-bearing peg: TEE. Some are taller. We also have 2. Flagstick holder: HOLE.
39. Resort area attractions: BEACHES.

43. Certain something: AURA.

44. River to the English Channel: SEINE.

45. Online message: POST. And 54. Memorandum: NOTE.

46. Used (up): ATE. Poor Boomer has to use the toilet after every meal. This side effect lasted about 8 days after his last chemo. We expect the same this around. He also has encountered some stomachache problem this time.

47. Music : verse :: poetry : __: STANZA.

50. Rule, briefly: REG. Regulation.

51. Indecent matter: SMUT. And 84D. Often blocked online lewdness: PORN.

53. Bring upon oneself: INCUR.

55. Casually shod: SANDALLED. Not a word I use.

59. Shell-covered edible: EGG. One more food items: 7. After-sandwich sandwich: OREO. 67. Deli hanger: SALAMI. 110. Often-shared sandwich: HERO.

60. Small valley: GLEN.

61. Tastes: SIPS.

62. Canada's most populous prov.: ONT.

63. Snorkeling spot: REEF.

69. Disney souvenir feature: EARS.

73. Airport abbr.: ARR.

75. Buds: PALS.

76. Long, long time: AEON.

78. Magna __ laude: CUM.

84. "What's done is done," e. g.: PLATITUDE. Great fill.

86. Implanted: SOWED.

87. Rich deposit: LODE.

88. __ constrictor: BOA.

89. Cookware coating: ENAMEL.

90. Flock female: EWE.

91. End of many a hammer: CLAW.

93. Kuhling of "Chicago Med": NORMA. Unknown to me.


95. For fear that: LEST.

96. Thigh-length outer garment: CAR COAT. Never heard of this term.

102. Tolkien creature: ORC.

103. Is right for: SUITS.

104. "The __ Must Be Crazy": 1980 comedy film: GODS.


117. Authority: SAY SO. The VA Occupational Therapist visited our home last week. She was shocked by how low Boomer's recliner is. She recommended a lift chair. We think we're just going to get this one from Amazon in a few months. It's friendly to a tall person.

118. Sauna covering: ROBE.

119. Many a retired racehorse: SIRE.

120. Off-the-wall: OUTRE.

121. Draco Malfoy's trademark expression: SNEER.
122. It opens many doors: KNOB.

123. H-shaped letters: ETAS.

124. Cultural character: ETHOS.

125. Test, as ore: ASSAY.

Down:

1. Dressed: CLAD.
3. Periods with names: AGES. Also works for ERAS.

4. Agitator: FIREBRAND.

5. Menu listing: ENTREE.

6. Keyboard pros: TYPISTS.

8. Campus leader: DEAN.

9. Westminster show org.: AKC. American Kennel Club.

10. "Boo-__!": cry of celebration: YAH.

11. Balance sheet heading: ASSETS.

12. Persian rulers: SHAHS.

13. Cornmeal product: PONE. Never had this.

14. Tranquilizes: SEDATES.

15. About 3.26 light-years: PARSEC. Also 79. Tiny time meas.: PSEC.

16. Space: AREA.

17. Omani money: RIAL.

18. Alternatives to mortarboards: TAMS.

25. Gaelic tongue: ERSE.

26. First act?: CREATION. Genesis.

28. Leaves in a cup: TEA.

31. Twinge: PANG.

32. Barely make, with "out": EKE.

34. Sadat's predecessor: NASSER. Here they are. Then Mubarak succeeded Sadat.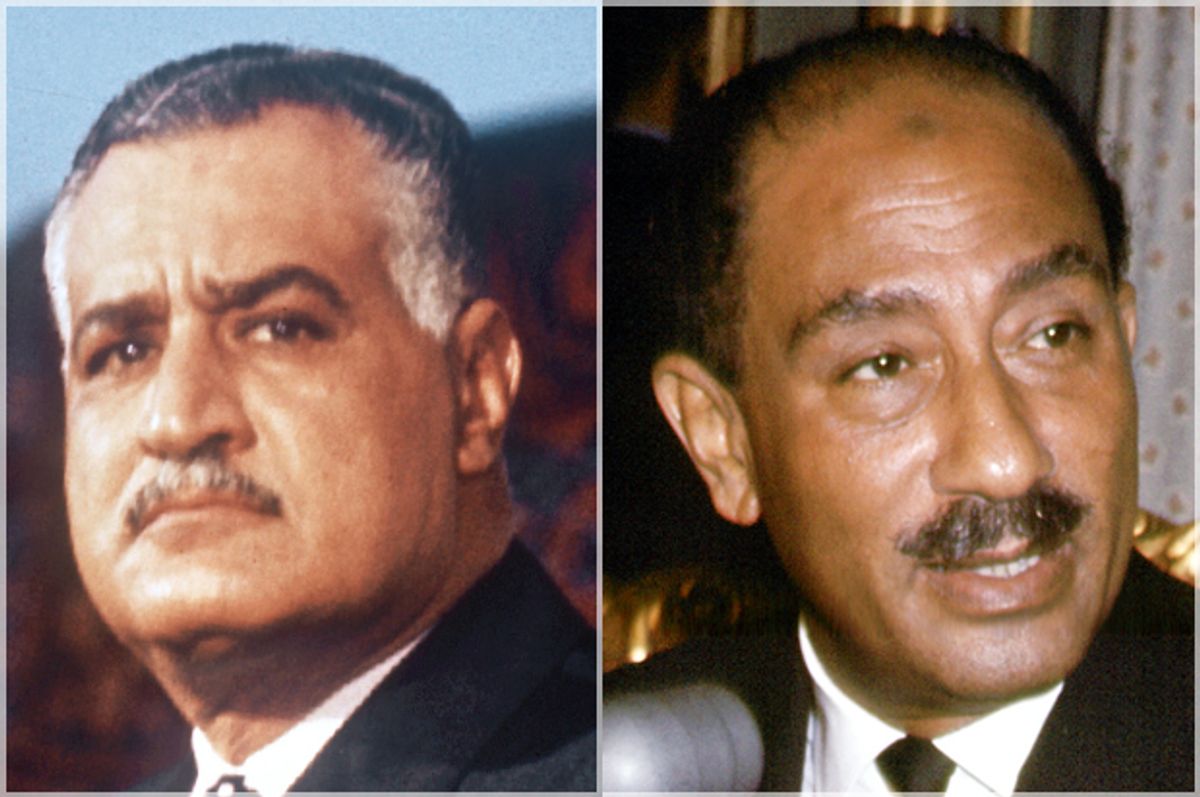 35. Service break?: OUTAGE. Another great clue.

36. Farm: GRANGE. Learning moment for me.

37. Calm: SERENE.

38. Hastened: HIED. 41. Needle case: ETUI. 42. Dried-up: SERE. Regulars in our old Tribune Daily days.

39. Joni Mitchell's "__ Sides Now": BOTH.

40. Break-in, nowadays: HACK.

45. Pooch with a turned-up nose: PUG.

48. Zig counterpart: ZAG.

49. Star NFL player: ALL-PRO.

51. Juniors-to-be: SOPHS.

52. Calliope, for one: MUSE.

56. Welcoming wreath: LEI. Hi there JimmyB!

57. Words on a spine: TITLE.

58. Acme cactus costume wearer: COYOTE.

61. Crawling reptile: SNAKE.

64. "Mirror of the mind": St. Jerome: FACE. OK, full quote is "The face is the mirror of the mind, and eyes without speaking confess the secrets of the heart."

66. Air 2 or Pro: IPAD.

68. New Zealand parrot: KEA.

70. Insight: ACUMEN.

71. Least courteous: RUDEST.

72. Refines, as ore: SMELTS.

74. Gemstone from the sea: RED CORAL.

77. Diarist Anaïs: NIN.

80. Field of Dreams home: IOWA. Mall of America used to have  store called "Field of Dreams"  It's closed.

81. Pitcher sans arms: EWER. Fun clue.

82. Word with panel or screen: FLAT.

83. Holy animal?: COW. Thanks for the tape tip for cracked finger, ATLGranny!

85. Magic charms: TALISMANS.

88. Archery items: BOWS.

92. Source of intolerance: LACTOSE.

93. "Just kidding!": NOT.

94. Sponsorships: AEGISES. Learned from doing crosswords.

97. Spider's network: COBWEB.

98. Things beaten in searches, with "the": BUSHES. Beat the bushes.

99. Baptism, for one: RITE.

100. Lobster catcher: POT.

101. Texas or Ukraine city: ODESSA. Minnesota has quite a large Ukrainian Community.
103. Pelvic bones: SACRA.

105. Work on papers: MARK.

106. "... the __-coloured ink": Shak.: EBON.

107. Mexican wolf: LOBO. Hi there!

108. "What __?": OF IT.

109. In the company of: WITH.

111. Contacts can help them: EYES.

112. Having set sail: ASEA.

113. Whig rival: TORY.

115. __ v. Wade: ROE.

116. Well-worn track: RUT.

We had a busy week. Regular Monday & Tuesday morning PT and OT, then an extra home visit by a different OT.
Thursday was long, we were at the VA hospital for a full day for various appointments and chemo infusion. The neurosurgeon was happy with Boomer's latest MRI scan. Boomer's PSA also dropped to 365. Still sky high (0-4 is normal), but his PSA was 485 a month ago. So the chemo is working. His next chemo is March 23.

Friday was easier. Morning video test call with the Oncology, then we went to our local VA clinic for his annual diabetic checkup. His doctor was pleasantly surprised by how upbeat Boomer was. 
Here's Boomer with his OT Erin, who's trying to improve Boomer's balance. As you can see, Boomer was not steady at the start. Erin has a belt on Boomer so she can catch him if he falls.