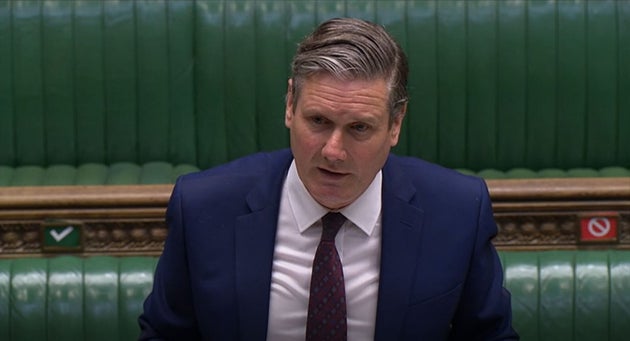 You're reading The Waugh Zone, our daily politics briefing. Sign up now to get it by email in the evening.
Labour pains
Culture secretary Oliver Dowden made a little bit of history today. Not with his vague hint of a smattering of cash for a theatre sector facing death row. Nor with his slightly less vague hint that football fans may be able to go to matches in the autumn, relayed in full Roger Nouveau ('soccerball! It's amazing!') tones.
No, Dowden's real achievement was that he became the very first cabinet minister in more than three months of 91 separate No.10 press conferences to use the occasion to make a party political attack. Referring to teachers keen to reopen schools, the Tory minister said: "I do think it's a bit of a shame that their unions and indeed, it appears, the leader of the Labour party is not also providing them with that kind of backing and support."
Now, of course, Keir Starmer may feel that being attacked by Dowden is not so much like being savaged by a dead sheep as being heckled by a Flowerpot Man. But the reference to school reopenings was part of today's Downing Street tactic of putting Starmer on the defensive. And as crude and obvious as it was, Boris Johnson deployed the attack line to good effect in PMQs, repeatedly ridiculing the "wibble, wobble" of his opponent.
Starmer had asked perfectly valid questions highlighting the PM's ignorance of child poverty reports, council cash squeezes and the NHS surcharge for migrant staff. But the raw politics of Johnson's repeated demand - 'let him say schools are safe to go back to' - did expose an ambivalence and lack of clarity in Labour's stance to date.
Starmer seemed strangely leaden-footed in response. He could have swiftly pointed out that of course he thinks schools are safe because his own children have been attending (he's cited them before). He could have pointed out that class sizes had got bigger under the Tories (Labour's manifesto pledged a cap), while private schools were well used to groups of 15.
Most of all, he could have said that it was Johnson's government that had promised a great return for all primary pupils, only to come up against the hard reality of logistical problems (lack of space, lack of teachers) forced by its own medical advice on social distancing.
Some 30 minutes later, Starmer's spokesman came up with the counterattack his boss had failed to land: "Ultimately it was Gavin Williamson who said on June 9 we are not able to welcome all pupils. The government has a majority of 80. And it should be doing everything it can to reopen schools as soon as possible."
With Royal College of Paediatrics another group today warning against continued school closures (which "risks scarring the life chances of a generation of young people"), the failure to manage the issue does indeed 'ultimately' rest with the government. Yet Starmer and Labour have so far not set out their own rescue plan or creative ideas, beyond saying there should be a taskforce of all parties involved.
The extremely low risk to children from Covid may at some point be fully acknowledged in government policy, as abandoning social distancing (as Nicola Sturgeon has now suggested) is the only way to truly get schools fully functioning. Some secondary pupils returned this week, but with just two year groups seeing one day of classroom time a week, and only then in core subjects, the digital divide is a running sore that festers with each day.
The danger is that for all Starmer's 'constructive opposition', Labour will look like it is just waiting for the government to fail (and some of its members and MPs like that idea). On Brexit, a similar suspicion arises. Starmer has refused to say if he would prefer an extension to no-deal, and his spokesman repeated the new mantra today on this point, saying: "The government has a majority of 80." If the UK does end the year without a deal, or with a bare bones one, Labour will have to clearly say what its alternative would be.
Still, if Labour's big risk is timidity, the government's is complacency. And Oliver Dowden underlined it today. When asked some powerful questions by the Hull Daily Mail about parents on the breadline, the minister robotically read out the statistics of government help given to the city. As well as 4,000 firms helped with grants and 6,000 self-employed supported, a whopping 31,900 people were benefitting from the Treasury's job retention scheme.
But the sheer size of that number of people furloughed should chill the bones of every Tory MP, precisely because many of them may well be a redundancy-in-waiting, not a redundancy avoided. A new survey of 500 business leaders today found 51% of them would let furloughed staff go once the scheme stops.
One of the most important datasets of recent weeks was last week's list of every single UK constituency with furloughed workers. Almost all of the 650 MPs in the UK have more than 10,000 constituents who have been furloughed. It doesn't take a genius to work out that is larger than many MPs' majorities, especially when their families are counted.
And yet, as well as their boss's first PMQs victory over Starmer, Tory MPs will also be buoyed tonight by the latest YouGov poll showing that the economy is back at the top of the public's concerns. Six in ten (61%) now say it is the most important issue facing the country, ahead of healthcare (60%) and Brexit (45%).
And guess what? Some 41% of Britons think a Conservative government led by Johnson would be better at managing the economy, compared to just 21% who would prefer Starmer's Labour. This is despite Starmer being seen as more competent than the PM. It's perfectly possible the Tories could weather the Covid jobs storm by saying 'this is a global crisis, but it would be even worse if you trust Labour with the economy'.
Starmer knows it will be a long haul to turn those figures round. Some of his new shadow team have got the party talking again about entrepreneurship, aspiration and wealth creation, but the lingering Corbynite orthodoxy among some still seems to be that profit is a dirty word.
Offering a borrowing-fuelled emergency state subsidy of jobs is one thing, a lasting respect for your party's economic credibility post-Covid is another. Unless Labour can persuade small business owners (and their staff) that the party is 'for people like me' (as it did under Blair), it may get no further than base camp on the electoral Everest of 2024.
Quote Of The Day
"I think the people of this country are heartily sick of going on about Brexit ... we got it done."
Boris Johnson to Lib Dem acting leader Ed Davey
Wednesday Cheat Sheet
The NHS test and trace app may not be ready by the winter and "isn't a priority for us," health minister Lord Bethell told a Commons select committee. Ministers hope for improved contact tracing stats tomorrow.
Football fans could be allowed to return to stadiums to cheer on their team by autumn, Oliver Dowden suggested.
Marcus Rashford warned the government that his school meals campaign was not "the end of it because there are more steps that need to be taken". Ministers had "bought an extra six weeks" to "figure out what's next" on child poverty.
Painting a Union Jack on Boris Johnson's RAF Voyager plane will cost the taxpayer at least £900,000, No.10 revealed.
Matt Hancock was spotted putting his arm around a fellow MP in the Commons, and later apologised for breaching social distancing rules. "I'm so sorry for a human mistake on my part. Like all of us, I instinctively wanted to reach out to a friend I'd just seen," he said.
Introducing "no fault" divorce shows Boris Johnson's government has "lost its moral compass", Tory MP Christopher Chope has said as he compared new legislation to "how we used to deal with witches".
What I'm Reading
Is No.10 Misreading The Polls On The 2m Rule? - Prospect
Tory MPs Will Have To Relearn The Art Of Saying No - ConHome
Incompetence Is Baked Into Johnson's Government - Rafael Behr
Got A Tip?
Send tips, stories, quotes, pics, plugs or gossip to waugh.zone@huffpost.com. 
Subscribe To Commons People
Each week, the HuffPost UK Politics team unpack the biggest stories from Westminster and beyond. Search for Commons People wherever you listen to podcasts and subscribe.