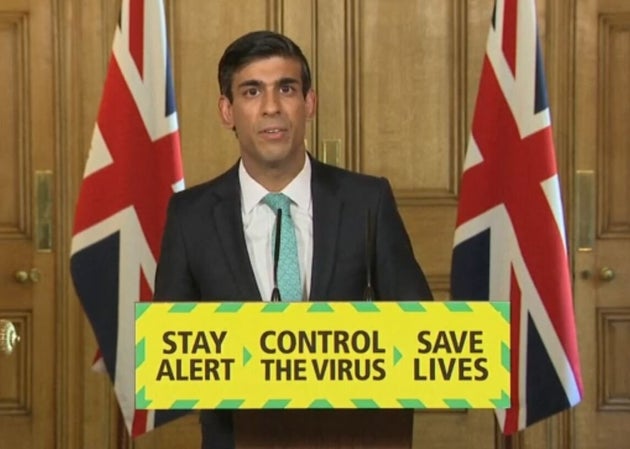 You're reading The Waugh Zone, our daily politics briefing. Sign up now to get it by email in the evening.
Summer lovin', happened so fast
Government exit routes out of the coronavirus pandemic are an almost impossible balancing act. Boris Johnson knows that the lockdown is squeezing the windpipe of the economy, but he can't do anything that risks a second wave of infections and deaths. Chancellor Rishi Sunak has an equally difficult task in calibrating how long to keep state support in place and how quickly he should start rebuilding the public finances.
So far, Sunak has maintained a political consensus with his huge programme of support for workers. Sensibly, he has adjusted the plans as he's gone along, after consulting trade unions (who'd have thought it?), business and Opposition parties. Today's 'flexible furlough' policy is another example of him listening to calls to allow part-time or short-working as firms gradually get back to business. The extension of the self-employed support was similarly welcomed.
But although Sunak has devised a tapered end to the scheme, there are still plenty of people worried that he is taking too big a gamble with his plan to start pulling the plug in August and September. Not surprisingly, most of the questions at his press conference centred on the risk that firms will start laying people off once asked to foot the bill for their wages, pensions and national insurance.‌
And the tough balancing act was nowhere more stark than in Sunak's own words. Thanks to some speechwriter who fancies themselves as a cut-price WH Auden, the Chancellor opened with what sounded like a poem titled 'Bye-Bye Lockdown, Hello Sunshine'. "Office lights will be turned on and windows thrown open/Work clothes and school uniforms will be pulled out of the wardrobe/Shops and factories will start to hum with activity..."
But when it came to the actual Q&A he had to admit that things won't look so sunny for job prospects in late summer and early autumn. "There will be hardship ahead for many and that rests heavily on my shoulders, I am very conscious of that," he said. You have to keep reminding yourself that this is a politician admitting joblessness will rise. "I will work very hard for all of those who do lose their jobs, I'm working as hard as I can get them back into work - and good work - as soon as possible."
In fact, that task of getting people back into work is the role of the work and pensions secretary (the clue is in the title). Which makes it even more bizarre that Therese Coffey has not led a single one of the No.10 press conferences since they began way back in mid-March. Let me repeat that, not a single one.
This, despite Universal Credit being in demand as never before and DWP having some good news to share for once (the system has withstood the online strain). The PM himself told the liaison committee this week that he wanted more women at the press briefings, so here's a free tip: call for Coffey.‌
The biggest problem with Sunak's plans today however was that they failed to grasp that some sectors really will be hit harder than others. The Resolution Foundation estimates that two million staff working in hospitality are furloughed and it is the prime area for layoffs, with younger workers particularly at risk of the dole.‌
Of course, if the government can find a way to safely reopen hotels, restaurants and pubs, a lot of that economic pain could be avoided. The PM talked this week about possibly relaxing the UK's 2m rule to perhaps come into line with the 1.5m or 1m elsewhere in Europe. At a stroke that would hugely help some hospitality firms to survive and it's surprising more urgency isn't shown on this precise topic.‌
Only today, we learned that Sage had decided to change its mind on face-coverings some 20 days before the official advice was changed. That's a gap between evidence and action that will dismay some MPs, particularly those who think the 14-day quarantine plan for overseas visitors will damage business as well as tourism. Today, we learned that just seven people had died in London from Covid. By next week, it could be down to zero. But on June 8, anyone who wants to fly into the capital will be required to self-isolate for a fortnight.‌
This feels particularly perverse as the UK is the country most in danger of being the pariah on foreign travel. Only today, Greece listed all the countries it will take visitors from once it reopens for tourism from June 15, and we were not on the list. During Sunak's press conference, No.10 revealed Johnson had had a phone call with Donald Trump where they discussed the late June G7 summit in Camp David, and "the importance of leaders meeting in the US in person if possible". If the PM does go, will he and his team face the ignominy of a two-week self-isolation on their return?‌
If that seems surreal, the whole summer may feel surreal for many. A chunk of the population in secure jobs have built up savings during lockdown, but a number have had incomes really squeezed and are teetering on the edge of redundancy. That big divide looks like it will get worse in the autumn and beyond. As we've basked in record sunshine this May, most people's minds have been taken off the gloom. But the weather could well change in more ways than one.‌
Sunak today rolled the dice as he hoped the UK would avoid a severe winter of discontent. For all our sakes, we had better hope he gets lucky.
Quote Of The Day
"Many of us would prefer to see the incidence [of Covid-19] down to lower levels before we relax measures."
Professor John Edmunds, member of Sage
Friday Cheat Sheet
A total of 38,161 people in the UK have died after testing positive for Covid-19.
The UK's coronavirus furlough scheme will finish at the end of October, Chancellor Rishi Sunak has confirmed. From August, employers must pay National Insurance and pension contributions, then 10% of pay from September, rising to 20% in October.‌
Only half of people who show coronavirus symptoms have been self-isolating for at least a week, the latest minutes of the Scientific Advisory Group on Emergencies (Sage) have revealed.
Matt Hancock is facing a second warning from the UK's statistics watchdog about government figures for daily Covid-19 tests.
Nearly three million people registered as a British national (overseas) in Hong Kong could be eligible for UK citizenship if China presses ahead with a controversial new security law.
The police chief who carried out the investigation into Dominic Cummings is now facing an inquiry over her force's handling of the matter, after complaints from the public, the Telegraph reported.
What I'm Reading
Lockdown is damaging lives; stratified shielding could help get us out - BMJ
Why The Cabinet Office Will Be In The Dock Over Covid - ConservativeHome
Got A Tip?
Send tips, stories, quotes, pics, plugs or gossip to waugh.zone@huffpost.com. 
Subscribe To Commons People
Each week, the HuffPost UK Politics team unpack the biggest stories from Westminster and beyond. Search for Commons People wherever you listen to podcasts and subscribe.