10 Ways to Entertain Kids at the Kids' Table
It may not be quite as fancy as the State Dining Room at the White House, but a great holiday meal is always the centerpiece to the season. We've put together some great tips and ideas to keep the littlest guests happy during the meal. And, we all know, when the kids are happy, moms are happy too! Try a few of these suggestions for a festive holiday table, and share with us some of your favorite ideas too!
Related: Thanksgiving Gratitude Wreath Craft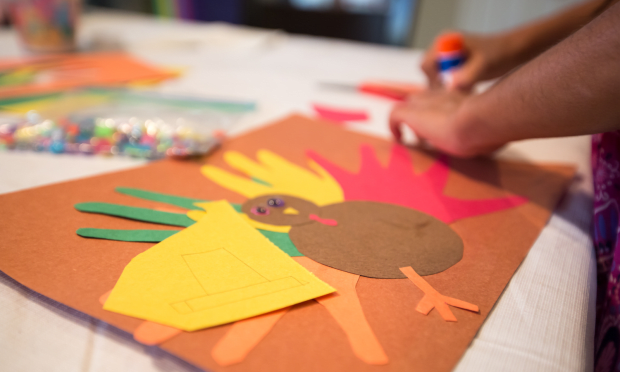 10 Ways to Entertain Kids at the Kids' Table
Put on paper faces. Make a paper plate Santa (elf, turkey or silly face). Give each child a paper plate, cotton balls, washable glue and washable paint or markers. They can even try and make portraits or masks of family members at the table then use them to put on a play.
Sculpt the night away. Stock the table with Play Doh and cookie cutters. If the kids are little -- and tend to eat dough instead of dinner -- make an organic version (recipe below). Provide cookie cutters and give kids the challenge of making holiday themed shapes and characters.  See our recipe below. 
Construction zone. Two words: Gingerbread house. Get a kit or just use graham crackers and marshmallow fluff and let the little ones build a yummy structure. Then create a game: Take a bite of food, add a piece of candy to the house. And repeat!
Let them shine. Use colored felt and cut out a variety of shapes that kids can decorate with sparkle glue. Instant ornaments!
Reusable table cloth. Cover the table with long sheets of craft or butcher paper. Put cups of markers, glitter pens and crayons on the tables. And let them get to work on a masterpiece. Bonus: The end result can double as homemade holiday gift wrap.
Set the table. Provide each child with green circular felt (or paper) "placemats." Place colored tissue paper, glue sticks and other crafty decor on the table. After the kids eat, they can lift up their plates and make their own holiday wreaths.
Serve more bird. Turkey is the highlight of many holiday tables. Ask the children to trace their hand with the crayon on a piece of paper and use varied materials to decorate their personal gobbler. Think feathers, pompom, plastic gems, stickers.
Let it snow. You can never count on the weather forecast so let the kids help make it a holiday winter wonderland with paper snowflakes. Older kids can use scissors to cut into a folded piece of white paper that when opened is a unique flake. Younger kids can add the glitter and extra flair.
Feed the "animals." Good eaters get to feed the reindeers. Prepare Tuperware full of oats, chocolate chips, sprinkles and glitter. Then full belly gets a plastic sandwich bag to fill with their own Reindeer Trail Mix concoction. Once everyone is done with dinner, the kids can lead the way outside and dust the ground for Rudolph and his pals to eat up. With each turn, a child gets to make a holiday wish.
Tasty tactic. For kids who have made it through the meal, they get to participate in a "decorate your own cupcake" dessert. Give each child a plain frosted cupcake. Then deliver a tray of clear cups filled with sprinkles, M&Ms, gummy bears, crushed Oreos, etc. and let them go crazy with the decorations before enjoying the sweet ending to a peaceful meal.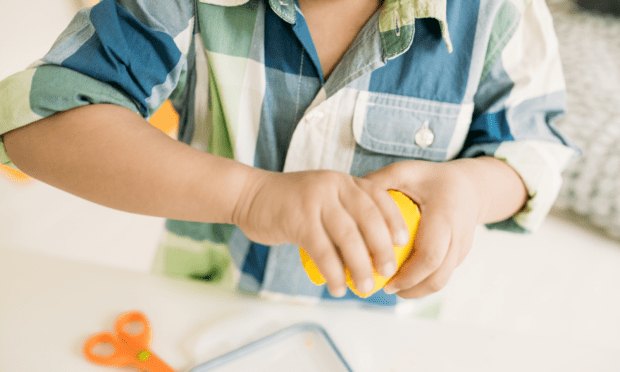 How to Make Homemade Play Doh

The recipe: 
1 cup water with food coloring added
1 cup flour
1/3 cup of salt
2 tsp cream of tarter
1 Tbl. oil
Directions:
Cook on the stove in a large pot till it forms a play dough consistency. For a no-cook, table side preparation, leave out the cream of tarter and oil.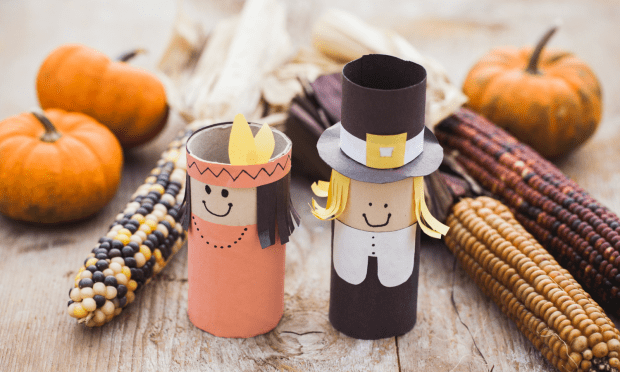 MORE THANKSGIVING INSPIRATION FROM MOMTRENDS
PIN IT!
For more Fall crafting fun, be sure to follow our Fall Thanksgiving & Halloween board here.
Momtrends was not paid for this post.