ALDI Finds for the week of 4/20/22 include gluten free donuts, PB&J bites, fan gear, outdoor plants, and more. Check them out below, and let me know what you want to Find this week!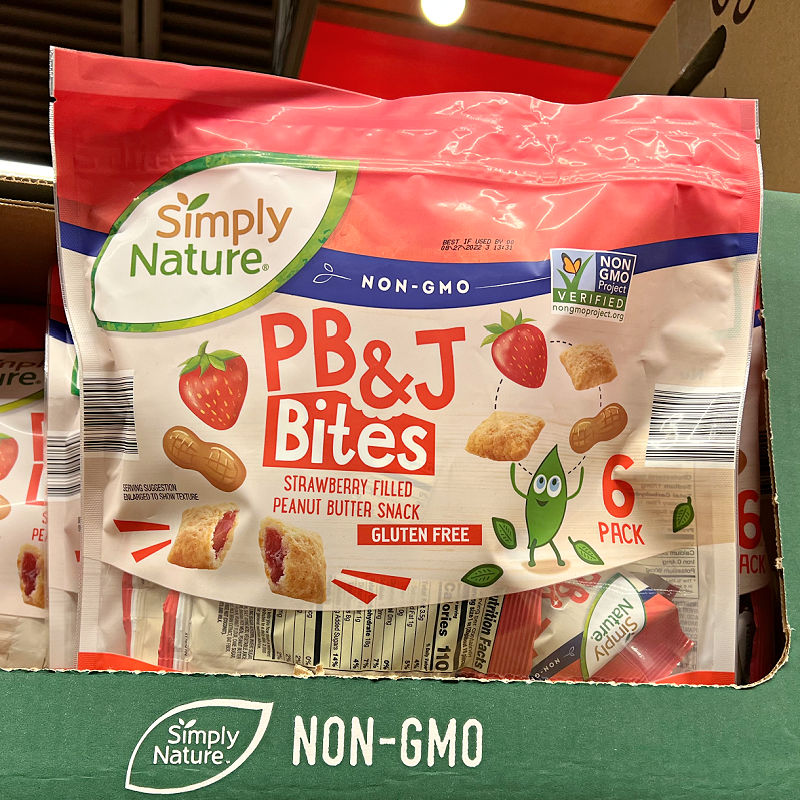 PB&J, all the way! Fans of Simply Nature gluten free PB&J bites: These are back on the shelf, at $4.69 per six pack this go-round. (See a few more gluten free products under this week's food Finds below, too.)
Note that both advertised and unadvertised ALDI prices can vary by store and by region — And then, let's talk about the rest of the top ALDI Finds for the week of 4/20/22. You'll also Find some on 4/17/22 in Sunday ad markets, or if your store tends to put products out early.
Top ALDI Finds of the week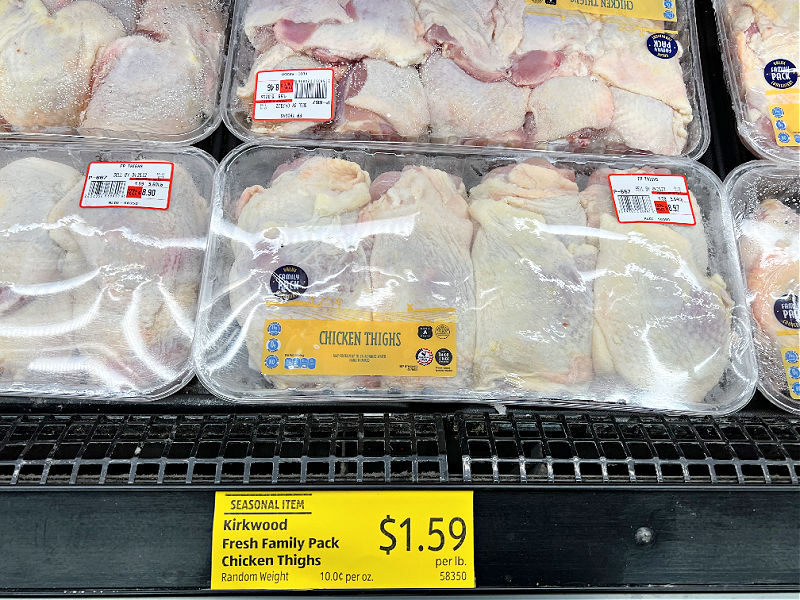 Given meat prices lately, I was happy to see family packs of chicken thighs out with a seasonal tag, at $1.59/lb. (Why these would be seasonal, though, I do not know.) Keep an eye out for these at your own store, and then read on for more Finds of the week.
These Finds are in no particular order, as we work our way through April 2022. Here are 20 more ALDI food Finds (plus gluten free Finds), as well as 30 non-food Finds (plus ALDI fan gear & gardening picks) — all from this week's ad.
Top twenty food Finds this week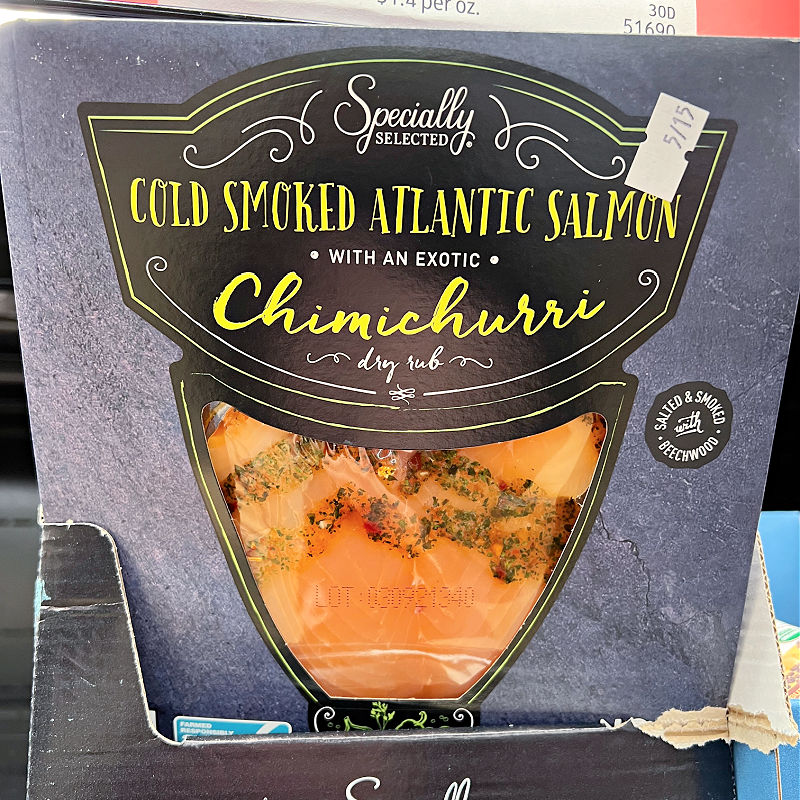 So many food Finds this week — after a long run of shorter ads, things are really picking up again for spring!
Bake Shop creme cake sampler, $5.99
Specially Selected chimichurri cold smoked salmon 3 oz, $3.99
Specially Selected salted caramel cheesecake 3.5 oz, $1.99
Park Street Deli 16 oz shredded rotisserie chicken, $5.99
Season's Choice cherry berry or pineapple greens keto blends, $5.99
Fusia chicken & vegetable or pork & vegetable frozen wonton soup, $2.49
Bremer chicken penne primavera or basil Parmesan chicken, $4.49
Funfetti mini pancakes, $2.99
Journey to India mini naanpanadas (butter chicken or chickpea curry), $4.99
Deutsche Küche spinach ricotta or artichoke cheese savory strudel, $3.99
Specially Selected stone baked goat cheese pizza, $4.29
Veggie Vita veggie sausage red pepper or buffalo cauliflower pizza, $6.99
Haribo candy, $.99
Simms carne seca air-dried beef 4 oz, $6.99
Simply Nature watermelon or mango fruit strips, $4.39
Patak's heat-and-eat vegetarian meals, $2.99
Barnana organic plantain chips in lime or pink salt, $2.98
Clancy's original or cheddar & sour cream ripples baked potato crisps, $2.79
56 oz Yummy whole grain dino buddies, $9.99
Never Any ground bison 16 oz, $7.99
I impulse bought the chimichurri smoked salmon today, so will see if that flavor comes through.
I reviewed the mini naanpanadas back in 2020, and at the time found them tasty, yet overpriced. They're up $.20 since then, so that still stands — Check out the full review, and let me know what you think.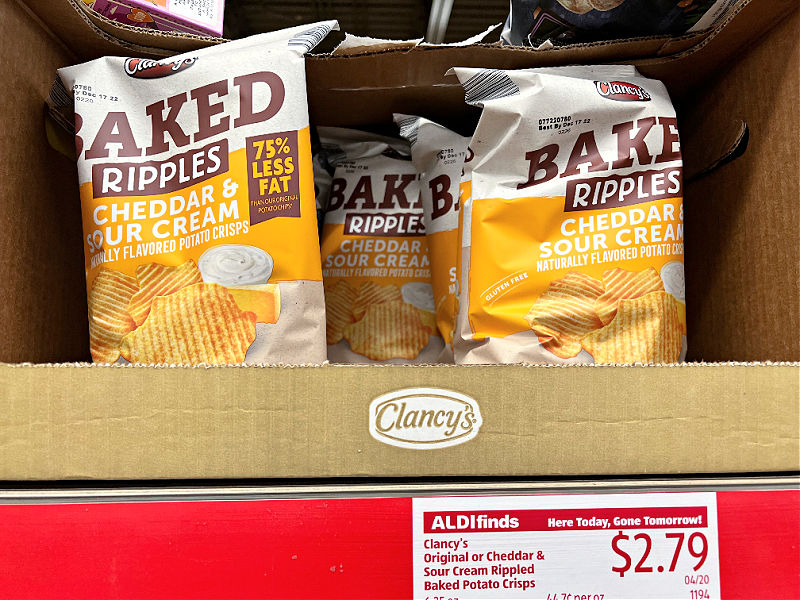 If you prefer lower fat potato chips, check out this week's baked potato crisps, too. Although these were not listed in the sneaky peek ad, they showed up on the shelf at my store with a 4/20 tag.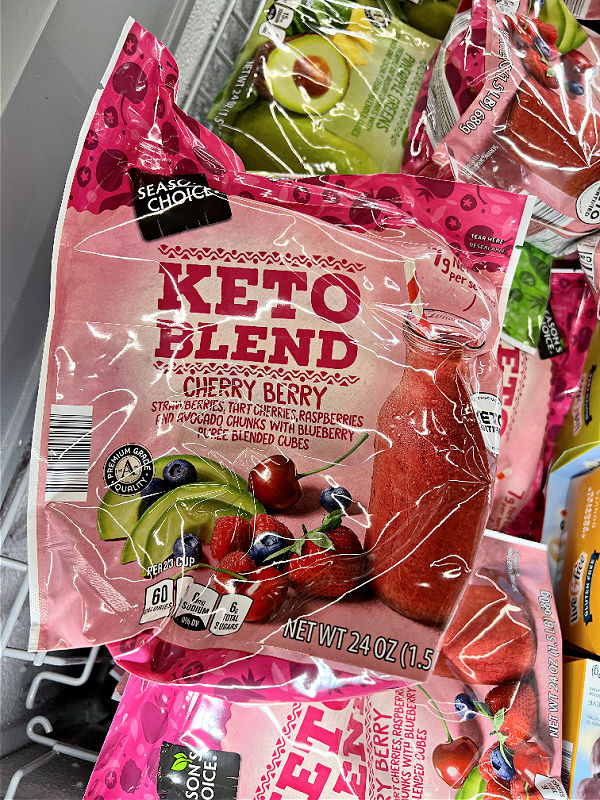 Keto folks can check out these bags of keto-friendly blends for smoothies; the berry one at my store advertised 7g net carbs per serving.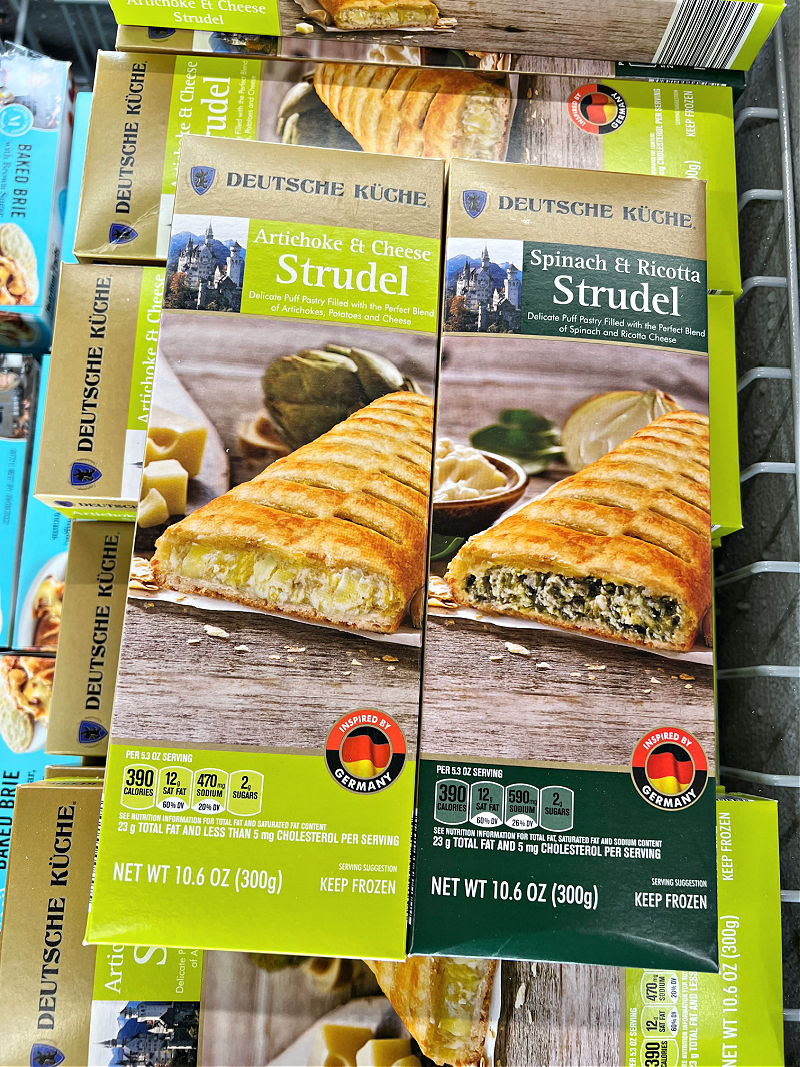 And what's not to like about savory strudel, yum!
Gluten free Finds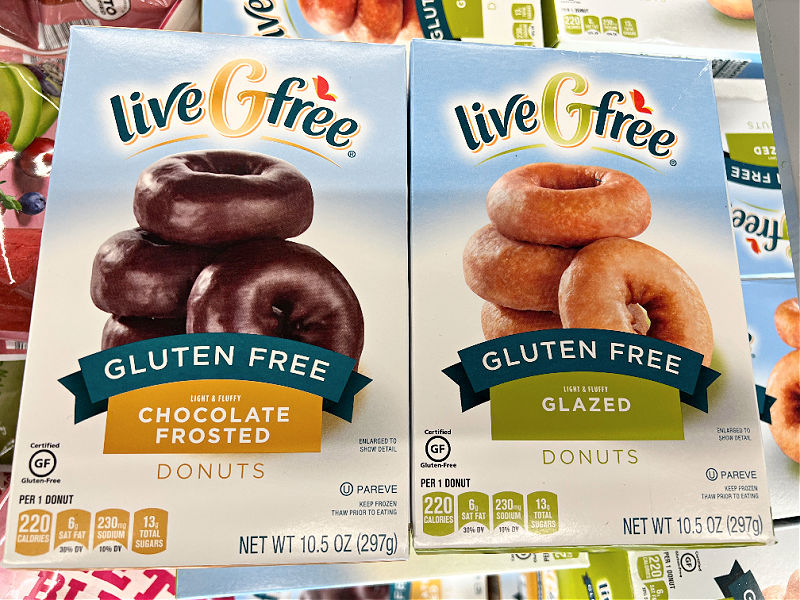 Hey, gluten free folks: Even more new Finds for you in this week's ad. Look for these liveGfree glazed or chocolate gluten free donuts in the freezer section, at $4.69 a box.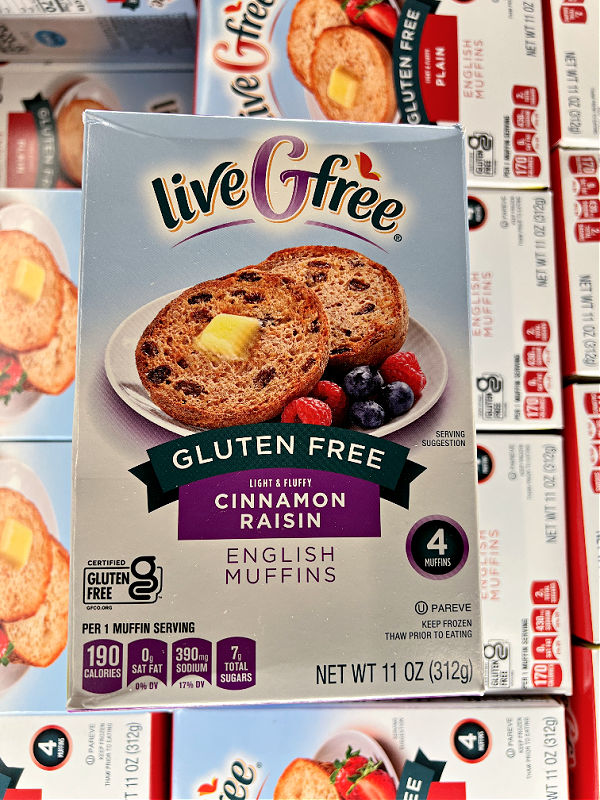 Also in the freezer section, LiveGfree gluten free English muffins — cinnamon raisin or plain, at $4.49 per 4 ct box. While you're over there, liveGfree gluten free chicken alfredo or chicken Florentine skillet meals will run you $4.99 per 18 oz package.
Top thirty non-Food Finds this week
On the not-food front, also quite a long ad this week. Beyond the 20 non-food Finds here, read on for more on new ALDI fan gear for you, as well as some new garden & outdoor Finds.
Easy Home 12-stitch sewing machine, $39.99
Easy Home memory foam lumbar or swivel cushion, $14.99
Huntington Home 2-pack energy efficient window panels, $9.99
Huntington Home 24″x72″ utility runner, $9.99
Huntington Home 4-tier faux wood shoe rack, $24.99
Crofton divided glass food storage, $12.99
SOHL rectangular storage ottoman, $24.99
Little Journey potty chair, seat, or double step stool, $6.99
Huntington Home woven organizers, $14.99
Huntington Home twin or full sheet set, $9.99
Huntington Home shelf floor lamp, $49.99
Huntington Home ultra large towel warmer, $79.99
WORKZONE 10-outlet power station with USB ports and LED lights, $39.99
Huntington Home 3-wick candle, $4.29, or single-wick candle, $2.49
Huntington Home luxury reed diffuser, $3.99
Huntington Home luxury decor pillow, $14.99
Huntington Home spring mini wreath, $8.99
Ambiano electric spiralizer, $34.99
Crofton mini fry pan, $4.99
Crofton oil & vinegar bottles, $9.99
Crofton pancake or crepe pan, $11.99
SOHL writing desk, $119.99
Crane fitness massage gun, $59.99
Crane tricep crunch or 4-in-1 resistance kit, $12.99
Lily & Dan children's umbrella, $5.99
Lily & Dan children's rain boots, $11.99
Serra Ladies' 2-pack comfort lace bralettes, $9.99
Serra Ladies' canvas sneakers, $8.99
Crane exercise ball, $12.99
Serra Ladies' cozy cardigan, $16.99
The lumbar support pillow works quite nicely; I've had mine for years.
ALDI Fan Gear is here!
Never fear: ALDI Fan Gear is here! I'm in a Weds. market store, so these weren't out on the shelf in my store yet. I'd expect their branded merchandise to go quickly, though, and would suggest getting there early if you want some. Choose from:
Serra Ladies' ALDI Fan pajama set, $9.99
Crofton 25 oz hydration bottle, $8.99
Crane ALDI fan slides, $5.99
Keychain quarter holders, $1.49
Men's or ladies' 2-pack socks, $3.99
Heart to Tail ALDI fan favorites plush pet toy, $4.99
Are you going to be sporting ALDI fan gear later this week?
Garden and outdoor Finds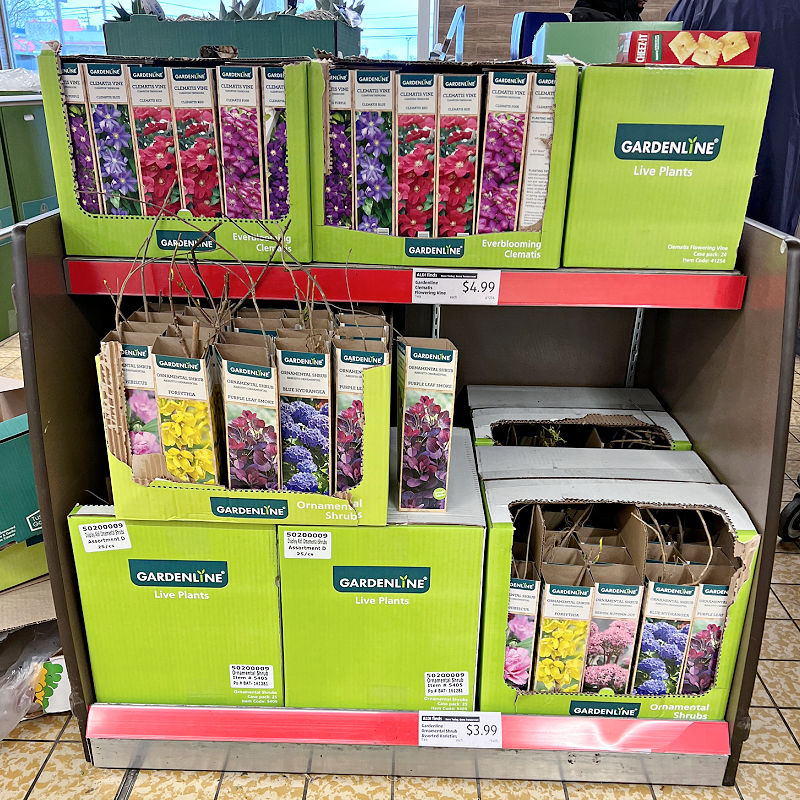 Spring has sprung, so you'll find a lot of outdoor plants and other Finds for your garden, patio, and yard this week. Look for:
8″ patio planter, $8.99
Gardenline clematis flowering vines, $4.99
Gardenline ornamental shrub, $3.99
Gardenline tumbling composter, $59.99
Dr. Earth natural compost starter, $9.99
Gardenline premium rose bush, $7.89
Range Master portable charcoal grill, $18.99
Range Master cushion grill mat, $12.99
Range Master multipurpose lighters 3-pack, $5.99
Charbroil 4-burner gas grill, $249.99
Range Master 65″ grill cover, $14.99
Huntington Home decorative faux plant, $14.99
Belavi oversized stacking chair, $39.99
The grill mat protects your patio or deck from spills — what a good idea.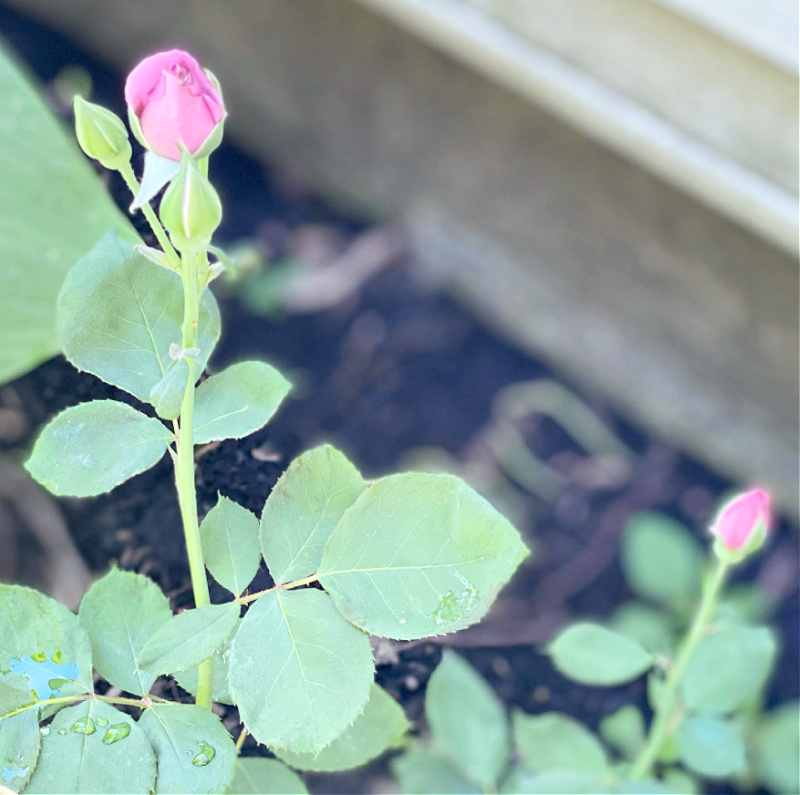 I picked up one of the little rose bushes for my new home last year, and did actually get some blooms on it that first summer.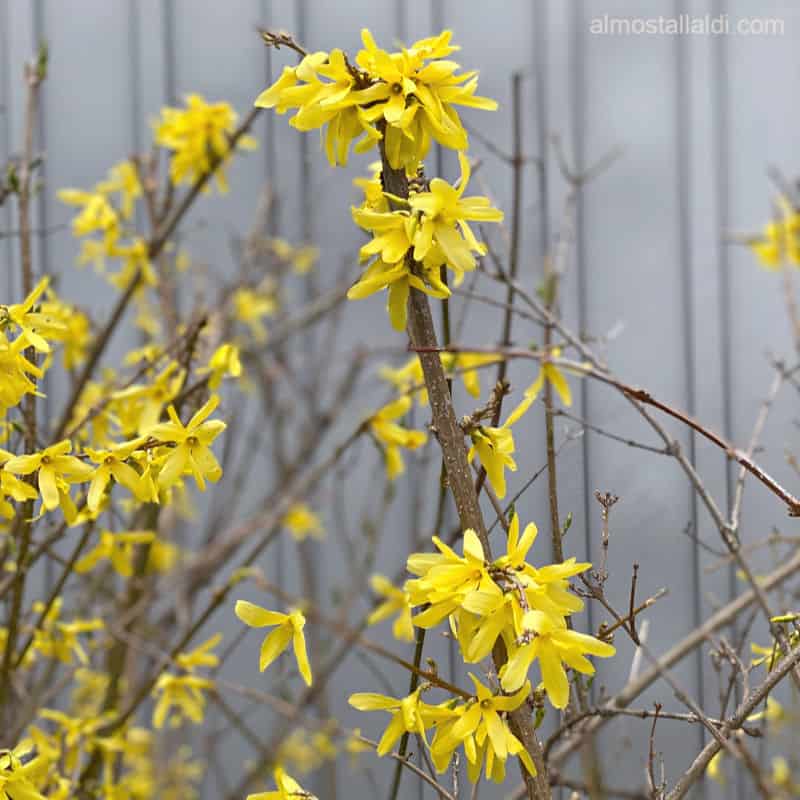 And, we'd planted the little forsythia from ALDI years ago at my old house, where they took off like crazy after a couple of years and were just beautiful each spring.
What's Up with ALDI Finds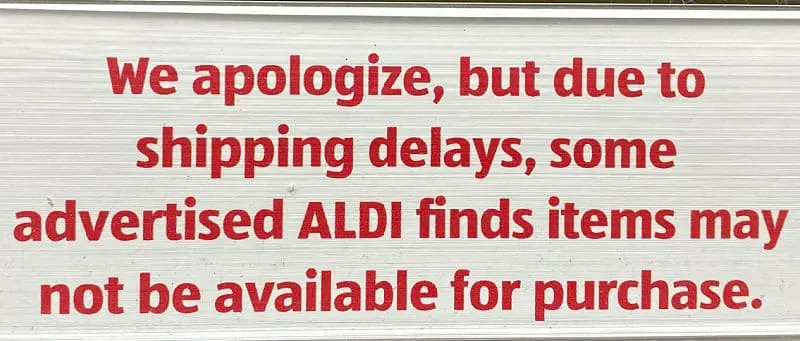 What's up with ALDI Finds? Well, these are limited time special buy items that are available in stores only while supplies last. So if you spot something you like, be sure to pick it up while you can.
Before shopping for new Finds this week, you might wish to visit the ALDI Finds product delays page. Because of ongoing shipping delays and materials shortages affecting ALDI and many other retailers, certain advertised products may not be available in all locations.
Finding the Finds
Where do you Find all of this week's special buys?
Check out the "ALDI Finds" and current weekly ad tabs (or mobile menu choices) on the ALDI site to window shop from home.
If you're planning an in-store shopping trip, use their online ad to help determine what you'll grab and purchase if you do see it in the store.
Products mentioned in this post were either spotted in store or are from the ads starting 4/17/22 in Sunday ad markets, 4/20/22 in Wednesday ad markets. What caught your eye among this week's ALDI Finds?