Cozy Earth's luxurious bamboo pajamas are one of Oprah's favorite things. So if you're in the market for some celebrity-worthy loungewear, you definitely want to check out these PJs.
They're cozy. They're stretchy. And they make you feel like royalty. But are these high-quality PJs for you? Our Cozy Earth pajamas review will help you find out.
25% Off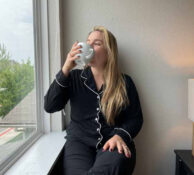 Cozy Earth pajamas feel buttery soft and incredibly breathable. Click the link below to save 25% on your order!
Cozy Earth Pajamas Overview
Cozy Earth sells a variety of comfy products, including bamboo sheets and comforters. But if you want to wrap yourself up in this lovely material all evening long, you'll definitely want to take a look at the women's long sleeve bamboo pajamas. But before we dive into all of the fun details, let's take a look at who might like the Cozy Earth bamboo pajamas.
RELATED: Cozy Earth Comforter Review
Who Should Get The Cozy Earth Pajamas?
Fans of soft and stretchy pajamas
Those who want breathable and moisture-wicking PJs
People who want many size and color options
Who Shouldn't Get The Cozy Earth Pajamas?
Fans of especially warm pajamas
Those who are on a tight budget
People who prefer pajamas made from thick material
How Comfortable Are The Cozy Earth Pajamas?
The Cozy Earth pajamas feel buttery soft. They're made from bamboo material, which wicks away moisture. They feel significantly cooler than cotton pajamas, so they work well for hot sleepers. Many people find the long sleeve PJs suitable for year-round wear, but you can also opt for their short sleeve option.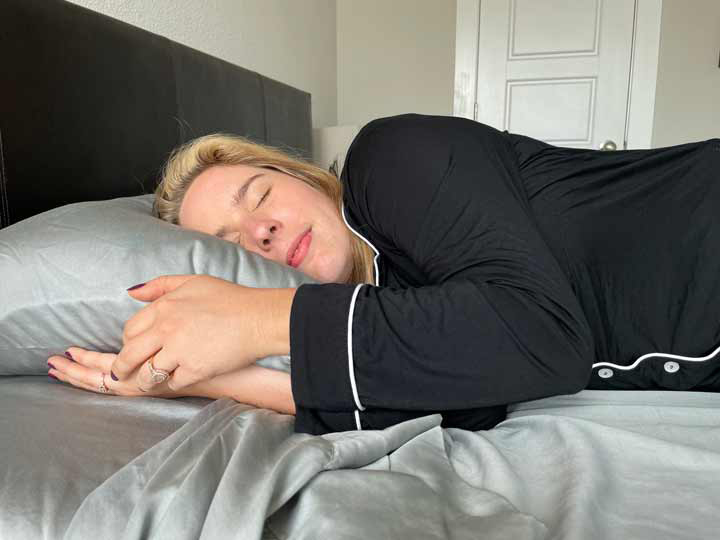 Because these PJs feature elastic waistbands and stretchy material, you won't feel constricted in them. Yes, they're great for sleeping, but you might want to wear them all day long.
What Makes Cozy Earth Stand Out?
When shopping for luxury pajamas, you want to spend time researching all of the different features. Are Cozy Earth pajamas worth the money? Keep reading to learn more about their unique features.
Cozy Earth Pajamas Materials
These PJs contain 95% viscose from bamboo, which is what gives them their delightfully soft texture. They also contain 5% spandex, which adds to their stretchy quality. And if you're worried about fast fashion, you'll be relieved to know that Cozy Earth has a direct supply chain with ethical factories.
Cozy Earth Pajamas Features
With front-facing buttons and a delicate trim, the Cozy Earth bamboo pajamas are both timeless and stylish. They feature one front pocket and two side pockets, so it's super easy to store your phone and other necessities. These PJs are available in five different colors: gray, ivory, black, navy, and blush.
RELATED: Best Robes for Women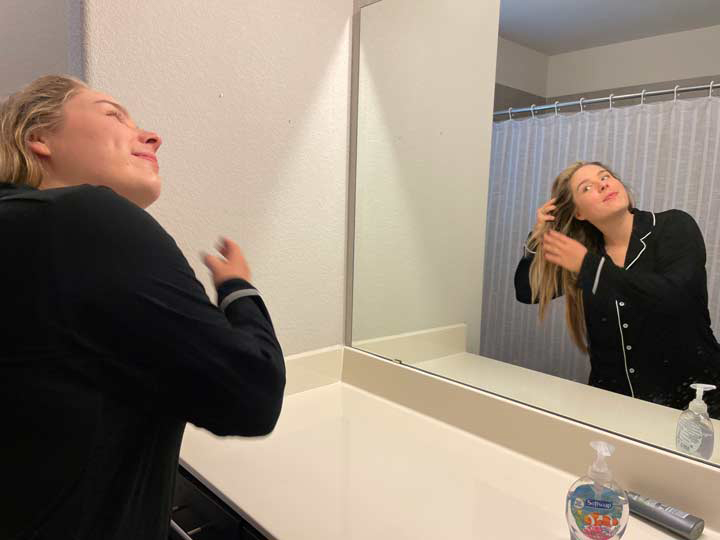 Care Instructions
It's super easy to keep the Cozy Earth PJs clean. Simply machine wash on the cold cycle with normal detergent. No bleach or fabric softener necessary.
You can dry these pajamas on your normal dryer setting, but they might wrinkle if you leave them sitting in there too long. If you're concerned about wrinkles, make sure to take them out of the dryer immediately and place them on a clothes hanger.
Cozy Earth Pajamas Size Options
The Cozy Earth pajamas have a loose and relaxed fit – perfect for snuggling on the couch on a lazy day. To make things even better, these PJs come in two lengths. Petite people, like myself, should opt for the 28" long pants. Taller folks will find the 32" pants work best.
Cozy Earth also offers many different size options, ranging from XS to XXXL. Not sure which size to get? Cozy Earth has a handy tool that will help you find the perfect fit. First, input your height and weight. Then, note whether you like your PJs to fit slim, regular, or loose. Cozy Earth compares your data with other customers' thoughts and recommends the size that will work best for you.
| | | | | |
| --- | --- | --- | --- | --- |
| Size | Numeric Size | Waist | Hip | Inseam |
| XS | 0 – 2 | 24″ – 25″ | 34″ – 36″ | Reg – 28″        Tall – 32″ |
| S | 4 – 6 | 26″ – 27″ | 37″ – 38″ | Reg – 28″        Tall – 32″ |
| M | 8 – 10 | 28″ – 29″ | 39″ – 41″ | Reg – 28″        Tall – 32″ |
| L | 12 – 14 | 30″ – 32″ | 41″- 43″ | Reg – 28″        Tall – 32″ |
| XL | 16 – 18 | 34″ – 36″ | 44″ – 48″ | Reg – 28″        Tall – 32″ |
25% Off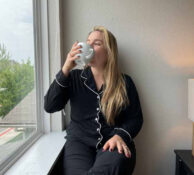 Cozy Earth pajamas feel buttery soft and incredibly breathable. Click the link below to save 25% on your order!
Looking for more comfy items? Check out our Cozy Earth bamboo sheet set review.
Cozy Earth Pricing
Cozy Earth's long sleeve stretch-knit bamboo pajama set costs $175, but you can often save as much as 25% when they go on sale. Make sure to order your pajama set during major holidays like Mother's Day, Thanksgiving, or Labor Day for the best deal.
These lovely PJs have a higher price point than many others on the market, but in our opinion, you get what you pay for. Cozy Earth PJs contain soft bamboo fabric which aids in temperature regulation. If you deal with hot flashes or night sweats, Cozy Earth's sleepwear could be for you.
Company Policies
Concerned about buying a set of luxury pajamas? Rest easy. Cozy Earth has excellent customer service and generous policies.
Shipping
Cozy Earth offers free shipping.
Trial Period
When you buy these PJs, you have 100 nights to try them out in your own home.
Returns
Not a fan? Not to worry. Cozy Earth will give you a full refund as long as you issue a return within the 100-night sleep trial period.
Warranty
These PJs even come with a 10-year warranty! You don't see this too often with loungewear.
FAQs
If you're still curious about these bamboo pajamas, check out our FAQ section below.
Are Cozy Earth pajamas warm?
These soft PJs will definitely keep you feeling warm and cozy, but they won't make you feel overheated. They're made from breathable material, which helps regulate body temperature.
What pajamas does Oprah recommend?
In the past two years, Oprah has called the Cozy Earth bamboo pajamas one of her favorite things. She's also a huge fan of the Cozy Earth bamboo bed sheets!
Where can I buy Cozy Earth pajamas?
You can buy Cozy Earth pajamas directly from cozyearth.com. If you're hesitant to order the PJs without trying them on, don't fret. Cozy Earth offers a 100-night sleep trial period and free returns. Plus, shipping won't cost you a thing!
Are Cozy Earth pajamas worth it?
If you're looking for some of the softest luxury pajamas on the market, then Cozy Earth is definitely worth the price. These bamboo PJs feel smooth and comfy, and best of all, they regulate body temperature well.
The post Cozy Earth Pajamas Review – The Softest PJs Ever? appeared first on Mattress Clarity.