Kids love chocolate chip cookies and they have such a lovely nostalgic feeling to them, they take everyone back to their childhood.
These choc chip cookies are DELICIOUS, low in sugar high in fiber and are loaded with chickpeas, Yes you heard right, These are chickpea cookies!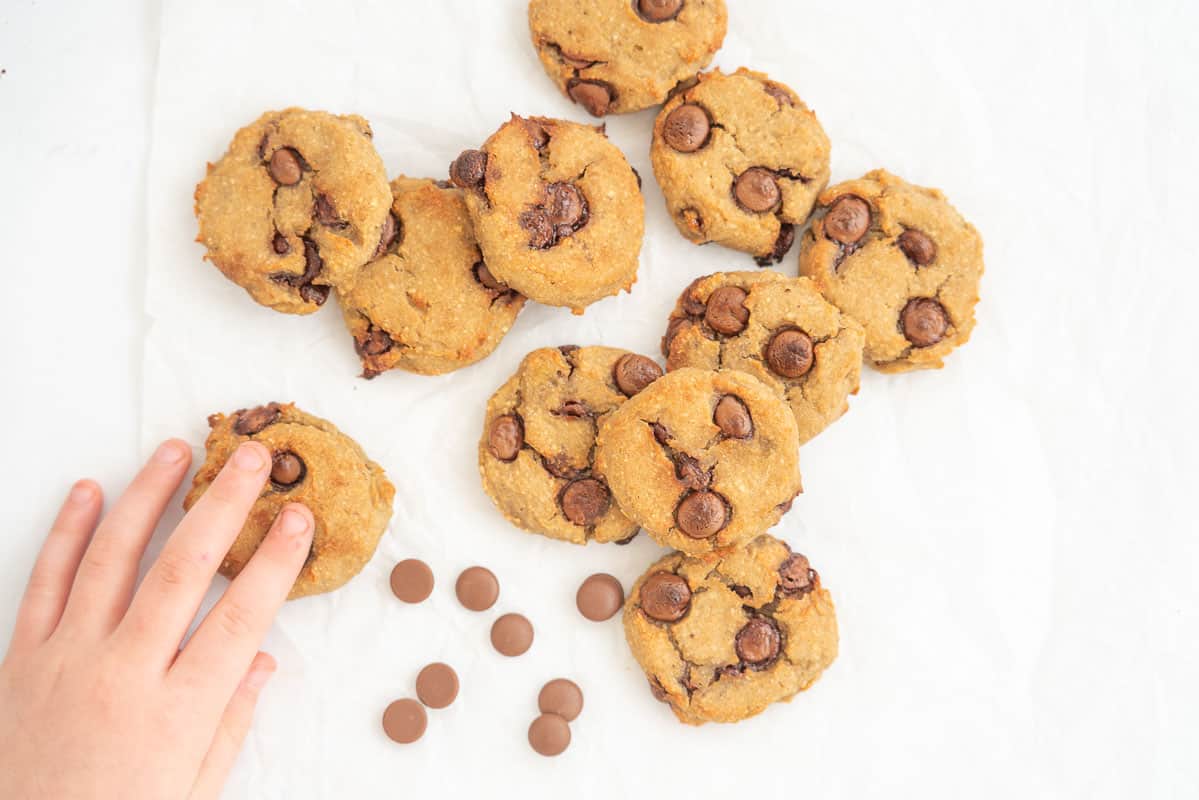 Why this recipe works
Healthy chocolate chip cookies are the goal of every mum, and these chickpea cookies tick all the boxes!
This recipe is loaded with chickpeas which means it's loaded with fiber and loaded with plant-based protein!
Low in sugar, only ¼ cup of sugar per 20 cookies is pretty darn good!
Allergy Friendly: Free From wheat, dairy, eggs, and nuts
Perfect for lunchboxes because these chickpea cookies are nut-free, low-sugar, high-protein and high-fiber they are the perfect lunchbox addition!
The ingredients you will need
It takes just 5 main ingredients to whip up chickpea cookies: Canned chickpeas, rolled oats, banana, brown sugar, plus pantry staples, vanilla and baking powder
Chickpeas actually work incredibly well in baking, giving a mild nutty flavour and keeping the end result quite moist, think a soft chewy style chocolate chip cookie. My favourite type!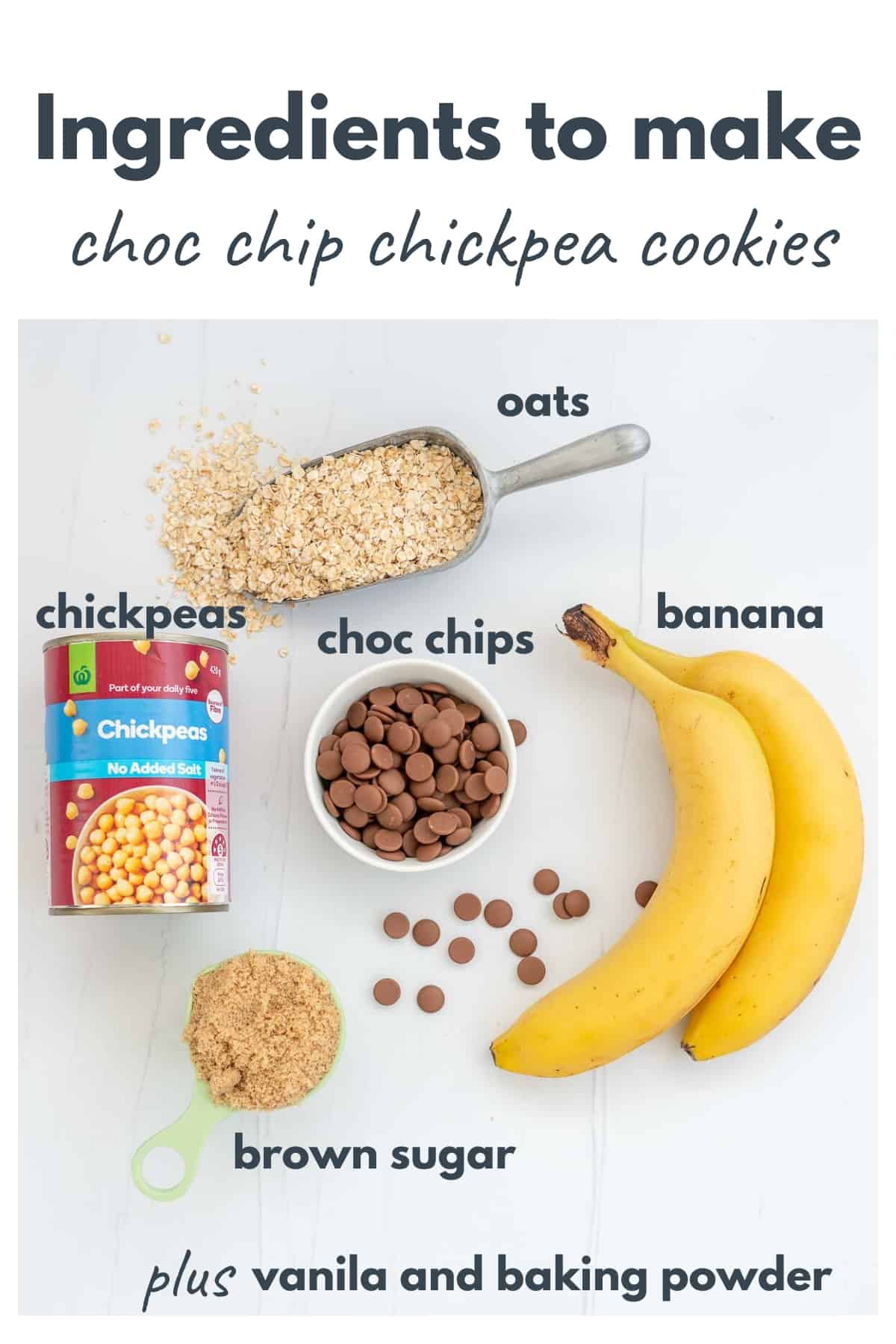 Canned chickpeas: You could use dried chickpeas, but I find the convenience of canned so great for a recipe like this. I look for No added salt chickpeas, like these ones from Countdown.
Rolled oats: As the ingredients are whizzed in a food processor it doesn't matter what size oats you use, both traditional large oats or the quick cook oats pictured work fine
Bananas: Make sure your bananas are ripe as they contribute to the sweetness
Brown sugar: I find brown sugar brings the nicest flavour to this recipe, but you could sub for any granulated sugar. ¼ of a cup is the right sweetness for my family, but if you are not used to a lower sugar cookie the recipe is divine with ? of a cup of sugar.
Chocolate Chips I use dark chocolate chips in the recipe as these are lower in sugar than milk chocolate and they are also dairy-free, which meant it made the recipe a little more allergy-friendly for my readers, and vegan for those looking to up the plant based protein in their diets. But you could definitely choose to use your favourite chocolate product
Step by step instructions
Heat the oven to 180 degrees Celsius (approx. 360 f)
Drain and rinse the chickpeas, I use a colander (photo 1)
Place all the ingredients except the chocolate chips into a food processor (photo 2)
Blend for 2-3 minutes until the mix is very smooth (photo 3)
Stir through the chocolate chips. The mix will be quite wet (photo 4)
Line a cookie sheet/baking tray with baking paper
Use a wet tablespoon to drop the mix onto the baking paper (the water stops the mix sticking to the spoon). The cookies don't spread much during cooking, so you won't need huge amounts of space between each
The cookies work fine even if they are a bit misshapen, but you can use a wet spoon to press the cookies into more perfect shapes if you have the time (photo 5)
Bake for 20-25 minutes
The cookies will still be a little soft when you remove them from the oven (photo 6), leave them to cool on the cookie sheet for 5-10 minutes before letting them cool fully on a cooling rack.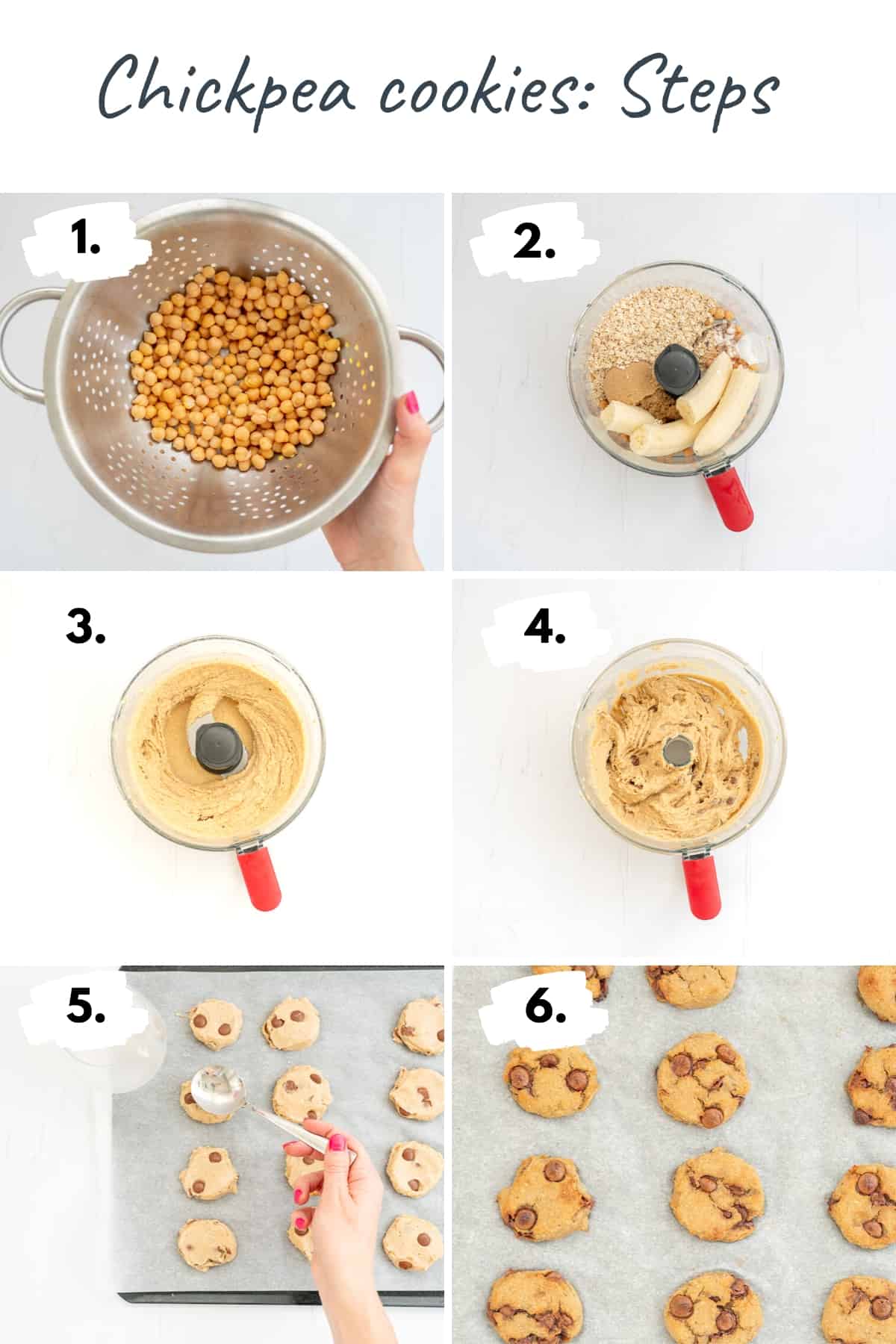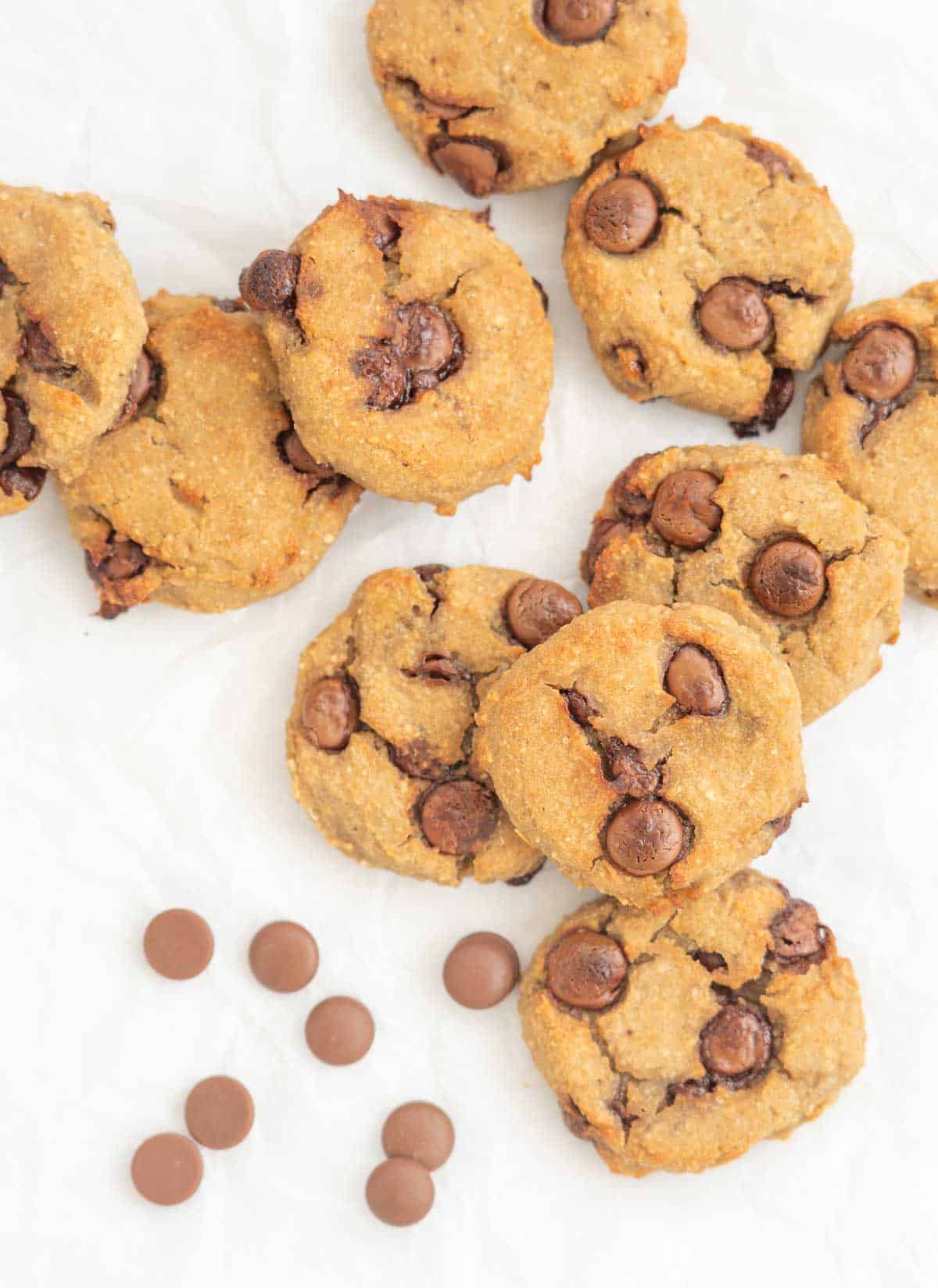 Recipe FAQs and tips
Are chickpea cookies healthy
Compared to traditional cookie recipes these chickpea cookies are higher in fiber and protein, and lower in sugar
How do I store chickpea cookies
Baking made with chickpeas naturally has a higher water content than traditional baking. These cookies will store at room temp in an airtight container for up to 3 days, but they also freeze well for up to 3 months.
What chickpeas are best
I use unsalted canned chickpeas in this recipe.
Use wet utensils and hands: When you are dealing with sticky mixtures like this chickpea cookie dough, you will find it much easier and cleaner if you wet your hands and spoons etc when you are forming the cookies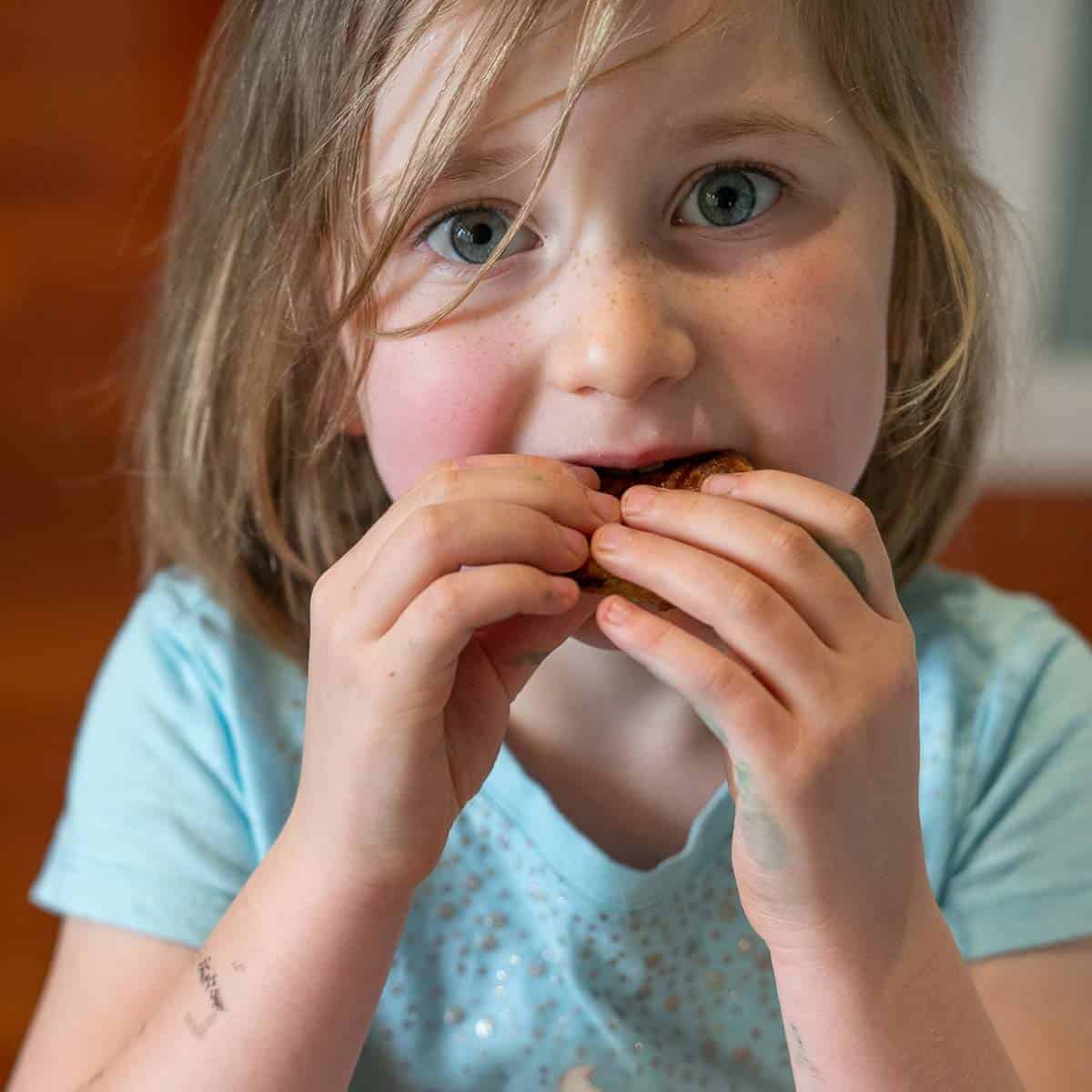 This is my daughter, she is 5, she is a self pro-claimed disliker of chickpeas, she loves these chickpea cookies though! When I first started making them for her I used ? of a cup of sugar, she now happily eats them with ¼ cup of sugar per batch.
Related Recipes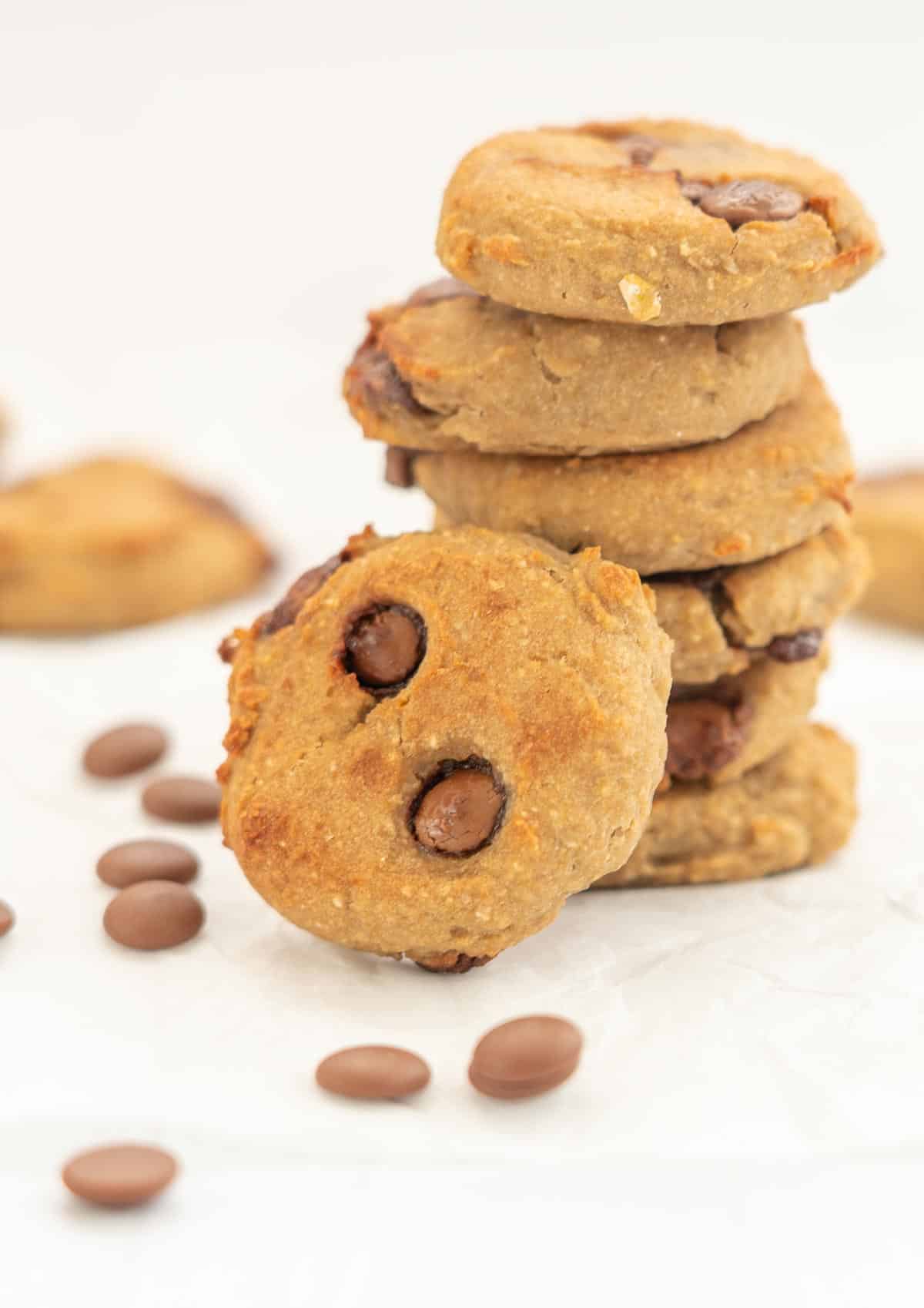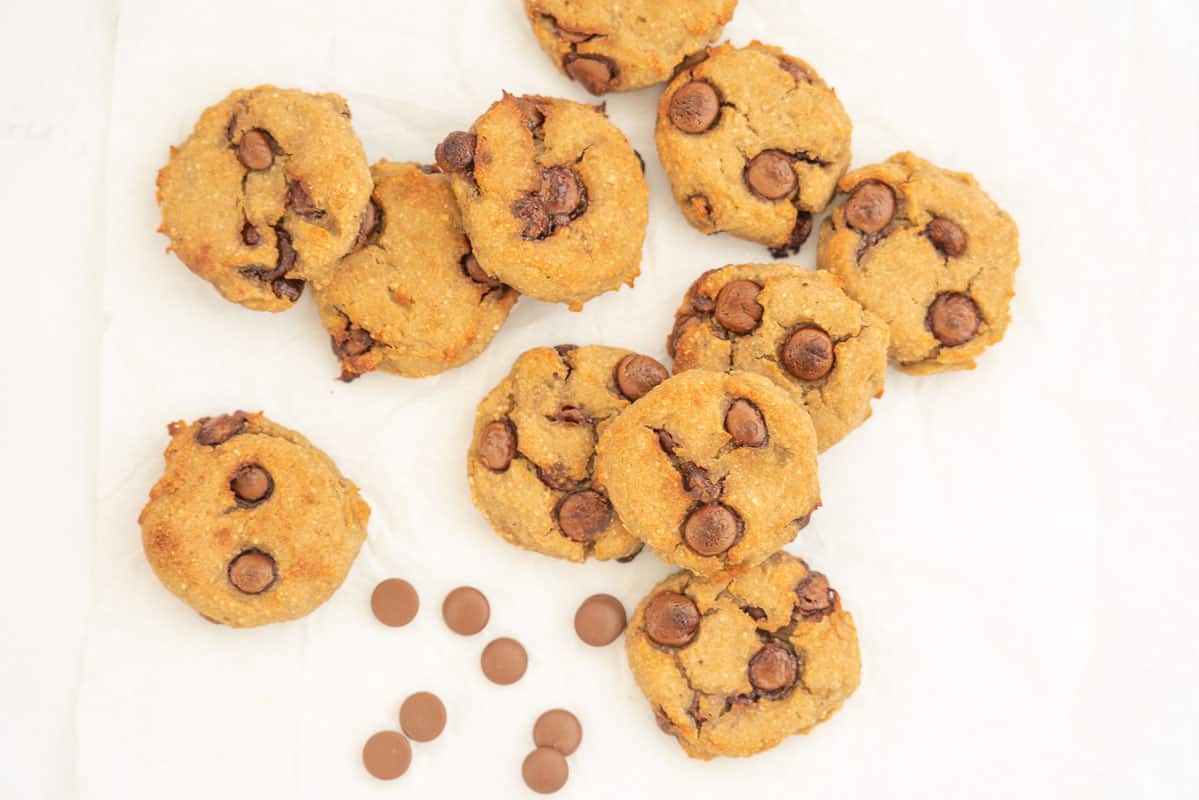 Chickpea Cookies
These chocolate chip chickpea cookies are such a great healthy cookie recipe. They are an easy vegan recipe, loaded with plant-based protein. Nut-free means they are perfect for the school lunchbox as well
Ingredients
1 Can chickpeas (400g)
1 Cup Oats
2 medium bananas
1/4 Cup brown sugar
1 teaspoon vanilla
1 teaspoon baking powder
1/4 Cup dark chocolate chips
Instructions
Heat the oven to 180 degrees Celsius (360 F)
Drain the chickpeas and rinse thoroughly
Place all ingredients excluding the chocolate chips in the food processor
Whizz for 2-3 mins until very smooth
Remove the blade from the processor, add the chocolate chips and mix with a spoon
Using a wet tablespoon place spoonfuls onto a baking paper-lined tray
Use the back of the spoon to shape the dollops into circular shapes, approximately 1 cm thick. Do not panic if they look a bit.. shall we say rustic
Bake at 180 degrees celsius for 25 mins
The cookies will still be soft but golden when they are ready, leave to cool on the baking tray for 5-10 minutes before cooling on a rack
Remove from the oven and cool on the tray
Notes
For this recipe to be vegan, you will need to select dairy-free, vegan dark chocolate.
This recipe is wheat-free but not gluten-free as uses traditional oats
You can use any sized rolled oats in this recipe as ultimately the oats are whizzed in a food processor
If you and your children have not had chickpea cookies before, try this recipe with ⅓ of a cup of sugar, if you love them, then try with less sugar next time
The batter will be quite wet, using a wet spoon and damp hands will help you form the cookies and stop the batter sticking to you and your utensils
The chickpea cookies can store in an airtight container for 3 days or can be frozen for up to 3 months
Nutrition Information:
Yield:

20
Serving Size:

1
Amount Per Serving:
Calories:

64
Total Fat:

1g
Saturated Fat:

0g
Trans Fat:

0g
Unsaturated Fat:

1g
Cholesterol:

0mg
Sodium:

57mg
Carbohydrates:

12g
Fiber:

2g
Sugar:

5g
Protein:

2g
Please know this nutrition analysis is based on the ingredients only, this recipe has not been sent to a laboratory for independent testing
Did you make this recipe?
Please leave a comment on the blog or share a photo on Pinterest
The post Chocolate Chip Chickpea Cookies appeared first on My Kids Lick The Bowl.