Nothing gets me more excited than getting some new toys for my garage, but it's tough to get excited about a new garage door opener.
Until now.
Don't get me wrong, a jackshaft garage door opener won't change your world. But once you have one, you'll wonder how you got along without it.
Jackshaft, or wall-mount mount garage door openers mount on the wall, next to the door. Because it's right next to your garage door, there's no need for a center rail.
That opens up that entire area for storage, lighting or a fan.
As a bonus, it's quieter than a belt or chain drive garage door opener too. 
That's why I'm so excited to unveil my list of best jackshaft garage door openers.
Keep reading if you're in the market to buy a new garage door opener but don't know where to start, or just want to learn more.
I'll share my top picks, and then tell you what you should look for when purchasing one of these garage openers.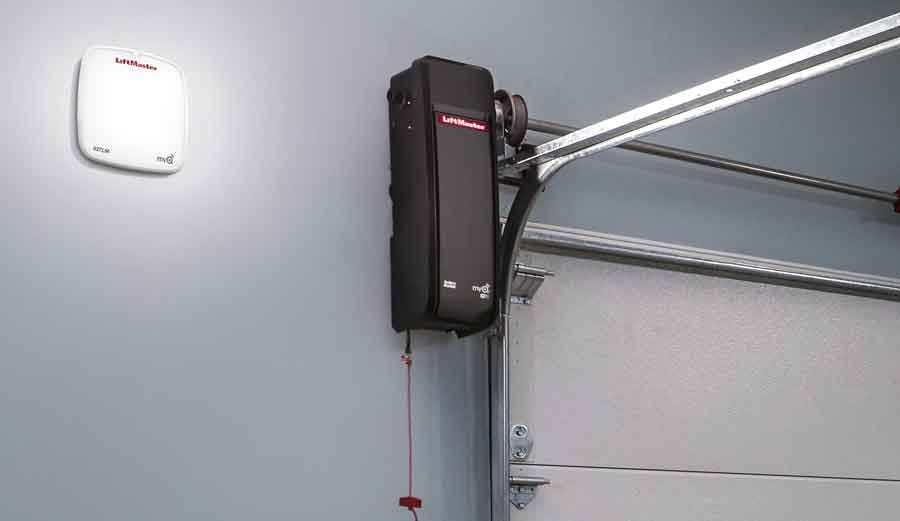 ---
Best Overall: LiftMaster 8500W 
The 8500W is the latest version of LiftMaster's wall mount, jackshaft garage door opener. With it's feature set and history, it's easy to see why it's top on this list.  
The LiftMasters 8500W has a built-in, automatic deadbolt feature which securely locks your garage door after closing. It also includes a wireless, 1500 lumen LED light so that your garage lights up upon entering. 
Furthermore, the LiftMaster 8500W connects to Wi-Fi, so you can control the opener with your smartphone. 
It even works with Amazon Key, so it can automatically open your garage door for the Amazon delivery driver. They'll drop your package off inside your garage, then the door will automatically close. Plus, you get real-time updates to monitor your deliveries from your smartphone.
But, that's not what makes the LiftMaster 8500W the best.
First off, the battery backup makes this a standout side mount opener. This ensures that you can still open and close your garage door, even when the power goes out.
For those of us that don't own an emergency generator, this can be a huge convenience in the event of a blackout or hurricane. With a battery backup, you're never locked in or out of your garage. 
LiftMaster Elite Series 8500W
Wall mount design frees up ceiling space in your garage, reduces noise and vibration.
Built-in Wi-Fi® allows for smartphone control with the myQ® app.
Battery Backup allows you to open/close your door even when the power is out.
Automatic Garage Door Lock deadbolts your door after closing.
Buy Now
We earn a commission if you click this link and make a purchase at no additional cost to you.
01/05/2022 12:05 am GMT
---
Runner up: Chamberlain RJO20 
Coming in second place is the Chamberlain RJO20 opener. This is Chamberlain's premier side mount opener that comes equipped with top-tier features and accessories. 
The RJO20 takes a lot of technology from LiftMaster, since both garage door opener brands are owned by the same company.
The Chamberlain RJO20 makes it's way on this list because it's so similar to the LiftMaster 8500. However it adds Wi-Fi connectivity for the same price. 
Since it connects to Wi-Fi, you can control your garage door right from Chamberlain's smartphone app. That means you can open or close it with the click of a button. You can also set a schedule of when you want your door and lights to turn on and off.
If you're trying to create a smart, connected home, the Chamberlain RJO2 also syncs with other smart devices. 
Like most other garage door openers, it includes security features that prevents the door from closing on top of obstructions like toys or lounging pets. It also guards against forced openings with the included dead-bolt. 
So, why does the Chamberlain RJO20 come in second place when it seems so similar to the Liftmaster 8500W?
It doesn't include a battery backup.
I've had my power go out for a couple of days, so a battery backup is a must-have feature in my next garage door opener.
However, if you don't need a battery backup, then this is an excellent side mount garage door opener. It should be a serious contender if you're looking to upgrade your garage door opener.
Chamberlain Smart Garage Door Opener - RJO20
Wall mount virtually eliminates noise and vibrations.
Includes Internet Gateway for smartphone control with myQ.
Automatic Garage Door Lock deadbolts your garage door every time it closes.
Works with Amazon Key: Enables convenient and secure In-Garage Delivery.
Buy Now
We earn a commission if you click this link and make a purchase at no additional cost to you.
01/05/2022 12:05 am GMT
---
Cheapest: Genie 6072H
If all you need are the basics, and don't want to break the bank, the Genie 6072H may be the fit for you.
Before we dive into how the Genie 6072H cuts costs, let's examine the features that it has.
First, the Genie 6072H is HomeLink & Car2U compatible, a feature in certain cars which allows you to open and close your garage door without needing a remote.  
It has a compact design, measuring only 6.8 inches wide x 14.5 inches tall. But, just because it's compact doesn't mean it compromises power or muscle. In fact, the Genie 6072H has the power to open an 18 foot-wide garage door weighing an impressive 850 lbs.
The Genie also comes with a battery backup, which is necessary for getting inside during a power outage. If you live in California, you are required to have a backup battery for your garage door opener. 
The Genie also comes with:
a wireless wall console
a Bluetooth LED light
an Intellicode remote, 
and a remote door lock for premier service. 
Additionally, the Safe-T-Pulse internal slack cable detection system ensures safe door travel. 
However, the Genie doesn't come with many premier features that either the LiftMaster 8500W or the Chamberlain RJO20 come with.
For example, the Genie does not come with Wi-Fi. That means you lose a lot of those great features like syncing with your Amazon account, or checking whether your garage door is open while sitting on your couch. 
That means the Genie 6072H is significantly cheaper than its counterparts.
So if you're in the market for a wall-mount garage door opener, but don't want to shell out as much money, definitely look at the Genie 6072. 
Genie Wall Mounted Garage Door Opener [6072H-O]
Automatic battery backup ensures your access to the garage
Compact space-saving design w/ the power to lift an 850 lbs. door
HomeLink® & Car2U® compatible (No external repeater box or bridge needed.)
Buy Now
We earn a commission if you click this link and make a purchase at no additional cost to you.
01/05/2022 12:06 am GMT
---
Best Light-Duty Commercial: LiftMaster LJ8950W
If you're looking for a side garage door opener for your small business, consider the LiftMaster LJ8950W. 
This high-powered machine is designed to lift larger garage doors in light-duty commercial spaces. It has a higher duty cycle motor, and the immense power to fuel the need for your commercial spaces. 
Another great benefit to the LiftMaster LJ8950W? It has extended hardware life, which means it has an impeccably smooth start and stops operation. 
Like other LiftMaster products, the LJ8950W includes a backup battery. I've said before, this is a must-have feature if you get power-outages, or live in a disaster-prone area. It ensures 24/7 to access the facility, even if the product malfunctions or inclement weather shuts down the power. 
Finally, the LiftMaster LJ8950W comes with a myQ Smart Facility Access, a cloud-based software that provides real-time data and analytics about your door's operation.
With it, you can analyze the load, turn and dwell time at each dock in the facility. This means you can make better, data-driven decisions about your dock area, and can help you make more informed decisions regarding your company.
Finally, the software also sends real-time notifications that help you improve your teams' productivity while helping to reduce expenses. Not too shabby for a garage door opener. 
LiftMaster Rolling Sheet Garage Door Opener [LJ8950W]
Wallmount with smaller, lighter rolling doors and grilles.
Rated duty cycle: Maximum 10 cycles per hour; Fewer than 25 cycles per day.
Easily connect the operator to the facility's network with built-in Wi-Fi®.
Buy Now
We earn a commission if you click this link and make a purchase at no additional cost to you.
---
Buyers Guide 
Since the Jackshaft garage door opener is relatively new, many homeowners are confused about what precisely it is, how it functions, and why you should get one to begin with. 
Below, we'll take you through some of the commonly asked questions and their answers—everything you need to know to fully understand what a Jackshaft opener is and what it achieves. We'll cover what a side mount garage door opener is, why you should get one, and how much they typically cost. 
What is a Jackshaft\side mount garage door opener?
A Jackshaft garage door opener that you mount on the wall next to the garage door instead of overhead on the ceiling like you do with traditional garage door openers. Traditional trolley-style openers pull the door up across the ceiling. With a side mount garage door opener, the jackshaft is connected to the tube, at which point the garage door springs are attached. 
What is the advantage of a side mount garage door opener?
There are a few advantages of a side mount garage door opener. The most significant benefit is the extra space you gain when moving your garage door opener from the middle of your garage ceiling to next to the door. 
Typical garage door openers take about ten or eleven inches of space. While this may not seem like much, those extra inches add up, especially if you're hauling items on the roof of your car, like a bike, surfboard, cargo boxes, or Christmas trees, and more. 
That's not the only benefit. Side mounts are often much quieter than traditional ceiling openers. Side mount garage door openers do indeed have motors, but the hum of the engines is much softer than conventional ceiling openers. 
Another advantage? The chances that a side mount garage door opener will malfunction are much less likely than ceiling openers. This is because there are fewer parts with a side mount. In fact, side mounts don't have chains or belts. There's less likelihood that the opener will malfunction with fewer parts, and the system is much easier to maintain and keep care of overall. 
How does a Jackshaft garage door opener close the door?
You may be amazed to watch a side-mount garage door opener seamlessly open and close your door with seemingly little effort. How does it work? The key is in the torsion bar. 
The garage door opener connects to your door's torsion bar and moves it up and down. It does this by clicking to a shaft where your door's springs are installed. Once it connects, it can do a complete full-vertical lift and even lift high doors. 
Any jackshaft garage door opener can easily lift doors to 14 or 15 feet high. And, when you compare these openers to trolley openers, the side-mount openers have a similar installation process. 
The only equipment you'll need is an electrical outlet next to the opener for it to plug in and take power. 
Plus, you gain extra security features, accessories, and more, with a side-mount opener than you would with a typical overhead trolly opener. 
What are the best garage door opener brands? 
As you might expect, the best garage door opener brands are Genie, Chamberlain, and LiftMaster, which is why these are the companies that have earned spots on our list. These companies have been in business for decades and have finessed their designs over those years to craft excellent garage door openers with superior functionality. 
If you'd like to check out some more excellent garage door opener brands, check out this article that details a few other companies worth checking out. 
Do you really need a garage door opener? 
Unless you want to pull up your garage door old school, yes, you do need a garage door opener. In some cases when the power goes out, people still manually pull up the garage door, but this method is very labor intensive and inconvenient. 
On top of that, this method isn't very secure, as any thief could easily do the same and gain entry into your home. Due to its easily installation process, incredible performance, and added security features, a Jackshaft garage door opener is a great upgrade for any home. 
How long will a garage door opener last?
Your garage door opener should last between ten and fifteen years. Still, you do need to take care of  your opener to make sure that it does last its full lifetime. It's important that you keep up with routine maintenance of your garage door opener. 
Once a year, make sure to survey the garage door opener to see if there are any problems you can see visually. If you hear any strange noises, make sure to call a professional over to inspect your opener. 
Why is shopping for garage door openers so hard?
Shopping for a new garage door opener can be an overwhelming and, at times, stressful experience. For one, garage door openers can cost hundreds of dollars, and you want to make sure that your investment will last many years to come. 
Additionally, you want to make sure that the garage door opener works properly and that it won't damage your garage door, vehicles, or people walking under the garage door. Shockingly, over 2000 people get crushed by garage doors per year according to the National Electronic Injury Surveillance System. 
It's very important that you purchase a garage door opener that has a proven track record of being functional, safe, and can last a long time. 
How much does a Jackshaft garage door opener cost? 
Like any home equipment device, the prices vary greatly depending on its quality and what company manufactures the tool. On average, a Jackshaft door opener could run you from $250 to $500. Most of these garage door openers on this list fall in the $400 range. 
You also need to factor in if you plan to hire a professional to install your garage door opener. If you do, you should plan to spend another $100 to $250 for the time it will take them to install. 
While this may seem like a lot of money, spending money on a quality brand is essential. Purchasing a cheaper knockoff brand can result in your garage door malfunctioning. The last thing you want is for your garage door to accidentally fall on your car, for it to get stuck, or for it to stop working altogether. 
Additionally, many burglars attempt to enter homes through garage doors; by investing in quality brands, you guarantee a much less chance of a thief entering your home.
The post Best Jackshaft Garage Door Opener appeared first on Garage Transformed.