These single- and double-oven models handily aced our rigorous lab tests—hatching reliable batches of evenly baked cookies and melting chocolate with ease.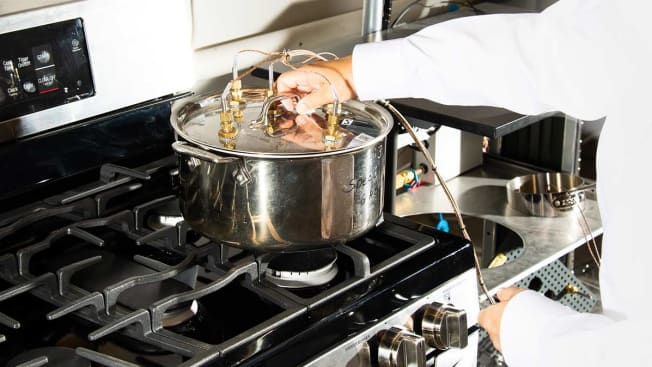 By Paul Hope
About a third of households in the U.S. cook with a gas range. Its appeal lies in its immediate response, complete with satisfying visual feedback, to a cook's every wish—the flame growing and shrinking with the simple turn of a knob. Gas ranges also work well with almost any cookware, including traditional round-bottomed woks that wobble on a smoothtop or induction range.
While the impact of gas stoves on the environment and respiratory health has stirred controversy, one thing is clear: Ventilation is crucial when cooking with a gas stove. Whether you're stir-frying or baking, turn on your hood, and if your hood doesn't expel your cooking exhaust to the outside, crack open a window.
You may think most gas ranges do a decent job of heating and baking. But in Consumer Reports' tests, some models struggle just to hold a steady simmer or brown a sheet of cookies. In fact, there's a staggering 52-point difference in the Overall Score between the best and worst gas ranges in our tests.
Each year, CR's expert testers bake hundreds of cakes and cookies, and take thousands of precise temperature measurements, to see how well every range that passes through our lab heats, bakes, and broils.
"For gas ranges, we see some of the biggest differences in baking and broiling results," says Tara Casaregola, CR's test engineer in charge of ranges.
But we don't stop at performance tests. We also survey members on whether their gas ranges have experienced a break or a problem, so we can calculate the predicted reliability for different range brands. We've even built a tool to help you determine whether it makes sense to repair or replace your gas range.
Below, we highlight three high-performing single-oven gas ranges and three top-scoring double-oven gas ranges. For more on ranges of all types, see our range buying guide. Members can also explore our gas range ratings to compare models, as well as filter for price, brands, the number of cooktop burners, and more.
Best Single-Oven Gas Ranges
If you don't typically need to bake or broil more than one dish at a time, consider opting for a single-oven range to save some money. Bonus: You won't have to stoop over as much as with a double-oven model to access your roast.
LG LSGL6335D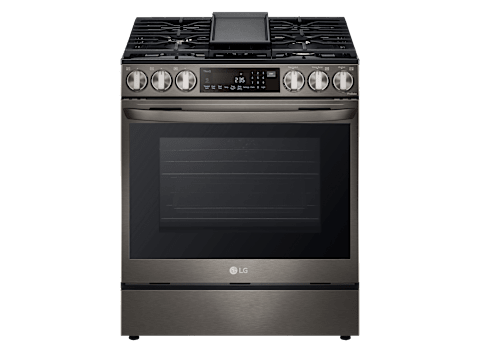 CR's take: This single-oven gas slide-in LG is one of the best gas ranges in our tests. It earns a rating of Very Good or Excellent in almost every performance test except for broiling, for which it earns a Good rating. It has convection, continuous grates, a griddle burner, and front-mounted controls with no back panel. It's available in stainless steel or black stainless.
Samsung NX60T8711SS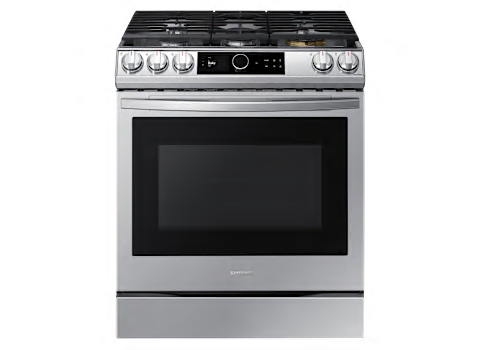 CR's take: This Samsung range ties the LG above in Overall Score and it's often on sale for a bit less, too. Like the LG, it has a slide-in design, continuous cooking grates, and an integrated griddle. And while it's not as strong at baking—it earns a Very Good rating while the LG earns an Excellent—it is among the most reliable options you'll find anywhere, given that Samsung earns a rating of Excellent for gas range reliability in our latest member surveys.
Samsung NX58R5601SS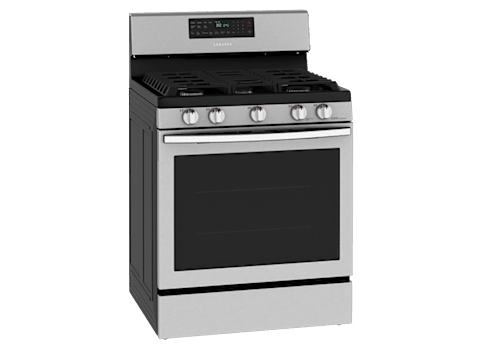 CR's take: Simply put, if you like its looks and can survive without a second oven, this single-oven Samsung range delivers. It ranks near the top of our ratings overall and costs $1,000 less than ranges that don't cook as well. It has five burners and continuous grates, which makes it easy to slide pans from one burner to another. It earns a rating of Very Good for heating water on its most powerful burner and a rating of Excellent for oven capacity, baking, and holding a steady simmer.
Best Double-Oven Gas Ranges
These models make baking up two recipes at once a cinch. Be prepared, though, to bend a bit lower than you normally would to access what's cooking in the lower portion.
LG Signature LUTD4919SN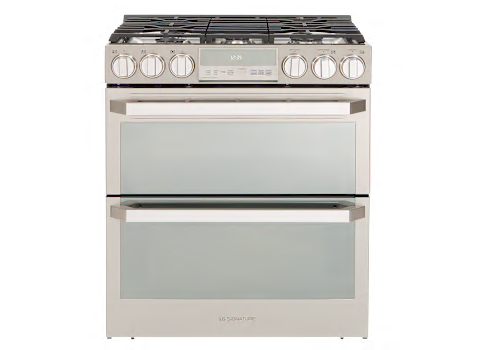 CR's take: This attractive double-oven dual-fuel range from LG has a gas cooktop and electric ovens, both with convection. It's among the highest-scoring of any range in our ratings. Built to compete with pricier pro-style models, this stove has continuous grates, five burners, and extra features, such as a wok ring that fits over the largest burner. The only gas stove that receives an Overall Score of Excellent, this LG aces our simmering and baking tests and heats water fast, too.
GE Profile PGB965YPFS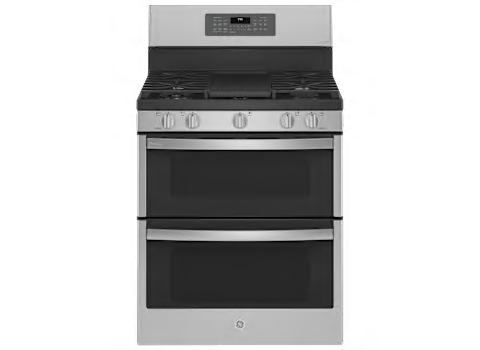 CR's take: If you don't want to spend top dollar, this handsome dual-oven GE Profile packs a lot of features into a range with a smaller price tag. In addition to convection and air-fry modes, this range has continuous grates, a griddle, multiple high-power burners, and WiFi connectivity. It earns strong marks across the board, including ratings of Excellent for baking and for its ability to maintain a steady simmer on its smallest burners. However, the self-clean cycle isn't as effective as it could be, so you'll still need to do some scrubbing to get the oven cavities totally clean.
Café C2S950P2MS1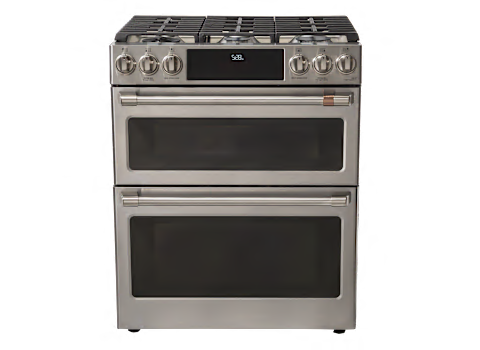 CR's take: This beautiful Café range is a strong alternative to pro-style ranges. While it sports a pro-style look, it actually offers performance that's vastly better than most of the pro-style models in our ratings. It has two ovens, both with convection, a slide-in design, and WiFi connectivity. Performance is impressive overall, with ratings of Excellent for low heat and oven capacity. As a brand, Café earned a rating of Very Good for predicted reliability of its gas ranges.
Consumer Reports is an independent, nonprofit organization that works side by side with consumers to create a fairer, safer, and healthier world. CR does not endorse products or services, and does not accept advertising. Copyright © 2022, Consumer Reports, Inc.