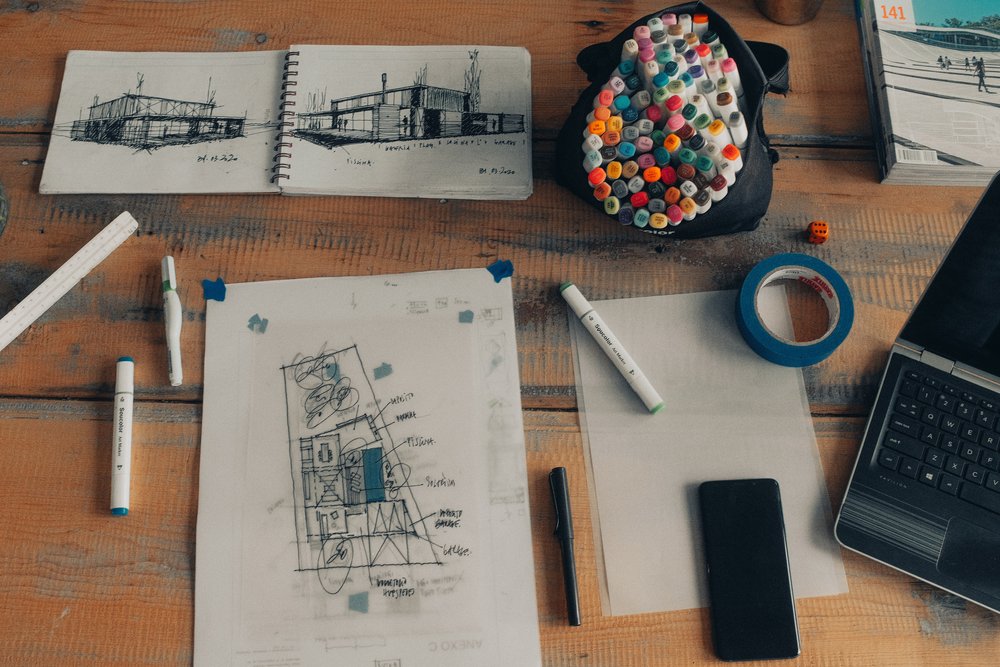 For this post, I have put together a list of the architect tools and supplies we use most often. So if you are sketching, drafting, model making, or working at a computer, these items will help you get the job done.
UPDATED: October 21, 2021.
The architecture profession has changed dramatically over the past several decades. Transitioning from primarily hand-drawing to today in which everything is almost exclusively drawn using Computer Aided Design (CAD) and Building Information Management (BIM) software.
However, even though things have changed, the fundamental drawing concepts have not. I have included drafting supplies, model-making equipment, sketching instruments, drawing utensils, on-site tools, and other helpful things I have discovered over the years.
So whether you are an architecture student, an aspiring or veteran architect this list should help you out.
In no particular order, here are 50 Must-Have Architect Tools and Supplies.
Enjoy!
---
1. Architect's Scale
The Arteza 12" triangular architect scale is constructed from aluminum for a durable yet lightweight tool.
Features six scales with three color-coded sides to quickly find the correct scale.

Equipped with embossed measurements on the anodized aluminum.

Features end caps to keep dirt and debris out of the core.

Included scales: 1-1/2", 1, 3/4", 3/8", 3/16", 3/32", 1/2" 1/4", 1/8", 3, 16.
See Also: The Top 5 Architectural Scales 

Arteza 12" Triangular Architect Scale Aluminum Color-Coded Grooves (Imperial)
Arteza
Buy on Amazon
---
2. Moleskine Classic Notebook
The classic Moleskine notebook is a must-have for architects to sketch and take notes.

Equipped with a cardboard bound cover with rounded corners.

Includes acid-free paper.

Features an elastic closure and an expandable inner pocket.
See Also: The 10 Best Sketchbooks That Will Make You A Better Designer
Moleskine Classic Notebook, Large, Squared, Black, Hard Cover (5 x 8.25) (Classic Notebooks)
By Moleskine
Buy on Amazon
---
3. Mechanical Drafting Pencil
The Rotring 800 is the top of the heap when it comes to high-end professional drafting pencils.
Features a full metal body that provides long-lasting durability and rigidity.

Equipped with a retractable sleeve making it pocket safe and resistant to damage.

Features a hexagonal barrel that helps to improve holding while drawing and prevents it from rolling off the table.

Equipped with a non-slip metal knurled grip for comfort and control.

Features a brass mechanism for precision lead advancement.
See Also: The Best Drafting Pencils
Rotring 800 Mechanical Pencil 0.7Mm Black
Rotring
Buy on Amazon
---
4. Handheld Laser Distance Meter 
The Leica DISTO D2 uses a compact laser to measure lengths and calculate areas and volumes
+/-1/16" accuracy and up to 330-foot measuring range.

Equipped with Bluetooth 4.0 for transferring measurements to desired software.

Features a last 10 measurement memory.

Offers a Pythagoras function for indirect height or width measurements.
See Also: The Best Laser Measuring Tools
 
Leica DISTO D2 New 330ft Laser Distance Measure with Bluetooth 4.0, Black/Red
Leica Geosystems
Buy on Amazon
---
5. Drawing Storage Tube
Telescoping document poster tube with a 3.5" diameter that expands from 24.5" up to 40" long.

Made of rigid plastic to protect contents from bending or creasing in transit.

Features a water and light-resistant design that protects materials against fading from exposure to sunlight

Includes an extra-long shoulder strap that is comfortable for use even when the tube is fully extended.

Includes a twist off, threaded lid with contact card for easy labeling of tube's contents.
Nozlen Document Poster Tube - Black Plastic Storage Tube Expands from 24.5" up to 40" with Clear ID Card Cap - Water and Light Resistant - Telescoping For Posters, Artwork and Drawings Model DT3001
Nozlen
Buy on Amazon
---
6. Liner Pens
Equipped with six different line widths for a range of drawing applications (0.05mm, 0.1mm, 0.2mm, 0.3mm, 0.5mm, 0.8mm).

Comes in a stand-up easel case for easy use.

Includes Lightfast waterproof smear-free ink.

Features a long write-out length.

Equipped iwth Polypropylene barrel for long life and long metal tip
Staedtler Pigment Liner Bonus Sketch, Set of 6 Liners, (308SB6P)
Staedtler Inc.
Buy on Amazon
---
7. Tracing Paper
Features high transparency that permits several overlays while retaining legibility.

Accepts pencil, ink, charcoal, as well as felt tip markers without bleeding through.

Designed for detail or sketch work.
Alvin Lightweight White Tracing Paper Roll 18" x 20yd
Alvin & Company
Buy on Amazon
---
8. Self Healing Cutting Mat
Features unique self-healing properties allowing the cutting mat to reseal itself after every cut.

Equipped with sets of clear gridlines to provide alignment and measurement guides while working.

Features a thick, double-sided design to protect the desk or tabletop.
See Also: The 5 Best Self Healing Cutting Mats
Professional Self Healing Cutting Mat 18x24 Inch for Sewing, Quilting, or Any Other Crafts or Hobbies - Thick Double Sided Cutting Mat Re-Seals After Every Cut - Strong, Durable and Long Lasting
Crafty World
Buy on Amazon
---
9. X-ACTO Knife Set
Includes three knives that are designed to make clean and accurate cuts in light, medium, and heavy-weight materials.

Comes with 13 blades for a range of different project applications.

Features the easy-change blade system, making it easy to quickly change blades

Includes a nylon zippered compression case that keeps everything together in one convenient and safe kit for storage or transport.
See Also: The 10 Best Utility Knives
X-ACTO Compression Basic Knife Set
Cell Distributors
Buy on Amazon
---
10. LED Light Box
Traditional light boxes were the size of a desk, however, through the use of LED technology today's light pads are small and portable. 
Features a compact, thin design that can be easily carried around and stored.

Provides minimal glare and shadows for effective tracing.

Equipped with a dimmer to customize the LED output for the project.
See Also: The Best Light Tables
ME456 A4 LED Light Box 9x12 Inch Light Pad Only 5mm Ultra-thin USB Power Light Table for Tracing
ME456
Buy on Amazon
---
11. Feet-inch-Fraction Calculator
This calculator can quickly add and subtract fractional dimensions which is a huge time saver.
Calculated Industries 4065 Construction Master Pro Advanced Construction Math Feet-inch-Fraction Calculator for Contractors, Estimators, Builders, Framers, Remodelers, Renovators and Carpenters
Calculated Industries
Buy on Amazon
---
12. Adjustable Triangle
The adjustable triangle features a hinge design that provides any angle between 45 and 90 degrees. 

Equipped with a screw knob that holds the two halves in place once the desired angle is found. 

Features a transparent design that allows for viewing the drawing behind for reference. 
Alvin 12-Inch Computing Trig-Scale Adjustable Triangle (LX712K)
Alvin
Buy on Amazon
---
13. Engineer's Scale
Not to be confused with the Architect's Scale, the Engineer's Scale uses base ten divisions instead of fractional.
Alumicolor 3000 Series 12-Inch Silver Hollow Aluminum Triangular Engineer Scale (3230-1)
Alumicolor
Buy on Amazon
---
14. Easy Cutter
The perfect tool for cutting bass and balsa wood for model making.

Includes a lower jaw that has angle and measurement markings for quick yet precise cuts.
Midwest Products Hobby & Craft Easy Cutter
Midwest Products
Buy on Amazon
---
15. Lead Holder
The Staedtler Mars 780 lead holder is a familiar sight for most architecture students and architects. This is what I personally used throughout architecture school.
Accepts 2mm lead for a range of drafting and drawing applications. 


Features a clip to prevent it from rolling off of the table and for convenient pocket storage.


Equipped with a push button at the end to advance the lead manually.


Features a plastic body for a lightweight design. 


Equipped with a non-slip metal knurled grip for comfort and control.


Made in Germany.


Works with the Staedtler Mars rotary action lead pointer for sharpening.
Staedtler Mars 780 Technical Mechanical Pencil, 2mm. 780BK
Staedtler Mars
Buy on Amazon
---
16. Rotary Action Lead Pointer
To sharpen a lead holder you use what is called a lead pointer.

Has two small holes to place the lead tip into to adjust the length to adjust the sharpening cone.

Lead is inserted into the sharpener and spun around several times.

Uses a metal grinder inside to put a tapered profile on the end of the lead.
Staedtler Mars Rotary Action Lead Pointer and Tub for 2mm Leads, 502BKA6
Staedtler Inc.
Buy on Amazon
---
17. Small Mitre Box Kit 
Perfect for cutting small-scale wood pieces for architectural models.

Features two 45-degree angled slots and one 90-degree slot.

Equipped with a detachable handle for compact storage and transport.
Excel Blades Small Mitre Box Kit with Heavy Duty K5 Handle and Razor Saw Blade
Excel Hobby Blade Corporation
Buy on Amazon
---
18. 3M Super 77 Spray Glue
The best glue I have found for attaching paper or card for presentation boards or models.

Make sure you use it outside or provide proper coverage for everything around the item being sprayed, as the glue is very difficult to get off once it is on something.
3M Super 77 Multipurpose Spray Adhesive - 24 fl.oz./ 16.75 net weight oz. (1 Can) - AB-530-4-77 (1 Can)
3M
Buy on Amazon
---
19. Gel Super Glue
The best, fastest-drying glue for making models.

Works best for plastics and wood. Be careful if using paper, card, or cardboard models as the glue can wick into the material and leave a visible stain.
Loctite Ultra Gel Control Super Glue 4-Gram (1363589)
Loctite
Buy on Amazon
---
20. Metal Rulers
Essential tool for when cutting a straight line is required.

Plastic or wood rulers can't stand up to a knife edge and will be ruined over time.
eBoot Stainless Steel Ruler 12 Inch + 6 Inch Metal Rule Kit with Conversion Table
eBoot
Buy on Amazon
---
21. Mini L-Square 
I used this tool for model-making perhaps more than anything else.

Features a compact design that is perfect for cutting small model components.

Be careful if using a knife with this because the edge is very thin and it can slip.
Zona 37-434 L-Square, Stainless Steel, 3-Inch x 4-Inch
Blackstone Industries, LLC
Buy on Amazon
---
22. Drafting Brush
Keep your drawings clean of eraser shavings and debris with this handy brush.

Features a simple wooden handle design with horsehair bristles.
Alvin, 2342, Comfort Curve Dusting Brush, 15" Wood Handle
Alvin
Buy on Amazon
---
23. Electric Eraser
If you happen to make a mistake, this will make it as painless as possible to reverse.

Includes eraser refills and a brush for keeping the drawing clear.
Ohuhu Electric Eraser Kit with 20 Eraser Refills and 1 Eraser Brush
Ohuhu
Buy on Amazon
---
24. 3D Printer
Take your model-making skills to a whole new level. Create limitless forms and geometries.
FlashForge 3D Printers, New Model: Finder
ZHEJIANG FLASHFORGE 3D TECHNOLOGY CO.,LTD
Buy on Amazon
---
25. Laser Cutter and Engraver 
Cut through up to 3mm wood or acrylic in any shape imaginable. 

Offers the ability to engrave on the material surface to create textures and graphics.
Orion Motor Tech 12"x 8" 40W CO2 Laser Engraving Machine Engraver Cutter with Exhaust Fan USB Port
Orion Motor Tech
Buy on Amazon
---
26. Clear Ruler with Metal Edge
Great for model making. See what you are doing while cutting along a metal edge.
Creative Impressions Metal Edge Acrylic Ruler 12 Inch
CREATIVE IMPRESSIONS
Buy on Amazon
---
27. Cut Resistant Gloves
Save your fingers from a meeting with your Exacto knife when model making.
NoCry Cut Resistant Gloves - High Performance Level 5 Protection, Food Grade. Size Medium, Free Ebook Included!
NoCry
Buy on Amazon
---
28. Large Format Compact Plotter
The HP DesignJet T210 offers the ability to print drawings on 24-inch wide media rolls or up to 13-inch by 19-inch sheets.

Ideal for printing concept design or construction document drawing sheets.

Features a compact and wireless design so it can fit in most home offices for professionals or design studios for architeture students.
HP DesignJet T210 Large Format Compact Wireless Plotter Printer - 24", with Modern Office Design (8AG32A)
HP DesignJet
Buy on Amazon
---
29. Bose QuietComfort Noise Cancelling Earbuds
I take these with me everywhere I go. They are great for going on hikes, walking around town, or using in the office.

They offer a secure in-ear fit that is the best I have found.

In addition, they offer noise cancellation which helps to minimize distracting sounds both indoors and outdoors.
Bose QuietComfort Noise Cancelling Earbuds - Bluetooth Wireless Earphones, Triple Black, the World's Most Effective Noise Cancelling Earbuds
BOSE
Buy on Amazon
---
30. iPad Pro
Sketch and share your design ideas with the revolutionary stylus. 

Use drawing and photo apps to create graphics and edit images.

Use the large screen to share concepts with clients, colleagues, consultants, students, and professors.
2021 Apple 12.9-inch iPad Pro (Wi‑Fi, 128GB) - Space Gray
Apple Computer
Buy on Amazon
---
31. 48" Metal Ruler
Keep your fingers safe when cutting large sheets of material.

The weight helps to hold the ruler in place while cutting.

Equipped with a thick edge that reduces the chance the blade will pop over the edge.
Securcut 48.5 Inch Safety Ruler
SIMI CREATIVE PRODUCTS
Buy on Amazon
---
32. 12" Paper Trimmer
Perfect for quickly trimming small-scale drawings. 

Equipped with measurement guides for quick and accurate cuts.
Swingline Paper Trimmer / Cutter, Guillotine, 12" Cut Length, 10 Sheet Capacity, ClassicCut Lite (9312)
ACCO Brands
Buy on Amazon
---
33. 43" Paper Trimmer
If you have the space, this is a huge time saver when trimming large paper drawings.

Equipped with angle and measurement guides for quick and accurate cuts.
Dahle 796 Floor Stand for Model 446 Premium Rolling Trimmer with Paper Catch, Grade: 12 to 12, 34.5'' Height, 14'' Width, 43'' Length
Dahle
Buy on Amazon
---
34. Measuring Tape
The Stanley FatMax Tape Measure is reinforced on the first three feet with BladeArmor coating for durability.
Essential tool for any architect verifying dimensions on site.

25-foot long tape and 1-1/4-inches wide.

Includes a mylar polyester film to increase the blade life.

Features a top forward blade lock for easy use.

Equipped with a heat-treated spring for long-lasting use.

Offers an 11-foot standout.

Includes 16-inch and 19.2-inch stud center indicators.

Features a cushion grip case for comfort and durability.
See Also: The Best Tape Measures
STANLEY FATMAX Tape Measure, 30-Foot (33-730)
Stanley
Buy on Amazon
---
35. Drawing Set
Contains a range of drafting tools including compasses and protractors.

Comes in a compact organizer case for easy transport and storage.
Compass for Geometry Drawing Tools & Drafting Kits for Engineer Geometry Set Metal for Architecture Geometry Set for School with Set Square Protractor Erasing Shield and More.W.8.5Oz Original Source
Newsource
Buy on Amazon
---
36. French Curve Set
Get outside of the straight line box when drafting.

Draw an almost unlimited number of curved lines by using these in combinations for separate line segments.
Alvin French Curve Set of 8 FC88
National Cellular
Buy on Amazon
---
37. Circles Template 
Features a range of large and small holes at specific diameters to quickly draw circles without having to use a compass.
Westcott LetterCraft Large and Small Circles Template (T-831)
Acme United
Buy on Amazon
---
38. Utility Knife
The FC Folding Pocket aluminum utility knife features a one-button lock-back design that locks the blade in place for effective cutting.
Use for cutting thick model materials such as foam board and cardboard.

Constructed from anodized aluminum and stainless steel for a durable, lightweight, and rust-resistant design.

Equipped with an ergonomic non-slip handle for comfort and stability when cutting.

Features a folding design for compact and safe carrying and storage.

Equipped with a stainless steel clip for easily attaching to a pocket or belt.

Includes carbon steel blades and works with all standard size utility knife blades.

Overall dimensions: when open, it is 6.6 inches long, and it closes down to 4.3 inches long.

Weighs only 4.8 ounces.
See Also: The Best Utility Knives
FC Folding Pocket Utility Knife - Heavy Duty Box Cutter with Holster, Quick Change Blades, Lock-Back Design, and Lightweight Aluminum Body
Fancii
Buy on Amazon
---
39. Graph Paper
Not just for engineers, layout designs and sketches quickly and easily.

Helpful when sketching floor plans to keep track of the approximate dimensions and areas.
Five Star Filler Paper, Graph Ruled, Reinforced, Loose-Leaf, 11 x 8 1/2" Sheet Size, 100 Sheets/Pack (17012)
ACCO Brands
Buy on Amazon
---
40. Drafting Board
The Martin Pro-Draft Adjustable Angle Parallel Drafting Board uses an aluminum body straightedge for strength and stability.
Equipped with a five-position adjustable stand.

Includes adjustment knobs to align the straight-edge with the drawing to maintain a parallel line.

Features a 20 inch by 26-inch board size.

Comes with rubber feet to prevent movement on the table surface.

Includes a carrying handle.
See Also: The 5 Best Drafting Boards
Martin Universal Design Pro-Draft Deluxe Adjustable Angle Parallel Drawing Board, 20" x 26", White Melamine, 1 Each (U-PEB2026K)
Martin Universal Design
Buy on Amazon
---
41. T-Square 
Perhaps the most "architect" thing on this list. The must-have tool for hand drafting.

Equipped with a hardwood blade to provide a straight edge.

Features transparent acrylic edges allowing for smudge-free line work.

Includes a smooth wooden head.
See Also: The Best T-Square Rulers
Alvin, Transparent Edge T-Square for Art Framing and Drafting - 42 Inches
Alvin
Buy on Amazon
---
42. Electric Foam Cutter
Great tool for cutting foam for quick massing models.
GOCHANGE 3 in 1 Foam Cutter Electric Cutting Machine Pen Tools Kit, 100-240V /18W Styrofoam Cutting Pen with Electronic Voltage Transformer Adaptor
GOCHANGE
Buy on Amazon
---
43. Drafting Dots
Keep your paper secure and in place with these drafting dots.

Features a cool box design that dispenses a sticky dot when the tape is pulled on.
Koh-I-Noor Drafting Dots, 7/8 Inches Diameter, 500 per Box, White, 1 Box (25900J01)
Koh-I-Noor
Buy on Amazon
---
44. Professional Drafting Dry Cleaning Pads
Cleaning pads are filled with eraser dust that creates a thin layer over the drawing to prevent smudging while drafting.

Occasionally it needs to be cleared off using a drafting brush to allow the pencil to apply lead cleanly and smoothly.
Pro Art Drafting Pad
Pro Art
Buy on Amazon
---
45. Stainless Steel Erasing Shield
An erasing shield is a small, thin metal tool with holes of different sizes and shapes.

The holes allow for erasing exactly only what you want while keeping the rest. 

Constructed from stainless steel to resist rust and corrosion.
Alvin Stainless Steel Erasing Shield (3298)
Alvin
Buy on Amazon
---
46. Modeling Clay
You are only limited by your imagination with this model making material. 

Clay offers a quick way to mock up massing models, create landscaping, and form organic shapes.
Sargent Art Plastilina Modeling Clay, 2-Pound, White
Sargent Art
Buy on Amazon
---
47. Scale Figures
Give architecture models a human touch.

Different scales are available to match the model. 
BQLZR White Unpainted Architectural 1:100 Scale Model Figures Pack of 100
BQLZR
---
48. Drafting Chair
The Flash Furniture Mid-Back Drafting Chair features a mesh back with curved lumbar support that allows for a comfortable and breathable design.
Offers pneumatic adjustment to quickly easily adjust the seat height.

Equipped with a seat that swivels 360 degrees for a complete range of motion.

Features a waterfall seat edge that helps to reduce pressure points on the upper legs.

Includes flip-up arms to keep them out of the way when not desired or needed and for a more open seat layout.

Comes with a variable tension tilt control to adjust the back of the chair, along with a tilt lock to fit the back in place.

Equipped with a 360-degree foot ring with an adjustable height for a custom fit.

Available in a wide range of color options to suit your design aesthetic.
See Also: The Best Drafting Chairs
Flash Furniture Mid-Back Black Mesh Ergonomic Drafting Chair with Adjustable Foot Ring and Flip-Up Arms
Flash Furniture
Buy on Amazon
---
49. Architect Lamp
The AmazLit architect lamp offers the ability to adjust both the brightness and color temperature.
Features variable color hue options from 3,000K up to 5,500K.

Equipped with stepless dimming brightness that is easy on the eyes.

Includes a memory function that keeps the last lighting setting.

Features a three-axis arm design that allows for a range of placement options.

Includes a 10 to 40-minute automatic delay-off feature that makes it great for nighttime use.

Equipped with a metal mounting clamp that includes silicone pads to prevent damage to the desktop.

Uses energy-efficient LEDs that will last up to 50,000 hours.
See Also: The Best Architect Lamps
Desk Lamp with Clamp, Eye-Care Swing Arm Desk Lamp, Stepless Dimming & Adjustable Color Temperature Modern Architect Lamp with Memory & Timing Function for Study, Work, Home, Office, 10W
Buy on Amazon
---
50. Adobe Creative Cloud
Adobe products are THE resource for architects to create graphics, make diagrams, and edit images.
Adobe Creative Cloud | Entire Collection of Adobe Creative Tools Plus 100G Storage | 12-Month subscription with Auto-Renewal, PC/Mac
Adobe
Buy on Amazon
---
I hope this list of architect tools and supplies has been helpful, feel free to comment below if you feel something has been left out.
Brandon Hubbard, AIA, NCARB, LEED AP BD+C
Have a suggestion for a future blog post? Please let me know in the comments below.