Here are some creative Valentine's Day Ideas and recipes for an extra special and memorable Valentine's Day without spending a fortune!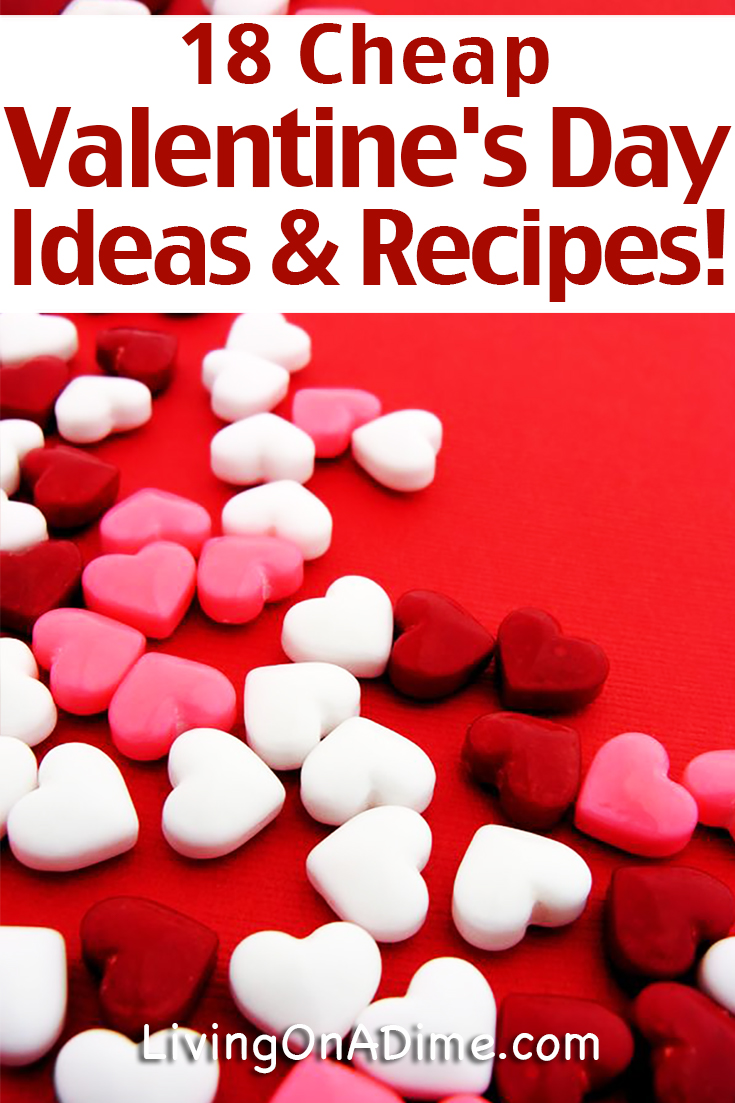 Valentine's Day Ideas To Have More Fun And Save Money!
Using a little imagination, you can make your Valentine's day a little more fun and a lot less expensive. If you want to add a little personalized romance or if you don't have the time or money to buy all the pre-made things in the store, here are some Valentine's Day ideas to help you make the day special.
Valentine's Day Ideas For The Kids:
My mom always made a great but inexpensive Valentine's Day treat for us. She would take construction paper and cut a big heart out of it. (About 8×10 inches). She would staple the edges together and write our names and an I love you on the outside. Then she would fill the heart with candy, purchased on clearance after Christmas.. It was very inexpensive but we loved it!
Have a Valentine's Day treasure hunt. Leave little notes around with the last one leading back to the kitchen table with a heart full of candy.
Leave sticks of red gum in their Valentine's Day cards.
Valentine's Day Ideas For The Lunches
Make heart shaped Valentine's cookies. Cut the kids (or hubby's) sandwiches with a heart shaped cookie cutter. Add a few Valentine's chocolates and put a note in red with a big heart on their napkin.
Serve anything red for Valentine's Day. Serve red Jello, red pudding, red apples, toast with strawberry jelly, tomato soup, red applesauce, red Kool-aid, strawberry milk, or red frosted cookies. Use powered food coloring from the cake store to get the deepest shade of red. Serving all red things at a meal will really have wow factor even if it is something as inexpensive as red jello and tomato soup.
Make red heart shaped cupcakes. Make cupcakes as usual but place a marble down the side of the muffin tin between the muffin tin and each cupcake cup. This will make heart shaped cupcakes.
Make hearts out of chocolate chips in each of your pancakes.
Valentine's Day Ideas To Do With Or For Your Honey
Mail your pre-addressed and stamped Valentines to Loveland, Colorado and they will postmark them and mail them for you. Send them to: Postmaster, Valentine Re-mailing, 446 E. 29th St., Loveland, CO 80538
Make a treasure hunt for your spouse. Start by mailing or e-mailing him the first clue. Then leave clues all over the house, yard, car or his office telling him where to find the next clue. End the hunt by making a picnic in the back yard or going to a park for a picnic. Use your imagination and have fun. The simple things are the ones people remember.
Go to a bookstore together and enjoy the silence and browse. Get a cup of coffee and make a date of it.
Celebrate Valentine's Day AFTER Valentine's day. Everything is half off.
Mail a love letter to your hubby's work.
Send your spouse a sexy email message.
Leave "Why I love you" message all over the house. Buy a package of the cheap Valentines. Leave a message on each one and hide them all over the house for your honey. They will get to enjoy the gift for months!
Use lipstick to make hearts and love notes on the rear view mirror, car windows, bathroom mirror or windows of the house. Leave a kiss on his napkin for lunch or dinner.
Make a bunch of hearts out of construction paper. Put a love note on each one. Paste them all over the front door or car before your hubby or kids come home from work.
If you don't have money to go out, have a picnic on the floor. Use some candles and lay a soft blanket on the floor. Put on some soft music and have a romantic Valentine's dinner on the floor. Use some white Christmas lights for additional romantic lighting!
Delicious and Easy Valentine's Day Recipes!
Try these yummy and tasty Valentine's Day recipes that will make a sweet treat for your family and friends!
Print
Easy Mini Cherry Cobbler Recipe
1 (21 oz.) can cherry pie filling
1 can refrigerator biscuits, separated into 5 biscuits
2 Tbsp. butter or margarine, melted
2 tsp. white sugar
2 tsp. brown sugar
1/4 tsp. cinnamon
Instructions
Preheat oven to 375°.
Save out 5 cherries and a little of the pie filling for garnish.
Divide the rest of the filling between 5 greased 6 oz. custard cups or ramekins.
Top each one with a biscuit, either rolling the biscuit in the butter or brushing the butter on the biscuit.
Mix the sugars and cinnamon.
Sprinkle on top.
Bake at 375° for 14 -17 minutes (until the biscuits are brown).
Garnish with reserved cherries and filling.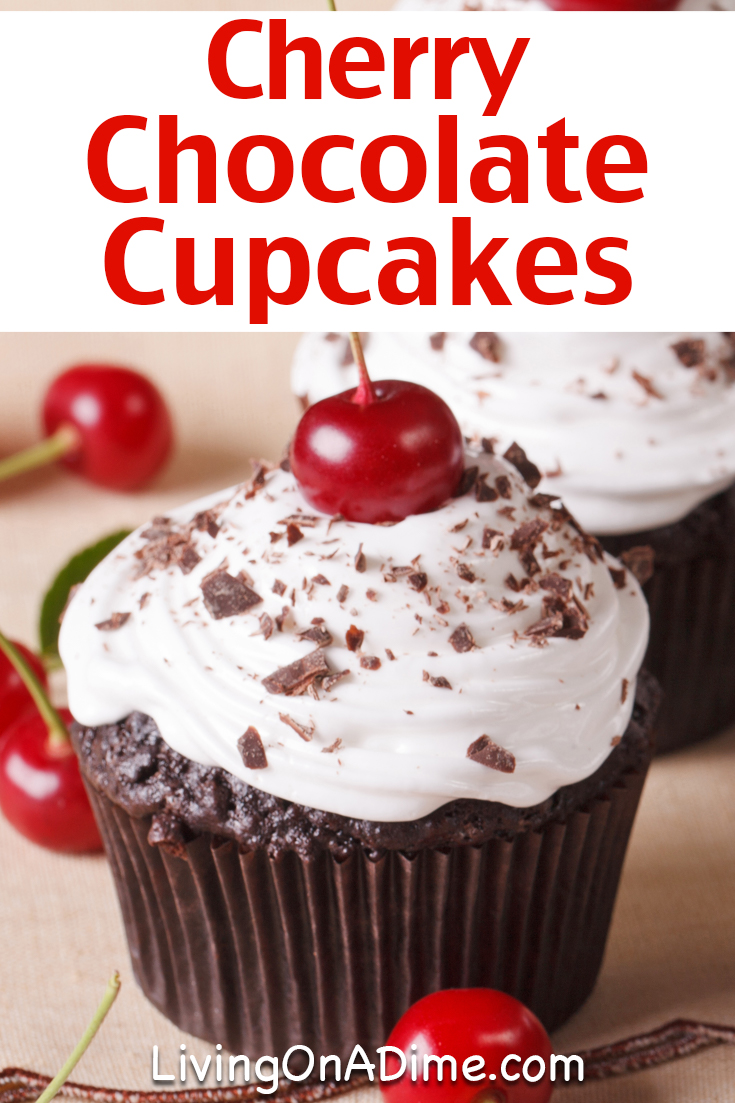 Print
Cherry Chocolate Sheet Cake
1 pkg. Pillsbury fudge cake mix (This brand seems to work best)
21 oz. can cherry pie filling
1 tsp. almond extract (optional)
2 eggs, beaten
Instructions
Preheat oven to 350°.
Combine all ingredients by hand, mixing well.
Pour into a greased and floured 9×13 pan (or into a lined cupcake pan for cupcakes).
Bake 30 minutes. (If making cupcakes, bake 20 minutes.)
When cool frost with frosting.
Frosting
1 cup sugar
5 Tbsp. butter
1/3 cup milk
6 oz. chocolate chips
Place everything but the chocolate chips into a small saucepan.
Bring to a boil.
Cook for 1 minute, stirring constantly.
Remove from heat and stir in chocolate chips.
Pour over the cake and smooth out.
Print
Holiday Meringue Cookies
I'm not sure why the word meringue strikes terror in the hearts of so many, but it really is one of the easiest things to make. I love this recipe for meringue that I got from an elderly neighbor of mine. She said it is totally weep-proof. I have never had it weep on me, even in the Kansas humidity.
I have never seen this Valentine's Day recipe anyplace else. I hope it works as well for you! One quick tip on meringue — Always make sure your bowl and beaters are grease free. Also begin with your eggs at room temperature.
1 Tbsp. cornstarch
1/2 Tbsp. cold water
1/2 cup boiling water
3 egg whites
6 Tbsp. sugar
1 tsp. vanilla
Food coloring
Instructions
Preheat oven to 225°.
Line 2 large baking sheets with foil and spray with nonstick cooking spray.
In a saucepan, mix cornstarch with water.
Add boiling water and cook until thick on medium heat.
Set aside to cool.
Beat egg whites to soft peaks.
Add cornstarch mixture and beat until stiff.
Add sugar 1 tablespoon at a time until all of it is incorporated.
Add vanilla and food coloring.
Drop onto baking sheets by heaping teaspoonfuls.
Bake 45 minutes.
Notes
You can divide the meringue if you like and use different food colors for different occasions – (the neon colors are great) different shades of pastel for Easter, red for Valentine's Day, red and blue for the 4th of July, etc.
You could also stir in some mini chocolate chips before baking.
You can use this meringue for a pie, too.
To cut a meringue pie cleanly, butter both sides of the knife.
For more money saving recipes and tips to save on your grocery bill be sure to check out our cookbooks!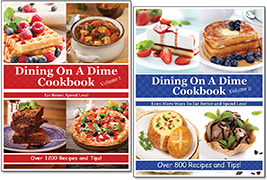 Would you like to serve food that will lower your grocery bill and your family will love to eat?
Click here to get our Dining On A Dime Cookbooks, with tasty recipes and great tips to make your life easier and save you money!
The post 15 Cheap Valentine's Day Ideas And Recipes For More Fun! appeared first on Living On A Dime.